It is no secret that I am a fan of
Apologia Educational Ministries
. If you've visited here often, you know that we've used quite a few of the products and curriculum that
Apologia
offers, and you know that we've enjoyed them all. From
Bible study series
to
encouraging books that help mom flourish
, from
science
lessons to
teaching Biblical worldview
, we've welcomed
Apologia
into our home and embraced the learning experiences they provide as we explore the wonderful creations of GOD.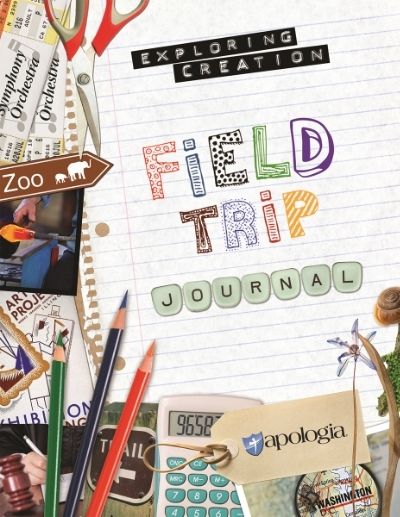 Adding the
Exploring Creation Field Trip Journal
to our family life has been no exception. It's been a fun and crazy year of big travels -- definitely not our norm alhough we ARE always on the go -- and I had been trying to figure out just how we could best remember all of the fun and excitement we've had. I am a former scrapbooker
(although I was never very good at it)
and my Princess is an avid journaler. That girl loves a journal. Lucky us, we were chosen to review the newest addition to the
Apologia
family and what a good thing it's been.
The
Exploring Creation Field Trip Journal
is a 64-page, coilbound book (8 1/2 x 11) that serves as a record of all the wild, crazy, educational things you do. The possibilities for using this softcover book are endless. The front and back cover are laminate for extra durability so you can take this thing anywhere. We took ours all the way to Chicago
!
We even hauled it around the city with us in a backpack and it took it like a champ.
With pages that explain how to prepare for a field trip, what to do as you head out, and how to enjoy once you arrive, this Journal offers great ideas for cool field trips off the beaten path, in your own backyard, and half way across the world. There's even a special "extra" hidden inside so that students can take virtual field trips and check out cool maps online.
What I like about the Field Trip Journal is that my kiddos can explore the world around them AND keep a written record of it. There's a spot to brag on your home state (helps with that required Mississippi History credit) and to record everywhere you've ever been. My girl has been steadily filling in the pages so that she can easily recall all the states we've travelled through. We made special effort in our drive to Chicago to take pictures of each state sign we passed and we stopped in as many as we could to say we'd really been there. She's printing pictures and adding them into the pages of her new Journal and loving every second of it. Win/Win for me.
It was TRAVEL DAY. Happy Birthday to the MainMost

!
I love her perspective.
She truly captures it all.



We'll never forget that PIZZA.
The pages of the Journal are a sturdy (thick) paper which is perfect as my daughter uses a mixture of medias on each one. The Specific Trip pages allow her to document 10 field trips. She can mark the date and time of each visit, glue a small map of directions used to get there, add pictures of things seen, write the details of the trip, and include ticket stubs and brochures collected. There's even a spot to include the titles of correlating books you read before and after the trip. Really, could it be more perfect?
Why, yes
!
Yes, it can be. The back of the
Field Trip Journal
offers two-page spreads for students to share their favorite things about each season -- and even gives a place to record temperature, rainfall, nature. And like every perfect journal, there is a special place for drawing all the things around you that make life grand. Students are encouraged to use texture, pattern, and color as they note the world. This section is simply marvelous as we watch five little babies emerge from the nest in the Peace Lily outside the front door.
Probably the very best part of this is that the Princess has really owned the
Field Trip Journal
. For our trip to Chicago, I asked her to take on the role of family reporter and she embraced it wholeheartedly. Of course, my girl is 14 and staked her claim to the
Journal
the moment it arrived in our mailbox.
Families with younger children might want to use it collectively and let everyone have the opportunity to write, draw, or color their memories. When completed, the
Exploring Creation Fie
ld Trip Journal
is guaranteed to be treasured for years to come.
Apologia
has long been one of our family favorites -- from
science curriculum
to
personal encouragement for mom
,
Apologia
has you covered. You can connect with them and find out how they can best serve your family through the following social media links:
Enjoy making memories and recording them together.

Pin It Now!