A sweet friend of mine first introduced me to the
Institute for Excellence in Writing (IEW)
several years ago when I was sharing with her the struggles we were having finding a really solid writing curriculum for my family. She explained what a difference
IEW
had made in the writing skills of her children and I was super excited to try it out at Long Leaf Academy. When the opportunity to review one of the
Deluxe Combinations
arrived, I couldn't wait to get on board. I requested the
Deluxe Combo Teacher/Student Writing Package Level C [FIX-3 & 4]
which includes both
A Word Write Now
and
Portable Walls
to use with my children as we wrap up our current school year, throughout the summer, and into next year. I had heard about just how wonderful the entire program was from all of my friends on the Crew who had been using it for years, and frankly, I was just a wee bit jealous that we had missed out.
You might remember that we used
Fix-It

!

Grammar
earlier in the year as a review of basic concepts and it was a great confidence booster for my children. The Eagle Scout and the Princess both loved it. As in, they actually reminded me that we needed to do it each day.
(I don't know about you, but it's an oddity for my kiddos to remind me that we need to do any subject.)
We found
Fix-It
!
to be a solid grammar review, so I was excited about the opportuinity to use the writing components of the program. I was drawn to the words "ease" and "confidence" from the description on the website and I wanted to see if they were true. I knew that my kids had good ideas locked inside their heads that were just waiting to get out and onto paper. I yearned for them to feel confident in their abilities and I hoped that teacher Andrew Pudewa would give them that sense of ease as they learned to craft their writing skills. As you can tell, I had high hopes for the
Deluxe Writing Combo
. . . and I was not disappointed.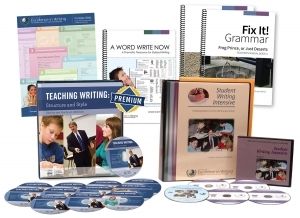 The Deluxe Combo writing curriculum is HUGE -- and INTENSIVE -- but it is also PERFECTLY put together to provide the most extensive lessons that I have ever seen. There are 5 different components that make up the complete writing system and although each can stand alone, you're going to want to have your students use them all for the most complete educational experience. Trust me. This stuff is good.
The 5 teaching Components of the Deluxe Combo are as follows:
Just how did all of this very cool stuff look in action at my house? We chose
(or I chose for us)
to watch the video lessons together. This served as a refresher for me and allowed me to be able to answer questions more easily since I actually knew what my kids were studying. Plus, I was learning alongside them which helps them to understand just how important I think this is. I received both the physical DVDs and premium access to streaming videos so that we could watch at home and on-the-go. Mr. Pudewa is most entertaining, keeping our full attention as he teaches, so there was never a moment of boredom. Once we view the videos, I have the Eagle Scout and the Princess move to separate parts of the room so that they can do the assigned writing tasks on their own without distraction or interruption. This gives me the chance to answer individual questions and explain concepts not immediately understood.
After they have completed their writing assignments, we come back together to share and correct. This has been perfect for us because after a busier than usual school year, we were craving structure and needing help to make it so. It has been easy to use the entire curriculum 4 - 5 days a week. We have used the
Fix-It

!

Grammar
lessons right alongside the writing intensive as we wrap up each day's lesson. Correcting literary passages from favorite childhood stories is fun and short lessons daily keep them interested. My kids have made good use of
A Word Write Now
as they work to add a little zing to their assignments and the
Portable Walls
have been put to the test as both a barrier from one another and a quick reference when mom's not immediately available.
All of this and we haven't even scratched the surface of what
IEW
means to my family. We have been using this package for the last two months and will continue using it until completion. Both the Eagle Scout and the Princess have shown vast improvement in their writing skills already and I look forward to watching their progress as they continue to grow and stretch from reluctant writers to professionals. It really is that good.
IEW
has specific package options designed to meet the educational needs of both special needs students and regular learners so there is something here for everyone. For more information about all of the many options available from
IEW
, please visit the following Social Media platforms:


Pin It Now!