It has been my privilege to review the first three titles in
Apologia Educational Ministries
' Worldview Training series for students in 1st - 6th grades. We enjoyed studying
Who is GOD?
,
Who Am I?
, and
Who is my Neighbor?
and are blessed now with the opportunity to study the final title,
What on Earth Can I Do?
Although we count it a joy to have studied all four titles in the
What We Believe
series sequentially, each title operates perfectly fine as a stand alone study.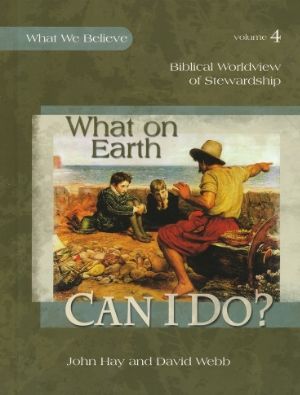 For our review, we received the following four books:
What on Earth Can I Do? ($39.00) -- 294-page, full color, hardback textbook
What on Earth Can I Do? Notebooking Journal ($24.00) -- 236-page, full color, comb bound, laminated softcover journal for older children with in-depth Bible studies included
What on Earth Can I Do? Junior Notebooking Journal ($24.00) -- 184-page, full color, comb bound, laminated softcover journal for younger children with mini books to cut out and make and
What on Earth Can I Do? Coloring Book ($8.00) -- 64-page, laminated softcover with coloring pages that correspond directly to the textbook
Working through a combination of these four resources on a daily basis
(and incorporating the main text in Bible Study at church on Wednesday nights)
, we have thoroughly enjoyed studying stewardship of time and talents together. Written to introduce 6 to 14-year-olds to a biblical worldview, my 7th and 9th graders have been challenged as we read about real-life Christians who faced persecution yet played their unique part in GOD's story both
willingly
and with unwavering faith. We have been able to dive into the parables of JESUS and understand their relevance to us today. We have read together and prayed together and my children have been reaffirmed in their value as a treasured possession of GOD.
13 is such an awkward age. Do you remember the days of hormonal influx and tears that seemingly came from nowhere? My sweet Princess has struggled so with self-image this year. She's had heartbreak at the hands of middle school "friends" and has cried herself to sleep on countless nights as she heals from words carelessly tossed out and slights purposefully received. It makes a momma's heart ache. I have constantly reminded her that she is GOD's TREASURE.
What on Earth Can I Do?
has
helped to encourage her that SHE is HIS and as HIS steward, she is to follow GOD in all that she does -- no matter what others do or say. I appreciate solid biblical teaching that holds her heart steady. The rewards for this obedient faithfulness far outweigh the current heartache.
My children have delighted in studying the lives of such heroes of the faith as Corrie ten Boom, Maria von Trapp, Gladys Aylward, Dietrich Bonhoeffer, and Winston Churchill. Because the text is written directly to the student, it has been easy to incorporate each lesson into daily studies. What perfect timing for us to see GOD's Hand throughout the tapestry of life as we read about the atrocities committed by Adolf Hitler and we studied World War II in history lessons and studied complementary passages of GOD's unwavering LOVE in
What on Earth Can I Do?
It has been a good reminder for us all that even though the world is bad due to sin and satan, GOD is good all of the time and HE desires only the best for us.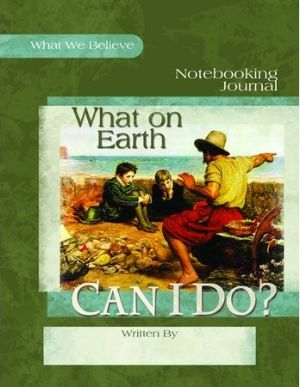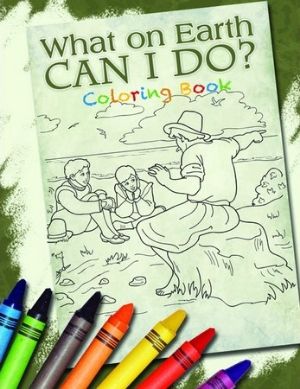 In addition to reading through the textbook together, we have had opportunity to use the notebooking journals and coloring book. Through scripture study and memorization, crossword puzzles and word finds, additional suggested activities, movies, songs, and books to read, my children are learning AND doing. From planting a victory garden to interviewing grandparents, exploring the library shelves to singing songs of praise, they are gaining much more than a simple head knowledge of events. We are forming bonds that will last a lifetime as we study together and write the events of history on our hearts. It has long been my educational goal for my children to understand what they learn and to use those "facts" to create "action." My prayer for them is that they will not sit idly by and watch the world go around. Instead, I pray that they will be found faithful as they fulfill GOD's plan for their lives. And THAT is exactly what Apologia brings to our home.
The notebooking journals offer age appropriate learning tools to expand upon the daily lessons. They even offer a daily lesson plan guide to help parents and students keep track of reading and activity assignments. The coloring book is perfect for keeping children focused during read-aloud lessons or for reminding students of what they've studied.
Although we have loved all of the
What We Believe
series, I must admit that this one may be my very favorite. I am personally challenged as I read through its pages and am reminded to be a good steward and a faithful servant. I am encouraged as we discuss the inevitable return of our KING. I am excited to share the faithfulness of GOD with my family and I know you will be excited, too.
Apologia has long been one of our family favorites -- from science curriculum to personal encouragement for mom, Apologia has you covered. You can connect with them and find out how they can best serve your family through the following social media links:
Facebook –
https://www.facebook.com/apologiaworld
Twitter –
https://twitter.com/apologiaworld
Google+ -
https://plus.google.com/105053356034237782125/posts
Pinterest –
http://www.pinterest.com/apologia/


Pin It Now!