I may sound like a broken record
(do people still know what those are these days?)
when I tell you how much I like
The
Brinkman
Adventures
audio drama missionary stories, but you'll just have to understand my heart and know that I want all people to know the sweet love of JESUS on a real and personal level.
The
Brinkman
Adventures: Season 3
brings that to a new level because of the tender stories
(based on real life missionaries)
that directly point to a SAVIOR who LOVES us all. When I tell you that these stories are mesmerizing, that doesn't even begin to scrape the surface. We LOVE, LOVE, LOVE the Brinkman family and have enjoyed
being a part of their family adventures
for the last few years. At our house, we listen collectively and individually and then we do it all over again. The stories are just that good.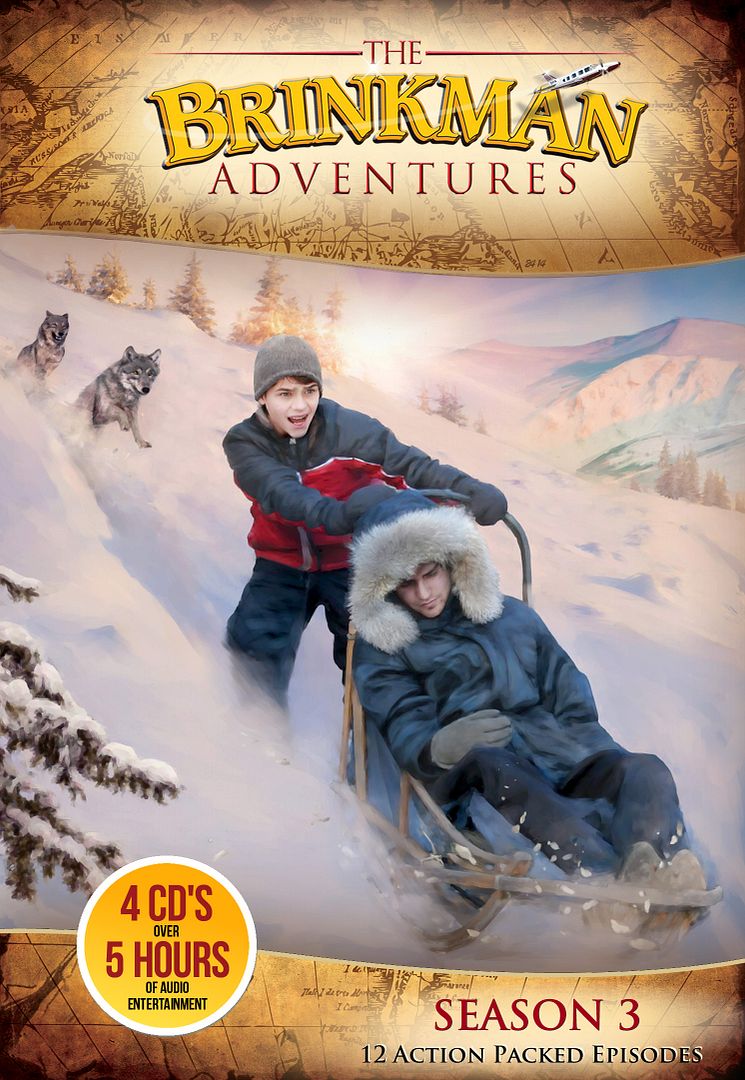 Available as a physical set or as a download,

The

Brinkman

Adventures: Season 3

takes the listener to faraway exotic places on mission to share the Gospel -- and reminds us that we can be a LIGHT right here at home. There are 12 episodes in this 4-CD set and they all keep you on the edge of your seat. From smuggling Bibles to building aquaponics systems, struggling with hypothermia to finding peace in the midst of the storm, and everything in-between, the Brinkman family is an exciting family in love with JESUS who want nothing more than to encourage others as they share GOD's truths.

Perfect for Christmas stocking stuffers and sharing with family and friends, the

Brinkman

Adventures

will give you and yours hours of delightful listening. Actually, there are over FIVE HOURS of audio missionary drama that will have you laughing and crying all in the same listening. These episodes make for wonderful family time and are suitable for all ages. A word of caution, there is one episode that begins with a note that children under age 10 should continue listening with their parents due to the intense nature of the story.

(There are a few tense scenes when rebels outside of the city of Kashmir stop members of the family on their way in to distribute Bibles and when the town erupts in anger over Bibles and CDs that have been gifted to the townspeople. In this episode, there is much evidence that the Taliban is alive and moving. PRAISE GOD, though, because we are further reminded that JESUS is alive and moving, as well, and we find true LIFE being ALL IN for HIM.)

These CDs are great fodder for discussion for kids

(and adults

!

)

of all ages -- including my 14- & 16-year-olds.
A super-sweet surprise for our family came with the introduction of the Shoebox Club -- a club for children to meet together and fill boxes for Operation Christmas Child. What a fun idea that is near and dear to our hearts. We have been packing boxes for Operation Christmas Child for years and years and it touches my heart in a special way to hear about clubs that promote shoeboxes of blessings to children all over the world. I'd never heard about Shoebox Clubs before listening along as the Brinkmans became a part of one. What a super-neat idea
!
But even more touching to me is that the power of prayer is evident throughout all of the
Brinkman
Adventures
. The family dynamics are beautifully GOD-honoring as love and respect are woven throughout. I love how we are reminded to SEEK GOD in all things and to watch EXPECTANTLY as HE answers. GOD moments occur when HIS people PRAY.

I'd love to hear how GOD speaks to you through the Brinkman family escapades. Please share with me what HE is sharing with you as you listen along. You can also join the journey of the Brinkman Family by catching up with their adventures on
FaceBook
. For even more Brinkman family fun and adventure, visit the following page where you can download three free episodes and sign up for the FREE quarterly newsletter:
There's even a chance for you to WIN a FULL SEASON of
The
Brinkman
Adventures
. Check it out
!

I was given the opportunity to review
The
Brinkman
Adventures
as a member of the
Schoolhouse
Review
Crew
.
You can check out the
Crew Review
and see
what other members of the
Schoolhouse
Review
Crew
thought
of this and other products as well (or just click on the banner below.)

Pin It Now!