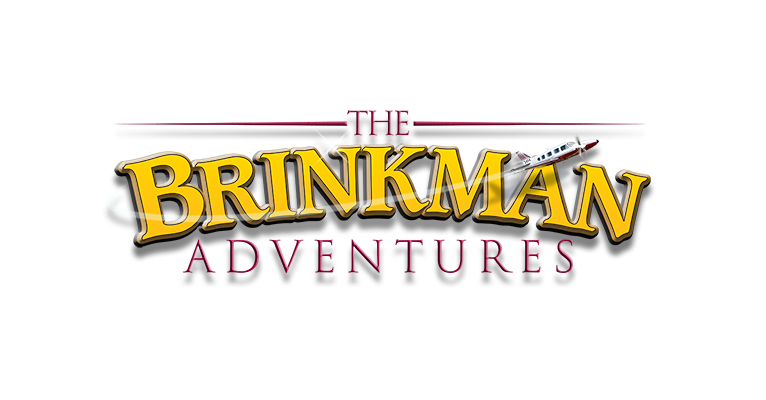 To simply say that GOD is speaking to my heart this year does not even to begin to convey exactly what it is that HE is doing in my life. I still can't fully grasp what HE is telling me and where HE is leading me, but it seems that with every turn, HE is drawing me closer to HIM in a way that is hard to explain. Through Scripture, through books, through movies, and through CDs, GOD is calling me to something that I have yet to comprehend. As we have listened to
The
Brinkman
Adventures
CDs over the past month and a half, I have heard HIM whisper my name more and more. In one of the very first missions episodes, the line "
The titanic is sinking and we need to get as many people as possible in the lifeboats" resonates with my soul. The
WORLD
is sinking and we
DO
need to share
LIFE
with as many people as possible. JESUS is the LIFEBOAT. Am I doing my part to help people take hold? Following along with the Brinkman family offers practical lessons in doing just that.
The
Brinkman
Adventures
are missionary stories that share the adventurous escapades of a homeschooling family of 10 --- Dad, Mom, and 8 children -- as they travel the world on mission for JESUS. We've joined in their journey and have been listening to
Season 2: Episodes 13 - 24
. These Christian stories are perfect for families -- all ages will surely enjoy the adventures of the Brinkman family.
My 13- and 14- year-olds are enjoying them immensely. I love them, too.
You know they like it when they ask for it. I love when my 14-year-old reaches up to turn on the cd player as we head out in the van. You know it's good stuff when your children ask to continue listening to the latest adventure in lieu of other things. Such was the case last week when we jumped in the van for a mini road trip. The Boy Scout wanted to pick right up where we left off and I was happy to oblige.
As we have listened to the CDs, it's been like catching up with old family friends. The Brinkman family deals with some of the very same struggles that we face -- and they use the security of GOD's Word to help them work through any issues with calm and clarity. I am reminded that my GOD is a GOD of PEACE and not a GOD of chaos. HE is never caught off guard. HE is always ready.
Excellent radio theatre,
The
Brinkman
Adventures
bring true-to-life missionary stories and solid Biblical teaching together in a fun way. The detailed sound effects and fascinating characters make listening in to the Brinkman family a delightful adventure
as they daily share JESUS in every aspect of their lives
. Planting churches in China, driving a chicken-laden bus across the Mexican border to help start a Christian school, and modeling JESUS' love during an alligator's unexpected visit are just a few of the action-packed vignettes that touched the hearts of my family. We have been encouraged by the sound teaching of Scripture through the family stories shared and we have been challenged to make our walk with JESUS more evident as we help others along the way.
The interweaving of the Bible into each story is perfect for attention-retaining learning and makes
The
Brinkman
Adventures
an excellent tool to remind us all of GOD's LOVE for us. In one episode, a new Christian shares with those who have led him to the LORD:
My father thanks you.


My mother thanks you.


My wife thanks you.


My children thank you.


Thank you for saving my life.
What a testimony of faith. What a resounding reminder that by impacting just ONE we can impact GENERATIONS to come. JESUS is all that AND more.
The
Brinkman
Adventures
have been an excellent reminder for my family to OBEY first and GO and TELL. My GOD is BIG -- HE's big enough to build schools, big enough to send personal messengers, big enough to love us all.
I have enjoyed sharing these stories of missionary adventures with my children at home as well as with my children at church. One episode each Sunday night was the perfect catalyst for our Bible study time together and kept the captive attention of my 4-year-olds through 5th graders. (Be sure to pre-listen to each episode when determining who you will share it with as some episodes deal with some tough real life situations.) For a
suggested donation of $25, you can share over 5 hours of missionary adventure with your family through 4 physical CDs. If you prefer to download in an MP3 format, you can do that for $17.95. We've enjoyed Season 2 so much that we will definitely be ordering Season 1 to take on the road with us this summer. They really are THAT good.
I'd love to hear how GOD speaks to you through the Brinkman family escapades. Please share with me what HE is sharing with you. You can also join the journey of the Brinkman Family by catching up with their adventures on

FaceBook.


Pin It Now!