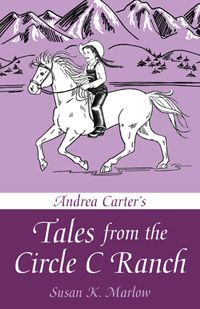 Reading Time
We've reached that time of the year where we're all ready for formal academics to be over and summer adventures to begin. Unfortunately, we've had a crazy-busy year and we are not quite finished with all that I wanted to have marked off of the proverbial list. Because of this, I've worked to incorporate several "fun" things that can also double as academics. For the Princess this means reading the latest book from
Circle C Adventures
. She has enjoyed being a part of Andi's life from the very beginning, so reading
Tales from the Circle C Ranch
(softcover, 151-pages) and working through
Andrea Carter's Tales from the Circle C Ranch Learning Lapbook
(39-pages) is the perfect mix of school and fun.
Andrea Carter's Tales from the Circle C Ranch
is a companion book to the books we've read from the
Circle C Beginnings series
, the Circle C Adventures series, and the
Circle C Milestones series
. It serves as a bridge to help transition readers from the early stories of little Andi to the more recent stories of growing-up Andi and answers reader's questions from all three series along the way. Divided into two sections --
The Early Years
and
The
In-Between Years
, the eleven short stories span the eight years of Andi's life from 1873 - 1881. Since we've been fortunate enough to read and reveiw the
Circle C
Andi books for several years, my girl can't seem to get enough of them. She is happy to spend time reading on her own every day -- and she's enjoyed working through the pages of the lapbook as well.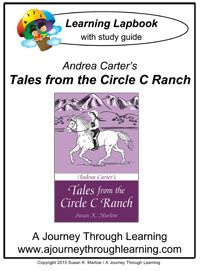 The
Learning Lapbook
is available in both digital and printed formats. The printed format includes absolutely EVERYTHING you need to tie history and literature to the softcover book and you can purchase them as a bundle if you'd like. For purposes of review, we received the learning lapbook in a digital format. I simply printed out the pages and handed them off to the Princess and she turned her lapbook into a personal masterpiece.
Gathering supplies & reading instructions
Since we didn't have file folders on hand and she didn't want to wait to get started, she used cardstock to create the spine of her lapbook and pulled out her scrapbook paper for added flair. That's always when I KNOW that something is successful -- when she is willing and able to be creative on her own without worry or complaint. I like that I could easily turn this project over to her and that she enjoys it so much that she jumps right in to the journey of learning. Reading the stories from the
Tales from the Circle C Ranch
and then utilizing the hands-on aspect of the projects adds a beneficial dimension to her learning experience. It's one thing to read about denim britches and why they were inappropriate for little girls in the 1800s but it's a totally different thing to research britches, overalls, and dresses and understand who could wear what and when it was appropriate to deviate from the expected.
Cardstock Creation
Illustrating the masterpiece
Although the stories included in
Tales from the Circle C Ranch
serve as a transitional bridge to the books from other series, it is in no way necessary for your reader to have read any other book before picking up this one.
Tales from the Circle C Ranch
serves as a complete stand-alone read, but will enhance and further endear you to Andrea Carter if you have read other books about her crazy adventurous life. How fun is it that author Susan K. Marlow takes the questions that her readers have to heart and creates new stories to further develop her characters? Even better, each of the 11 short stories tells you the date it takes place and exactly which book it coincides with. For example, story 2,
The Best Gift of All
, takes place in October 1874 during
Andi's Scary School Days
-- the very first Andi book my Princess ever read. Story 6,
Hurrah for the Fourth of July
!
, occurs on July 4, 1880 before the events in
Andrea Carter and the Dangerous Decision
. I truly love the continuity shared throughout all of the series and we look forward to many years of Andi books.
Make sure to "mosey on over" and you can download and read the first story for yourself. Make sure to check out the following Social Media pages for even more information and get your horse-loving daughter started on the
Circle C
series as soon as possible:


Pin It Now!