You know you've got a winner when middle school students ask if we
"can go ahead and watch the next episode right now?"
and say
"I can't wait to see what happens next week."
I am never quite certain which videos and lessons will grab their attention and keep it, but when I introduced
Drive Thru History®
and the new
Drive Thru History® – "The Gospels"
(The Extraordinary Life of JESUS of Nazareth)
series to them this semester, they were enthralled. I KNEW I had a winner. As we watched each lesson each week, this is what happened:

I'm not sure if you can see the miracle taking place in the photo, but let me tell you, when 25+ 6th - 8th grade students (and adult volunteers) sit perfectly still, eyes riveted on the screen, mouths closed so they can actually hear what's being said onscreen, you've got something HUGE going on in ministry. HUGE. And when those same students will open up in discussion and actually have recall of what they've just seen, you know that GOD is smiling.
Drive Thru History® has long been one of our family favorites. As a homeschool resource, it's heads and shoulders above the rest. My kids have always enjoyed sitting down to an episode (or two) of the fast-paced, quick action adventure led by "tour guide" extraordinaire Dave Stotts and I have always loved being able to tie the videos in to our Social Studies, History, and Geography lessons. As a fun family resource, it simply can't be beat. We are always up for a family adventure and Drive Thru History® takes us right into the thick of things and allows us to travel across the globe and back in time together. I love it, my kids love it, their friends love it -- so I was excited to share the new Gospels series with my family, but I was even more excited to introduce my middle schoolers at church to the special edition episodes. Can you believe that not one kid in the room had ever seen a Drive Thru History® video? I was shocked.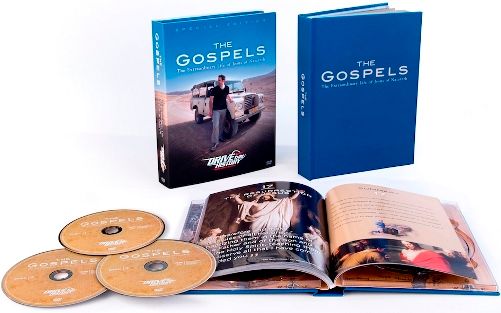 The 3-disc series contains 18 episodes on DVD that chronicle the life of JESUS. From the historical landscape surrounding the announcements that a SAVIOR is coming to HIS birth, life, ministry, and miracles, Drive Thru History® – "The Gospels" is a stunning teaching tool for all things JESUS. Each episode is 30 minutes long (for a total of NINE fabulous HOURS. Score

!

) and take you right into the heart of where JESUS walked, taught, and loved on those around HIM. Because I received the set during the season of Lent, we were able to use the videos as real life teaching moments at church. Beginning with JESUS' final trip into Jerusalem with palm branches waving and cries of celebration then moving through the Last Supper with betrayal, trials, death and burial surrounded by cries of anger, hatred, and distress was intense (forewarning here: it gets real -- very, very real) but it was beautiful to step into the RESURRECTION of JESUS and "see" that JESUS didn't come to stay dead and buried. What a moment of glory

!

What a victory for us all

!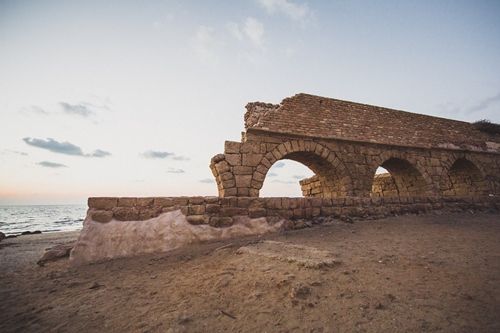 The middle schoolers have enjoyed every second of every episode so far and they have asked for us to start over at the very beginning and watch them all together. What I like here is that they can see the Gospels of Matthew, Mark, Luke, and John come to life in a chronological order that helps the Bible make sense to them. After watching each episode, we've spent time talking through the pages of the included Study Guide (118-pages). I have shared the brief summary with them (one for each episode) and then divided them into small groups to discuss the 5 questions listed that help solidify what they've seen on screen. Within their small groups, they have had the opportunity to read the specific portion of Scripture that coincides with the video watched. We wrap up each night with a quick little "side road" trip that further explains what we've been hiding in our hearts all night. Seriously, what more could I ask for? It's simply perfect.
The pace of each video grabs their attention and keeps it as they travel along to places they've heard about in passing. I appreciate the weighing-in of Biblical scholars, the fresh look at JESUS as "real" and not just a "character in a book." I know that it helps me to be able to see the very spots where JESUS lived and walked, and I pray that it helps my students to develop a clearer understanding of the love HE has for us. Dave Stotts definitely has it going on as he explores and I pray he never lets the dust settle. We need the real-life adventure that is GOD's Word.
For more information about
Drive Thru History® – "The Gospels"
and Cold Water Media, please make sure to check out the following Social Media pages: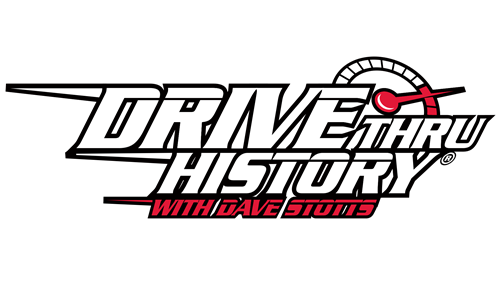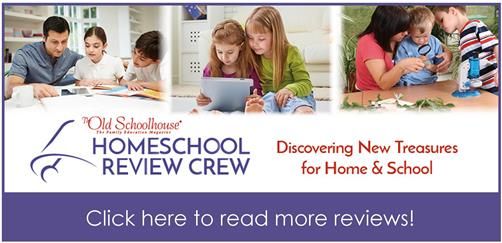 Pin It Now!