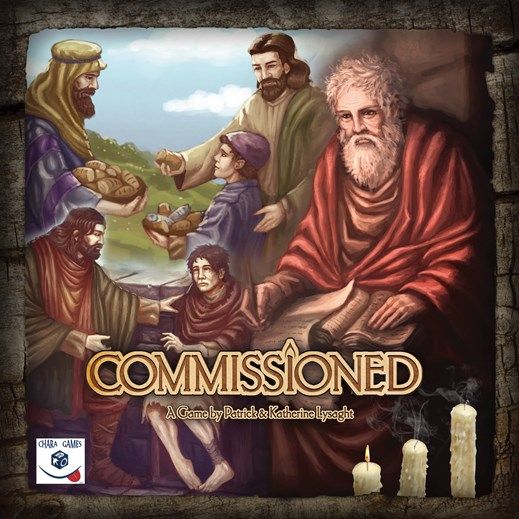 We have a brand new board game at our house and it is exciting. Seriously exciting. First, it brings the element of fun into our living room and second, it brings a new appreciation for all things biblical to the table. YAY
!
We enjoy playing games together and I think that a Christian themed game is a HUGE win for us all. Don't you?
Commissioned
by
Chara Games
is definitely something special and would make a most excellent Christmas present for someone on your list. Now mind you, this is not the kind of game that you open, set up, and quickly run through. Oh, no.
Commissioned
is a game of history, a game of strategy, a game of faith -- all with its players taking on the role of the Apostles as they navigate through the early Church and face persecution for their faith. It is a game of faith-building that helps cement historical facts in the hearts of all who play it while reminding us to build each other up in love as we share the greatest story of LOVE ever told.
I like knowing that my family can strategize cooperatively while learning more about and understanding the history of church. I especially like that this game also gives our family an opportunity to share JESUS with friends through fun. What a ministry tool
!
Game night outreach, anyone? Did I mention the possibilities here are HUGE?
So, what is
Commissioned,
how do you play, and who would enjoy it?
Commissioned
is a board game for 2 - 6 players recommended for ages 14 and up. Yes, younger kids can play, just be prepared to help them out as you go. It takes about an hour to play a complete game (sometimes less, sometimes longer) and is designed for many years of active play. That was the easy part. The "how you play" is a little bit more challenging to explain. Super-durable pieces, a double-sided gaming board, scenario cards that direct which side of the board you play on and how you set up for play combined with double-sided task cards called Trials present two different levels of play. You can choose to be Disciples or Martyrs and as the name implies, one level is more difficult than the other.
The cooperative-style game has players building personalized decks of cards -- Faith Decks -- while also planting churches and spreading the Gospel of JESUS. Players need not be believers and it is not even necessary that they know anything at all about Christianity. The cool factor here is that they will learn as they play. Can I tell you how much this excites me? By playing through the five different scenarios of the game, you can cover the first 150 years of Christianity from a historically-based perspective. This is not an in-your-face witnessing tract, but opens the door for conversations of the heart. I absolutely LOVE it.
The set up of the game is a bit detailed and just like with all things new, there is a bit of a learning curve. You need to get everything in its place and pass out character cards and their corresponding Faith cards. Players choose to be one of six Apostles (Andrew, Barnabas, James, John, Paul, or my personal favorite, Peter. Man, is he real or what?) After set up is complete, players work to "mature their faith" [decks] as they Arm up, Live it out, and Mature. Together they face trials and persecution, pray, move from a churched area to an unchurched area, and help to grow the church's populations all the while working to prevent discontent, strife, and trial to extinguish the light of the church. Apostles can be imprisoned or shipped off, churches can die out. And sometimes, just like in life, you can play everything correctly and still come out with an earthly loss. How indicative of our Christian walk. Our peace must rest in knowing that truly what matters is Heaven.
Throughout the game, though, the message remains clear. Go and make disciples. That's our calling. It is our mandate. We are all on mission for JESUS. I love that my family is reminded of this every time we sit down to play. I love that we are reminded that the books that make up GOD's Word matter. I love that we are directed straight to Scripture on each and every turn that we take as we play the game. I love that we are COMMISSIONED to serve through
Commissioned
the game. And that, my friends, is where our JOY comes from because JESUS said in the Great Commission
"Go ye therefore, and teach all nations, baptizing them in the name of the FATHER, and of the SON, and of the HOLY GHOST: Teaching them to observe all things whatsoever I have commanded you: and, lo, I am with you always, even unto the end of the world. Amen. "
Matthew 28:19-20
And guess what? The fun doesn't end here.
Chara
Games
is pleased to share the announcement of their newest faith-based game,
3 Seeds
.
3-Seeds
is a card game for 2 - 5 players ages 12 and up that takes just 30 - 45 minutes to play. Strategy is involved with sowing crop seeds and seeing them through to harvest. How's that for a beautiful picture of our Christian mandate? I can't wait for our copy of the game to arrive.
For even more information about
Chara Games
and the fun you can have playing alongside your family, please visit the following Social Media sites:

I was given the opportunity to review
Commissioned
by
Chara Games
as a member of the
H

omeschool
Review
Crew
.
You can check out the
Crew Review
and see
what other members of the
Homeschool
Review
Crew
thought
of this and other puzzles as well (or just click on the banner below.)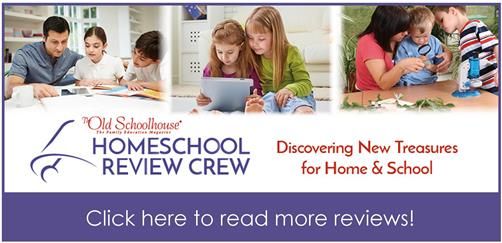 Pin It Now!