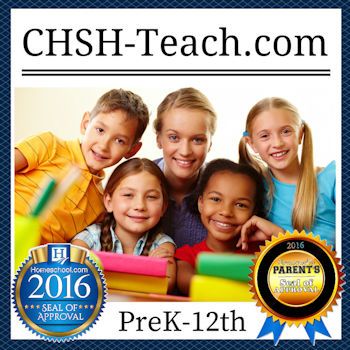 If you know me at all, then you know that what I like most about homeschooling is that I can engage my kids in individualized learning with every single thing that we do. I can dive deep in the subjects that fascinate each of them -- and I can make sure to add extra information where they struggle. The
CHSH Download Club
from
CHSH-Teach.com
has been a great resource for us this year as I work to design courses that not only meet state requirements, but also interest my 10th and 12th graders. It's not always easy to put together classes that will do both of those things, but I certainly aim to please.
Formerly known as the Christian Home School Hub,
CHSH-Teach.com
offers enriching activities, worksheets, and curricula for students in Pre-K through 12th grades as well as sharing a calendar of daily tidbits of information and descriptions of historical events that just make learning fun. There are pages and pages of educational resources (over 50,000 downloadable pages and pdfs) that cover Math and Science, Social Studies and Health, Bible and Character Studies, Language Arts and Foreign Languages, Art, Music, and even Electives for students of all ages. If you want/need something specific, it is there.
Super user-friendly, you can browse through the
CHSH Download Club
to find everything you want and need by the categories of Subject and Grade OR you can search for seasonal items of interest month by month. If you want to study along as you watch the Summer Olympics, resources are available in July/August and if you want to focus on trains, you just back right up to May/June. There are Organizational tips and charts and pages to help you get your homeschool life together and there are textbooks and readers from times long gone (1800s - early 1900s), fun pages of coloring and word mazes and puzzles, and even sections with lapbooking/notebooking plans. There are character studies and Literature Guides (need a unit on Shakespeare? It's here
!
) and resources for all of your bodily systems. And that's just the High School stuff
!
When the opportunity for me to review
CHSH-Teach.com
arose, I honestly had absolutely NO IDEA just how much there would be for me to choose from and use with my children. This site is an overwhelming boon of educational resources full of information and inspiration to homeschoolers.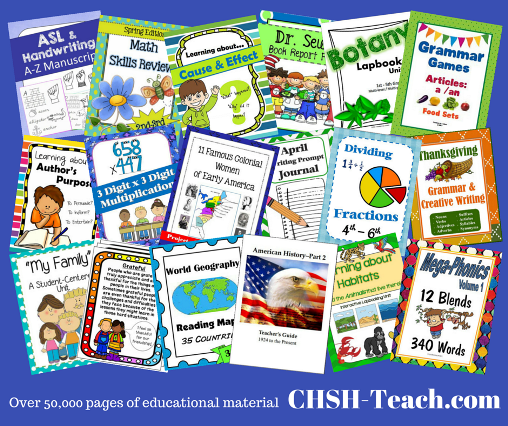 Now that you know a little bit about
CHSH-Teach.com,
let me tell you how we are using it at Long Leaf Academy. For starters, I wanted to make sure that my high schoolers were fluent in all things Government. Civics is a required course in our public high schools -- but it's typically only a one semester class. In my opinion, there is no way to do Civics justice in just one semester. I want my children to be prepared for voting when their turn arrives. I want them to understand the history behind their voting privilege and I want them to make informed decisions BEFORE they go to the polls. I want my children to be civic-minded and involved in day-to-day government and I do not want them to fall prey to advertising sound bites. Enter the
CHSH Download Club.
Oh, my stars is there good stuff here.
A most wonderful way to assure that they listen critically and vote with integrity is to have them do an in-depth analysis of each political candidate. What better time than during the current Presidential election? Utilizing these printouts, both the Eagle Scout and the Princess are able to research campaigns and campaign strategy, legitimately understand where the candidates stand on important issues, and effectively delve into the soundbites presented through print media, radio, and television advertising. They are able to look at all angles of a candidate's career and personality and draw astute conclusions about who and what is presented. I like that my kids can see the difference between politically correct "smoke and mirrors" and realize when a candidate speaks from the heart with true passion.
And that's just scratching the surface. We are working through an entire unit on Federalism and learning the difference between the expressed and implied powers, reserved powers, and concurrent powers of our government. They are reading American Government and American History textbooks and sharing what they learn with one another. We are able to examine books from bygone eras and see how students "used" to learn versus what they are learning in classrooms today. I'm enjoying pulling the appropriate educational materials together as I develop a personalized course of study for my kids. Founder
Lynda Ackert
is phenomenal and makes it easy with
CHSH-Teach.com
and I am most appreciative that she has organized all of these resources within a Christian framework. I know that I am safe sharing these materials with my friends and family.
For more information about the
CHSH Download Club
from
CHSH-Teach.com
, please check out the following Social Media pages:


Pin It Now!