I want to be a Prayer Warrior AND I want it for my kids as well. At this young age of
{ahem}
48, I still need tools to guide me as I figure it all out. I like physical helps that I can hold in my hands, write on, pray over, and dig into. Written for children ages 8 and up, the
Spiritual Circle Journal for Teens & Kids
is an excellent tool for children, teens, young adults, and even "mature" adults like me that offers a hands-on approach so that kids can have a closer walk with GOD. A consumable journal with a workbook feel, this
Spiritual Circle Journal
contains 66 pre-printed pages with blank graphics for Bible students of all ages to use as they learn to fall in love with JESUS over and over.
Using 9 different journaling prayer prompts, the Journal blesses its user as it walks them through a very special Quiet Time with GOD and begins a study in character development that is unparalleled. My high school Sophomore is being blessed with it this year and is incorporating it with both Bible and Writing portions of her school day. It has become nourishing spiritual food that offers focus and helps her remember her worth as a child of the KING.
Beginning with
"what are you thinking about today?"
and
"how can you turn that over to GOD?"
and continuing through words of
confession
, specific calls to
notice GOD moving around you, prayer, adoration,
and learning to take
action,
the
Journal
gently guides students through a very personal and private time with the FATHER. As they share what they are learning through devotionals, Bible reading, Sunday School, and worship, they become aware of light-bulb moments and focus on GOD at work in their lives. Oh, YES
!
YES
!
YES
!!
Isn't that exactly what you want for you and yours? This Journal speaks to my very soul and calls me into a deeper relationship with my DADDY. As a parent, as a homeschool mom, as a children's and middle school minister, I am finding that the
Spiritual Circle Journal
leads me directly to the cross and I want this for all of the children and middle schoolers in my care. There are even pages included at the beginning of the
Journal
that explain how to make GOD real and relevant and set kids up for success as they live an examined life. This section is so much more than a Leader Guide. It has proven to be a roadmap of spiritual maturity for me and the fresh reminder that I needed to re-examine my focus in ministry and in life.
Because the journey is so very personal and the private time so intense, you will definitely want a copy of this consumable
Journal
for each of your children. They will NEED to be able to share their thoughts and moments of praise in a special place all their very own. But I need to forewarn you, you are going to see such a change of heart in your children as they meet with GOD that you are going to want a copy of this cool
Journal
for your very own. And you are most welcome to order a Spiritual Circle Journal for Kids & Teens -- or you can order the
Adult Spiritual Circle Journal
for yourself. Either one will do your heart good.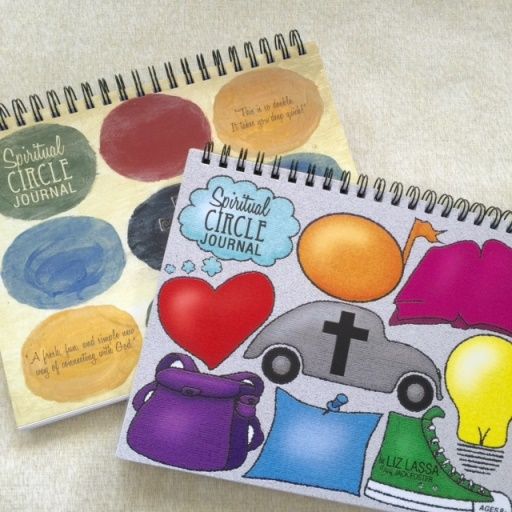 I want to show you just a few of the prayer graphics included and have carefully chosen those that would be okay to share. Please understand that I in no way intend to share the very personal nature of my daughter's prayer Journal, but I did want to be able to show you just a bit about how it is being used in our home.
Each graphic follows a specific key (found in the front of the
Journal
) that directs students how to respond. For example, the
heart
offers a chance to get your heart right with GOD as you ask for forgiveness. The
book satchel
is a place to share prayer needs and concerns -- those things that bother and worry you.
The
pinned note
gives you space to thank GOD and offer praise to HIM and the
tennis shoe
helps you realize where your feet need to go as you follow CHRIST.
The pages can be personalized with color, if desired, or left, as is, for writing space alone. It is truly "in the eyes of the beholder" to make them exactly what they want it to be. The white space works well for those who distract easily while offering a blank canvas for those with creative flair. Isn't that perfect? But what I absolutely love most is the fact that the
Journal
offers a place to just
be
yourself before GOD and strengthen your relationship with HIM. An easy-to-use tool that works well for children, teens,
and
adults and meets them right where they are, the
Journal
really is perfect. It's easy to start using and will offer spiritual development and maturity along the way. Students may start off quickly filling out the pages, but they will learn to languish in the conversations with GOD as they go. That's a winner in my book. How about yours?
For more information about the family of
Spiritual Circle Journals
, please check out the following Social Media pages:


Pin It Now!