We were introduced to

Writing with Sharon Watson

a few years ago and it has become an important part of what we do. I was elated to receive a copy of

The Power in Your Hands: Writing Nonfiction in High School, 2nd Edition

for my Eagle Scout this year and couldn't wait for him to begin. Writing isn't his favorite thing to do

(is it the favorite of many 17-year-old boys?)

and I was looking for an easier way to help him prepare for college-required writing than what we were currently attempting. The frustration was real. And assignments were no fun.

Enter

Sharon Watson

's

The Power in Your Hands

which attempted to make writing (even nonfiction writing) more fun. Now, you already know that

Sharon

's

Writing Fiction [in High School]

was a game-changer for our family and that her

Illuminating Literature

fed my kids desire to learn more and read more, so is it really any surprise at all that

The Power in Your Hands

is a winner, too? Seriously, I cannot truly begin to explain how very much I appreciate what Sharon brings to the table at Long Leaf Academy.

So, what exactly is it and how is it making a difference at my house?

The Power in Your Hands

is a thorough

(oh, boy is it thorough

!

)

writing curriculum that walks students through the entire writing process from beginning to end. From "thinking & planning" to penning a "personal narrative," students are encouraged to tell their story. They learn how to introduce the setting (time and place), create the proper mood with word imagery, add smooth transitions, and share in such a way that their story makes sense to the reader. Written directly to the student, this Second Edition textbook motivates learners to share who they are and develop their writing in such a way that readers will see significance in what they read and be able to learn something as well. Practice lessons are built right into the pages of the text with directions to write, write, write -- in the margins, on blank spaces, in notebooks and journals. Writing prompts and checklists throughout the text keep my guy interested in what he's asked to do. He likes answering "do you agree" questions and finds the writing ideas presented interesting, funny, inspiring, sad, motivating. All of the above.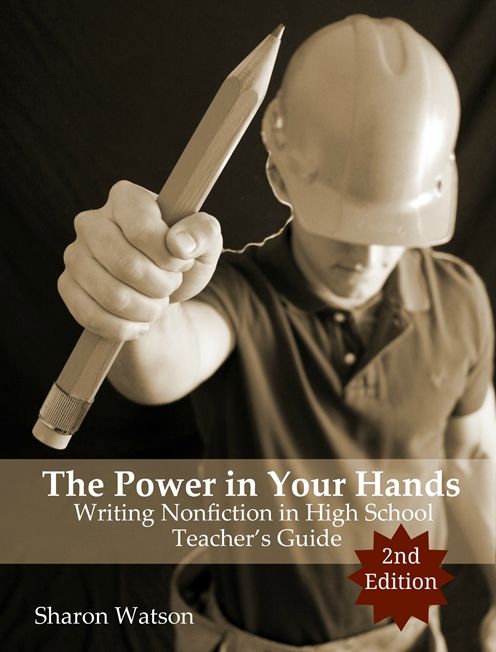 The topics are relevant and bring a smile as he works. When writing to persuade, my son enjoyed the reminders to avoid common mistakes. Sharon presents a list of seven "
don't
"s (
Don't
insult a person or entire group of people,
Don't
wander off your subject,
Don't
go on and on,
Don't
contradict yourself,
Don't
rant and rave,
Don't
write without evidence;
don't
exclude facts,
Don't
threaten your audience.) and has students read letters written to the editor that portray each
don't
. This is funny stuff. And the perfect way to get a stubborn teenage boy's attention.
Divided into seven Parts, the 23 Chapters plus writer's toolbox of resources teach not only the basics of writing, but also how to self edit and proofread (marks and all). Scripture references are woven throughout the curriculum and they serve as excellent spiritual reference and direct my son to research GOD's Word more thoroughly. This momma likes that.
The Student Book contains 417-pages of solid teaching. The lessons are student-directed which means prep time for me is minimal. The conversational tone helps make complex material easier. The curriculum is appropriate for beginning writers, intermediate writers, and accomplished writers alike. The 223-page Teacher's Guide contains copies of all student assignments and checklists and this new edition even has grading rubrics for each of the essay assignments. The Grading Toolbox explains how students can earn an A, B, C, D, or F on assignments and shares examples for each grade of work. Sharon makes this all oh, so easy. She shares tips for the teacher and explains exactly what your students have been instructed to do. You CAN read the Student Book for yourself or you can rely solely on what she tells you in the Teacher's Guide. Easy peasy.
One of my favorite parts of this curriculum is found in the lists of writing prompts for students. The 14-Minute Power Surges Program offers daily ideas to encourage your student to write, write, write. Students simply write on the given topic for 14 minutes. Topics include all types of writing (poetry is even assigned at times) so there is certainly something here for everyone. We use these Power Surges prompts in conjunction with
The Power in Your Hands
as a way to easily get the creative juices flowing. They seem to break the ice for my son.
Now, writing has not become the all-time favorite at my house (yet!), but it is definitely not the drudgery that it once was. The Eagle Scout will be continuing with this curriculum as we step into his Senior year and the Princess will be joining him for her Sophomore year. The text is a one-user book, so I'll be ordering her one of her own next month. I'm excited to have them both advancing their writing skills in a way that doesn't involve the gnashing of teeth and wailing of boredom that we've dealt with in the past. I appreciate Sharon's style and the way she inspires my kids to be and do their very best.
Sharon mak
es it super easy for you to determine just how beneficial her writing course will be for your high schoolers by offering you free samples.
Oh, and one more thing: I personally love a physical copy of curriculum at my house, but if you prefer an eBook Version at your house, there is one available.
Please check these out -- it will make a huge difference in the preparedness of your high schoolers for college. I'm seeing a world of difference in my son's writing.
For even more information about Sharon Watson's WONDERFUL writing and literary options, please visit the following Social Media pages:


Pin It Now!