We were headed out on our big family vacation and I made sure to pack
Beric the Briton
-- the newest audio adventure by
Heirloom Audio Productions
. If you've followed this blog for very long at all, then you know how much we enjoy listening to all things put out by Heirloom Audio Productions. We've listened and learned and LOVED each of the audio dramas that we've been able to review (
Under Drake's Flag
,
In Freedom's Cause
,
With Lee in Virginia
and
The Dragon and the Raven
) and each one just gets better and better.
Beric the Briton
offers Christian heroes for children and adults of all ages as it invites listeners to step back into history at the height of the Roman Invasion. Beric and his friend are kidnapped, brainwashed as gladiators in the Roman regime, and expected to perform their duties without question. They see death and experience the LIGHT of JESUS and their world simply turns upside down.
This audio drama is EXCELLENT
but I would be remiss if I did not mention that it is very battle intensive. My kids are high schoolers so it was no big deal for us, but if you are planning to listen with younger children, you might want to listen alone first in order to either forewarn them of battles to come or edit as you listen. There is a fight scene in the beginning of the production between Beric and attacking wolves and the sounds of wailing, whimpering dogs is eerily intense. Another thing to note, Beric prepares his men for battle by teaching them exactly how to fight to win. It is well done and realistic as they prepare for war.
The story line is full of action, adventure, and forgiveness, love, loyalty, and mercy. The voices are familiar, people you'll recognize from other places -- but for us, it's not about the actors. It's more about the way in which they take us to far away places and share the love of GOD as they bring history to life. (Although my kids always think it's pretty cool to hear actor's voices from some of their favorite movies and programs -- shows like
Star Wars
,
Dr. Who
,
Braveheart
,
Downton Abbey
, and
The Lord of the Rings
to name a few -- so I'm sure your kids will enjoy finding family favorites as they listen along, too.
You'll definitely want to get your own copy of the audio drama the to find out all of the rest.)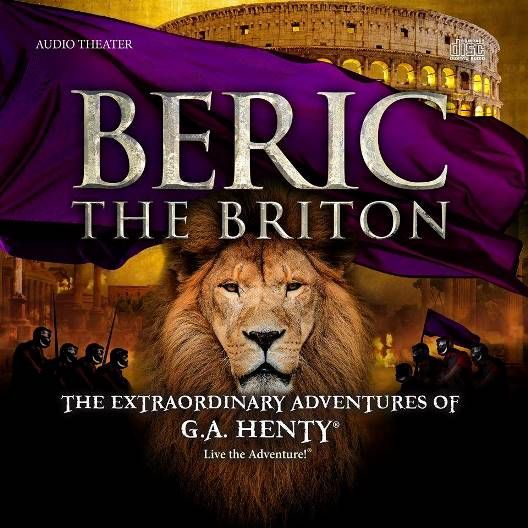 For purposes of review, we were also given access to the
Live the Adventure e-Newsletter
that encourages us to see the history of the world through the hand of GOD. It is well worth reviewing and reading. We have also enjoyed listening to the beautiful soundtrack by composer John Campbell (33 mp3 tracks) and were thrilled to receive an eBook copy of
Beric the Briton: A Story of the Roman Invasion
by G.A. Henty (389-pages). We are already planning to begin reading it in August and we'll be comparing it to the audio drama version in our literature studies. These and other resources are available to you as well when you purchase your own
Beric the Briton
Christian radio theatre production.
We enjoyed listening to the audio drama uninterrupted as we traveled and my children think the Study Guide
(50-pages)
is pretty cool, too. The Study Guide has three sections of study for each track on the CD.
The Listening Well
questions cover listening comprehension as they test what students remember,
The Thinking Further
questions direct students to research topics discussed, and
Defining Words
strengthens vocabulary skills. Illustrations and historical references throughout serve to deepen the understanding and comprehension so that students truly grasp the history behind the story being told. There are real-life pictures of famous monuments and places, recipes to make at home, links for virtual tours, and other activities to engage your students in adventure and guide them to make memories that will help keep history alive. The Scripture references throughout the Study Guide are spot-on and the Bible studies at the end (
The Importance of Studying History
,
Thou Shalt Not Kill
, and
One Way
) are phenomenal. I really like seeing the lightbulbs come on as my children make the
ah-ha
connections between things they've learned in Sunday School and church and things they've learned in history. It is especially amazing when they realize how it all fits together. Catacombs, Nero, Paul, lion's dens, and the burning of Rome -- this is good stuff.
You can find out more about
Beric the Briton
and
Heirloom Audio Productions
by visiting the following Social Media Sites:


Pin It Now!