Camp ShadyRest is just two weeks away and I'm drawing inspiration
(no pun intended)
from
Art
Achieve
's
Entire Level 1
. My Princess really planned to use this on her own and I planned to watch over her shoulder, but we both decided that this was just too good not to share with the kids at our summer art camp. How cool is it that she can utilize the knowledge she's gaining as she works through the art bundle herself to teach all of the children that attend camp and begin to foster a love of all things artistic within them? She is excited about this -- and also plans to share the techniques she's learned with her "little girls" Girl Scout troop when they start meeting again in September. I just love it when "learning" becomes fun and lessons make a difference. Don't you?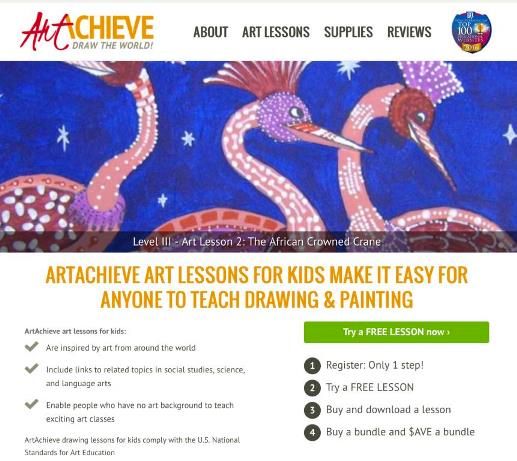 Art
Achieve
is an online homeschool art curriculum that offers bundled or single art lessons in five different levels of study. For purposes of review, my 15-year-old daughter chose to begin with Level 1 because she likes to
"see where it all starts."
And it all begins with lines. Suitable for students of all ages, the first lesson in Level 1 teaches students about simple lines and explains that if you can draw a simple stick figure then you can easily draw really complicated things. Isn't that encouraging? Through a slideshow presentation, students learn about straight lines, ovals, curves, dots, angles, and wavy lines and how to utilize them to create masterpieces.
This lesson serves as the building block for all of the other lessons in Level 1
(10 total lessons)
and sets the stage for what is to come. What my daughter enjoyed most about Lesson 1 was being encouraged to choose relaxing music to get her into drawing mode and what I liked most was the way Art History and Appreciation were gently integrated into the lesson. The gentle persuasion to get up, move around, and actively LOOK for art was impressive.
Lessons 2 - 10 introduce students to different artistic expression from around the world using varied mediums and techniques. Step-by-step instructions guide students in the art of creating a whimsical Czech cat, a fun Hungarian Insect, a quaint Haitian Gecko, a playful Dragonfly from Ecuador, a friendly Chinese Dragon, a curious Owl from Bali, a beautiful batik print of the Kitenge Tree from Tanzania, a fabulous re-creation of a plate from Nepal, and a quirky drawing of the Sun with Four Faces often seen in both Haitian and Mexican decor. Mediums used throughout these lessons are markers, acrylic paint pens, water colors, oil pastels, charcoal pencils, crayons and crushed paper, and drawing pencils. Each lesson begins with a warm-up exercise and has a PowerPoint slideshow (30 - 60 slides) that students can follow as they work or a video they can watch (around 20 minutes each) for guidelines as they draw. The video lesson is similar to the slideshow presentation and covers the same material and shares the same illustrations as the PowerPoint. We've used both video and PowerPoint versions of the lessons at home. My daughter prefers reading through the PowerPoint lessons, but says she'll utilize the video lessons when teaching at art camp. There are also printouts available for most lessons that students can use as templates if they need a place to begin.
Czech Cat
Each lesson provides a short geographical study on the area of the world from which the art comes and some even share a short scientific study on the animals or insects used as models. Famous artists are introduced throughout the lessons and famous works of art are shown that correlate to the artist and artwork methods being taught. This is a great way to help your child begin to see art all around them and deepen their appreciation for creative endeavor.
Sun with Four Faces

The lessons are uplifting as students are inspired throughout to give it their very best. Students are reminded to keep silent as they draw so that they can concentrate and are told that it's okay not to like everything they draw. They are encouraged to work until completion before deciding if they like the finished product and reminded that art will be different for each person. I needed the encouragement that there are no mistakes in drawing. I have never felt like I had much of an artistic side, so it was good to be told to just keep drawing. On a personal level, I'm getting more confident as I do, so something must be working.

For even more information about

Art

Achieve

art lessons, please visit

the following Social Media sites:




It's a great day to

"draw the world

!

"

Don't you want to get started?

I was given the opportunity to review
Art
Achieve
's
Entire Level 1
a
s a member of the
Schoolhouse
Review
Crew
.
You can check out the
Crew Review
and see
what other members of the
Schoolhouse
Review
Crew
thought
of it as well (or just click on the banner below) and you'll see how it worked for families with children of all different ages and artistic skills.

Pin It Now!