Do you long for wholesome adventure that takes you to faraway places? Are your children young or young at heart? The MainMost and I have long yearned to visit Scotland. We want to don a kilt and take off across the highlands. There's adventure in our blood and we've shared that passion with our children. Although we can't take off on these epic enterprises right now, we can certainly bring them home to share until we are able to travel as we desire. If your children enjoy historical journeys and you crave character development and faith lessons for them, audio theater is perfect for your home.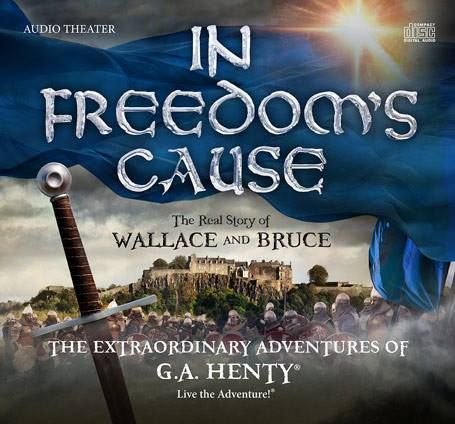 We had the distinct privilege of reviewing
Under Drake's Flag
(a G.A. Henty audio drama produced by
Heirloom Audio Productions
) last year. You'll remember that we absolutely LOVED it and were excited to share that another audio drama was in production. We couldn't wait to spend some time with
In Freedom's Cause
this year and were thrilled when it arrived for review. We recieved the
In Freedom's Cause Single Package
which includes the
In Freedom's Cause
CD set (2 CDs), a 49-page Study Guide, the MP3 Soundtrack download (which contains beautiful music for the background of any day), and a printable copy of
The Prayer of William Wallace
(which teaches students how to pray through Scripture and is now hanging in my kitchen). We have enjoyed listening to the audio drama together and separately and using the Study Guide in our daily school time.
Through 2 1/2 hours of character-building adventure,
In Freedom's Cause
tells the story of William Wallace and and King Robert the Bruce's valiantly courageous efforts to free Scotland from English control during the Wars of Scottish Independence as seen through the eyes of protagonists Ned and Gerald. My 13- and 15-year-olds were held spellbound by the story from beginning to end. With a cast of characters voiced by actors in some of our very favorite movies (think Billy Boyd of
Lord of the Rings
"Pippin"
fame and Skandar Keynes -- Edmund, from
Chronicles of Narnia --
for starters) the story comes to life and grabs your heart as you listen along. Fireplaces crackle and sword battles play out to captivate the listener and transfer you right into the middle of Scotland itself. All that was missing was our kilts.
We began our visit to Scotland by listening to the CDs straight through on a road trip out of town. The kids and I were quick to join the chant "for GOD and for Scotland" along with Ned and Gerald as we joined training sessions and practiced sword fighting. I loved hearing the admonition to stay true to GOD, stay true to your brothers, and stay true to Scotland. I want my children to be reminded continuosly to stay true. GOD, Family, Country . . . that's what we strive to teach in all that we do. Drama that brings history to life and reminds us to keep our hearts fixed on GOD's Word is perfect.
Following our initial visitation, we've spent time re-listening to
In Freedom's Cause
and pairing each CD track with the appropriate portion of the Study Guide. The Study Guide can be used for children of all ages with the help of parents or can be used independently as a more in-depth study for older children. Students are encouraged to use good listening skills and are asked to answer basic comphrensive questions on what they've heard. Each section further contains questions for short answer that require deeper thinking skills and vocabulary words to define and utilize. The Eagle Scout and the Princess answered questions together and used the discussion as a starting place for short essays. They've gotten hands-on practice with our Bible Commentary and pulled out our maps of the world. History and Scripture are woven throughout the Study Guide and three Bible studies wrap it up. These are my favorite part of the study. I enjoy directed Scripture search for my children as they form the basis of their world viewpoint through theology.
I want my kids to know that under pressure, FAITH ALWAYS WINS. What a wonderful lesson to learn
for such a time as this
. Once again,
Heirloom Audio Productions
has provided us with the highest quality faith-filled adventure that puts you right in the center of the action as you live through the Scottish quest for independence. Another must-have for your personal library, y
ou'll definitely want to visit these Social Media sites for more information on sharing this lesson of faith with your family through
In Freedom's Cause
:


Pin It Now!