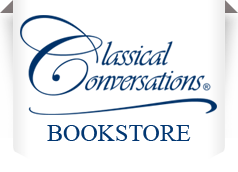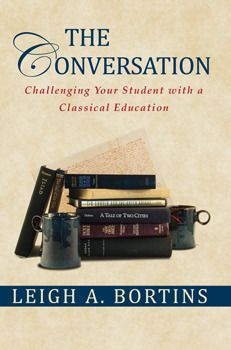 The word "conversation" has been popping up all around me lately. It actually started at camp at the beginning of the summer and it has continued to nudge at me over and over. The camp discussion was about conversations that we need to have that lead to relationships. Several situations have presented themselves about other "conversations" as well.
And then this opportunity to review
Classical Conversations
'
newest book title
The Conversation: Challenging Your Student with a Classical Education
presented itself and I knew it was a must-read for me and my house. I'd actually been waiting for this one. I was so looking forward to reading it and gleaning new ideas for family unity and beginning new conversations of growth and character with my children.
The Conversation
is the final book of a trivium of great reads by Leigh A. Bortins. Although this is her third book on classical home education, it is a stand-alone read full of inspiration and ideas. I had not read either one of the earlier books, but now I can't wait to get my hands on them. Leigh is a 30-year homeschooling veteran and encourages families to continue educating their children at home all the way through high school graduation. I like that perspective. I have already graduated two of my daughters from high school and have a Freshman and Junior this year, but I found
The Conversation
to be filled with delightful insight and much needed encouragement.
Although we do not follow a classical education format, I desire for my children to be able to think critically and solve problems. GOD has gifted each of them with unique talents and learning abilities and I want them to fully engage in life around them. It is important to me that my children grow up to be men and women of character. Accountability is a necessary part of character. My main purpose for all that we do and discuss and learn at home is to lead them to be virtuous adults. In my opinion, the end result of all of our conversations should point them to Heaven. Nothing else matters. Throughout the pages of
The Conversation
, I am consistently encouraged to offer my best to my children so that they can offer their best to GOD.
Through 12 Chapters and 4 Appendixes that include a wealth of resources for both parents and students, Bortins shares her knowledge about how to make high school work in a way that edifies your students. This 267-page softcover book is a textbook and a devotional and a planning guide that directs you to explore the world through conversations with your family while looking for beauty and truth and goodness together. It has truly ignited a passion within me to be a better teacher by being a better learner. I am fascinated with an introductory statement she made about why her family homeschools. She said
"one of the reasons we homeschool during high school is so that our boys have time to work hard at the things they love."
This touches me in a way I find hard to explain. I want this for my children -- time to work hard at the things they love, time to find what they are truly passionate about. That is why I homeschool, too. I just didn't know how to voice it.
The beauty of homeschooling is that its flexible schedule allows time for reading, writing, and arithmetic in addition to employment, athletics, church attendance, fine arts, and service work.
Offering practical advice that can immediately be put to use, The Conversation explores the role of the homeschooling parent and reminds me that it is my job to demand excellence, offer advice and encouragement, teach details, and celebrate the victories both big and little. It also explains the use of rhetoric as students pursue virtue and vocation on the path to ethical leadership. It is refreshing to see the big picture of the role I can play in the life of my high schoolers and reminds me of the importance of home education.

The bulk of the book (Chapters 3 - 12) breaks down each subject to be studied in the rhetorical arts and offers an explanation as to WHY those subjects can best benefit your family. Through shared conversations and examples of study, Bortins takes you through the invention, arrangement, elocution, memory, and delivery of each subject (the five canons of rhetorical learning). She not only tells you HOW to help your family learn, she SHOWS you how she does it in her own home. I am personally gaining such insight as I learn how to converse with my children and work together with them to interpret literature, speak eloquently, write persuasively, investigate science and math, practice citizenship, evaluate history, translate languages, and study fine arts. I am becoming a better parent as I re-read the pages of The Conversation and fully embrace the Christian legacy with which I pray we are providing our children.


Seriously, where has this book been all of my life? I've wasted so much time
!
I've graduated two and have two in high school and there are conversations galore to be had. This book will speak to the heart of every homeschooling parent no matter the educational style you follow. The bottom line is that
The Conversation
is about family -- and raising yours to love GOD. You can find out more about the conversations awaiting your family by visiting the following Social Media sites, but please don't delay. You need these conversations in your life. Your family needs for you to have them.


Pin It Now!