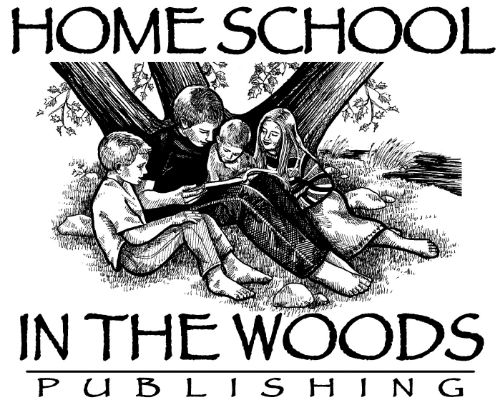 I enjoy traveling and seeing new sights and learning new things as I go. I also love studying history and digging into stories and projects that make it come to life. I have been able to share that love with my children through the years -- all four will confess that history is their favorite subject -- and the travel "bug" is beginning to take root in their lives as well.
I am especially excited when travel and history combine and educational opportunities abound, as we have found in the Project Passport World History Study: Renaissance & Reformation

by
Home School in the Woods
. A hands-on curriculum written especially for 5th - 8th graders (but completely appropriate for both younger and older students)
Project Passport
has become a family favorite as we work through the Guidebook and maneuver through our Travel Itinerary on an epic quest through the Renaissance & Reformation time period (1100 AD to 1660 AD).
What a perfect way to learn about history
!
My very kinesthetic learner has thrived this summer as she "visits" each of the 25 stops that bring history to life. It has been such fun for her as she "meets" new people like Martin Luther and Henry VIII along the way. This is a world history program that easily takes the "school" out of learning. Instead of dreading work, she has enthusiastically embraced fun. It's easy to pack your bags and head out on this cultural adventure through history.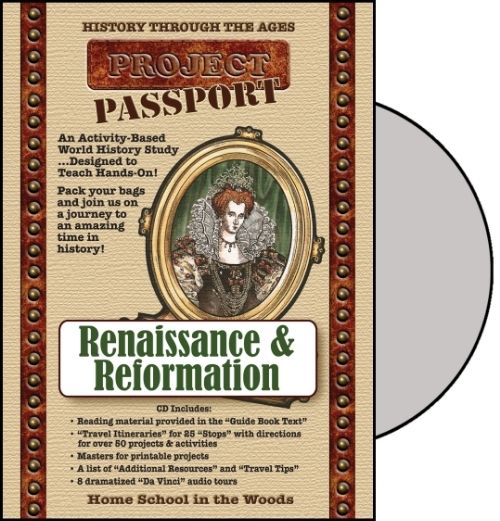 A rising 9th grader, the Princess is really "into art"
(her words)
and the art projects and artist studies piqued her interest from the first moment she began researching
Project Passport
. In depth lessons have reinforced the art history we have studied and given her the opportunity to try her hand at emulating some of the Masters.
In years past, we have taken field trips to a local Renaissance Faire. Project Passport brings that field trip home to us. With recipes to try and clothing to make, you can easily step into the world of royalty and examine the daily life of peasantry as you learn and explore and dream and write alongside of some of history's greatest characters. My girl has become so enamored that the flowers in her hair have become a staple fashion accessory. Learning that becomes everyday life makes this momma's heart smile. (Pictured below, the flower wreath is one of her completed craft projects from the study. She has made several -- in different colors -- and even gifted them to friends.)
Project Passport World History Study: Renaissance & Reformation
is available as either a physical CD or a digital resource. For purposes of this review, I received it in downloadable format. This worked perfectly for us. Designed to be used over an 8 - 12 week period, it includes audio files (used as audio tour on your travels) and printable components to make for an authentic experience. Students can read lessons directly off of the computer, print pages for further exploration, and fill their notebook full of souvenirs from their trip. There is easily enough provided within the study to turn this into a semester-long historical study and additional resources and reading suggestions make it easy to continue even longer.
What I particularly appreciate is that my daughter can truly make this her own as she steps into the pages of history.
Project Passport
makes it easy to explore the world through the projects and lap books provided, but also allows her creative license to continue the exploration as her heart desires. She is not confined to the pages of a book, but is encouraged to branch out, chase rabbits, draw, paint, cook, learn, and live. It is at the point when the desire to learn becomes active that I know we have succeeded.
Project Passport
offers success.
You can explore history for yourself with
Home School in the Woods
by visiting the following Social Media sites and seeing which of their many studies would be fun for your family:


Pin It Now!