I was first introduced to

Memoria Press

way

back in 2011 when we were privileged to

review First Form Latin

with my

then

5th and 7th graders. We quickly realized that Latin was definitely NOT a dead language and we enjoyed studying it together. Fast forward a few years and those kids are just about all grown up

(just ask them

!

)

. We've recently had the added privilege of studying

The Book of the Ancient Romans

together and it has been another valuable learning experience at Long Leaf Academy.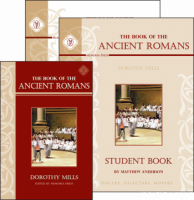 The Book of the Ancient Romans Set
is written for students in grades 6 - 12 so my
now
8th and 10th graders found it easy to use, read, and comprehend on their own. It's hard to believe that my babies are all grown up, but they are. They've reached a place in their academic study that does not require me to be as near as hands-on with them as I once was. It's easy for me to check out the basics of what a textbook will provide them and turn it over to them to study and learn. I can now simply help them set their reading goals (what should be finished when) and assign the dates for reviews and tests to be completed. They are prepping for college as they learn to take responsibility for study and deadlines. I like that you can see the entire Table of Contents and view a sample of each of the three books that make up the set on the website as I help set the calendar of study. It makes my job as a teaching parent much easier.
Included in the complete set are the following three components:
The Book of the Ancient Romans Text (435-pages, softcover) -- a wonderfully detailed history book written in the 1920s by Dorothy Mills, this text serves as part of an introduction to history and civilization of the ancient world. Divided into twenty-five chapters that are broken down into the following sections, Mills covers major historical highlights in a way that students can understand. The reading is both interesting and entertaining. The illusrations are simply lovely. Students study:

The Rome of Myth and Legend
Rome, the Conqueror and Lawgiver

Rome, the Mistress of Italy
Rome, the Mistress of the Mediterranean
Rome, the Mistress of the World and
The Decline and Fall of Rome
The Book of the Ancient Romans Student Guide (77-pages, softcover) -- contains facts to know, maps to label and color, comprehension questions to answer, vocabulary words to learn (both English and Latin), activities to complete (drawing/labeling additional maps, creating timelines to track major events in ancient Rome, and researching/writing paragraphs and papers), and chapter/section reviews that can be used before testing
The Book of the Ancient Romans Teacher Guide (100+pages, softcover) -- includes all answers for the Student Guide (77 pages filled in), 5 blank Tests for students plus answers, and a Final Exam plus answers (48 pages). These can be used to make sure your students fully comprehend what they have been studying.
We've spent a good deal of time over the years studying Ancient Romans, so my children have used this as a basic review of culture and characters. They enjoy reading the literary excerpts and seeing just where each piece fits into the timeline of history. I like hearing their discussions as they read along -- and listening to the debates that naturally occur as they delve into the questions found in the Student Guide. The
Comprehension Questions
and
Facts to Know
sections have been used as oral fodder to see who is most knowledgeable.
Yep, no sibling rivalry here at all.
For grading purposes, we have used the provided chaper and section reviews as open book testing and will continue to work through the tests and final exams over the summer. I like to know that my children are learning JUST TO LEARN -- and
Memoria Press
offers us that opportunity. I want the quest for knowledge to be insatiable and never-ending and quality books that I can offer to my kids just for the fun of it make me happy, Because it does just that,
The Book of the Ancient Romans Set
makes me happy.
You can find out even more about
Memoria Press
on the following Social Media sites:


Pin It Now!