They say you can't teach an old dog new tricks, and I'm feeling like a pretty old dog these days with 16 years of homeschooling under my belt, BUT I am ever confident that there are fresh, new ways to look at everything and sometimes our boring homeschool days could definitely use a bit of "something." A little flair, if you will. I am always open to new ideas, better ways of doing things, bits of encouragement, and pieces of inspiration. I'm more than willing to learn new tricks of the trade and make our home a better learning environment for all. When
Successful Homeschooling Made Easy
offered me the chance to review their "how to" course for homeschooling parents, I said BRING IT ON.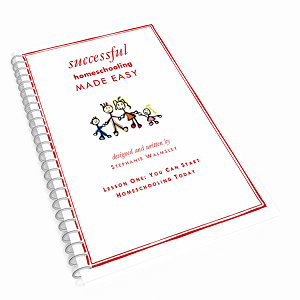 The
Successful Homeschooling Made Easy Course
is a 26-week long "how-to manual" that arrives as a PDF in your mailbox. You receive one lesson a week that you can read straight from your computer or print for future reference -- or both. There are assignments that you'll definitely want to print each week and hands-on tools to make your life easier. The lessons range from 11 - 26 pages each and they are chock full of information so they make for an excellent homeschooling resource.
Lesson One starts at the very beginning and teaches you how to begin making your homeschool schedule and how to work within it. Stephanie Walmsley has some superb ideas about making your schedule work for you and she reminds you weekly to stick with what works. If you are completely new to homeschooling, she easily walks you through how to begin and how to be successful as you go. If you are a veteran homeschooler, she offers you a new vision with plenty of creative ideas to spice up the everyday. (New tricks for an old dog -- just what I needed.) I especially liked her idea about starting a Literacy Hour and was gently encouraged by this reminder:
It's important, when you are working with the children that you stay with them when they are working. Don't be tempted to go and sort laundry, fiddle with your smart phone or check emails. As long as you are there, providing the atmosphere and equipment, exercising self-control and demonstrating good work habits, you are almost certain of success.
Now I don't know about you, but these words really spoke to the heart of things here at my house. As my children have gotten older, I am often in the throes of doing "stuff" while they school. I try to double-dip to get the many things on my "to do" list accomplished, and somewhere along the way I think I had forgotten the importance of just
being
where my children are.
There are lessons on making math easy, lessons on making home a welcoming place (how convicting for me
!
), reminders of what education
is
and what it
is not
, encouragement for success, and practical advice on beating clutter and teaching all subjects. I've thoroughly enjoyed reading through the weekly lessons and putting the suggestions into practice. I'm reminded to love on my children as we educate through life and encouraged to remember the "easy" in what we do. I want our homeschool experience to be successful through each season of life, and I know you want the same for yours.
The
Successful Homeschooling Made Easy
website is well worth your perusing time.
I'm a sucker for books and I sure did enjoy reading over these recommended lists for
children
and
teens
. Definitely take some time to look over the lists and see which ones you might want to add to your family's book basket or library.
There's a little bit of something special here for every family. You can even take a sneak peek at the
Successful Homeschooling Made Easy Course
and
preview it for yourself
. You'll also want to make sure to stop by the
Facebook
page for even more encouragement in
avoiding burnout
on your homeschool journey.
Old dogs CAN be taught new tricks. Here's the proof.


Pin It Now!