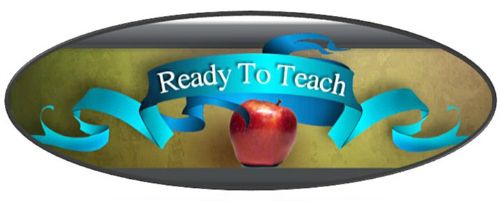 I like words and understanding where they come from and what helps them to get their meaning. I think it is super important for my children to have a good solid base in vocabulary and we strive to discuss words and the derivative of their meanings on a daily basis. We've studied Spanish, French, German, Japanese, and a little bit of Latin at Long Leaf Academy and my children are always interested in the similarities of the words in each language. I was excited for the opportunity to review the
Greek Morphemes Lessons (It's NOT Greek to Me

!

)
by
Ready to Teach
and knew that both my 8th grader and my 10th grader would enjoy seeing how much they already knew of the Greek language.
For purposes of review, we received the
Instructor's Manual, Student Book, and a flash drive
of PowerPoint lessons ready to plug and play. Did you know that over 40% of the words in the English language are derived from Greek morphemes? And did you know that over 90% of terms used in science come from Greek morphemes? Do you know what a
morpheme
is? My Eagle Scout plans to be an engineer and my Princess has dreams of being a surgeon. For either of these scientific fields, learning
Greek roots
is a great way to begin.
So what exactly is a morpheme and how does analyzing it help students? How could I possibly be using hundreds of them a day and not even realize it? These were just a few of the questions my children asked when our curriculum arrived. We were able to insert the accompanying flash drive into our computer, chromecast the PowerPoint onto the television, and begin learning together immediately. My children were fascinated to learn that a morpheme is just simply a part of a word that has a meaning and they were shocked at how many they knew or could figure out with just a little thought through a quick study of prefixes, roots, and suffixes.
After a brief introduction to the vocabulary study of morphemes, the PowerPoint presentation takes you step-by-step through the pages of the Student Guide (103-pages, bound softcover). Literally, all I had to do was click for each new section of the slide as my children took notes. (And if you prefer, your students can use the flash drive by themselves -- clicking through the screens as they work through the Guide.) Following the introduction and study of morphemes, students use their learned knowledge to decode a series of vocabulary words.
There are 12 lessons and each lesson is divided into 4 parts. Students complete one lesson a week and all 12 lessons follow the same format. This is how we chose to work through each lesson:
Day One: Introduction of new morpheme roots, prefixes, and suffixes through notes from PowerPoint.
Day Two: Decode first half of vocabulary words (8) and write definition of each.
Day Three: Decode second half of vocabulary words (8) and write definition of each.
Day Four: Write context clue sentences (sentences that explain the meaning of the word) with 8 of the vocabulary words.
Day Five: Decode new vocabulary words and share possible definitions. (We used this exercise as an oral exercise together.)
Tests are included at the close of each lesson, as a midterm exam, and as a final exam. Color-coded pages are also included in the back of the book to use to make a set of study cards. Since these were paper and we were using these together, we chose to create our own study cards on cardstock for durability.
The Instructor's Manual (103-pages, bound softcover) contains lesson plans and assignments, answer key to all lessons, transparency masters for use in a classroom setting with no computer, review activities, and all tests with answer keys. It further provides a separate set of color-coded study cards printed on cardstock. This came in handy for us to use in Greek morpheme game play.
My children have enjoyed these
vocabulary studies
and are quite proud to be learning a bit of Greek, The PowerPoint presentation is colorful and the transitions are entertaining as words fly in and pictures move about the page. It is a fun and engaging way to strengthen vocabulary skills -- and has even been fun for this mom. Unfortunately, my kids quickly discovered that they didn't need my help and often chose to work ahead on their own. I am delighted in their interest and happy that this is one curriculum they want to spend time on daily.
To see if this is as perfect for your family as it has been for mine, you can look at the
sample lesson
and check out how it all works together. I am confident that you will be impressed with your student's vocabulary improvement as they work to develop higher-order thinking skills.


Modify message
Pin It Now!