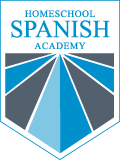 Four years ago, I left part of my heart in Guatemala. I can't wait to go back. I have friends that are going in December and I'm longing to be on that trip with them. Since Guatemala is one of my very favorite places EVER, you can imagine how important I think it is for my children to learn to speak Spanish well. I just KNOW we'll end up serving there again. Last year, the Princess had the opportunity to take a half-semester of the Middle School Spanish Program from
Homeschool Spanish Academy
and it was a remarkable experience.
(You can read about that experience and see how much we loved it.)
I was thrilled when my Senior was offered an opportunity to take a half-semester of Spanish from their
High School Program
for students ages 15 - 19 this year.
Homeschool Spanish Academy
offers expert instruction from native instructors in the comfort of your own home. There is no need to travel to lands far away. Students need only a computer, web cam, microphone, Skype account, and reliable high-speed internet service to begin. A printer is helpful for homework assignments -- but not required as lessons can be completed and submitted online. Based in Antigua, Guatemala, you are assured that each instructor has extensive training and is more than capable of teaching their native tongue.
The Senior is no stranger to languages. She has an affinity for history and geography and enjoys studying foreign languages. Just last year she took Spanish, French, AND Japanese -- and worked on a little Latin on the side. She was excited to try out
Homeschool Spanish Academy
for herself and converse with a native speaker via Skype. This real-time instruction is fast-paced and makes sure to get students speaking the language immediately. Students begin with conversation and not just rote recitation. It is an amazingly innovative way to learn the Spanish language on your own terms.
The first step to this journey was to set up an account and test out our connection and internet speed. Once these had been done, the Senior was ready to begin. She has taken several online courses through the years, so it's very easy for me to turn her loose and allow her to complete all assignments on her own.

Last year, I helped the Princess set up her
Homeschool Spanish Academy
account and schedule her classes, but I was simply not needed this year with my high schooler. She could easily follow the online instructions for class registration. She knows her schedule best so I gave her the responsibility to schedule these classes entirely on her own. She knows when she can best sit for a class based on her other activities and was more than willing to schedule and complete her classes in a timely manner. A half-semester consists of 7 hour- long lessons and costs only
$99.99
. Because they are set up to bring out the best in your student, each half-semester class is equivalent to a 1/2 credit for the high school transcript. Students can easily earn the required language credits as they progress through the
lessons planned
.
Homeschool Spanish Academy
is a unique learning experience. To begin with, the Senior read through the short biographies of each of the available instructors and chose which one
she
wanted to work with. (Did you catch that? She was able to choose her own instructor. Cool, huh?) This was a great way for her to "own" her class and it helped her to be enthusiastic about studying. She didn't want to disappoint. She scheduled her first class with Marleny for the afternoon of the next day.
After a brief telephone call from tech support, followed by a Skype call to make sure that our computer would "play nice" with the instructor's computer, it was time to begin the individualized Spanish classes. How exciting for me to be able to listen in the background as she shared what she already knew and her instructor worked to discover the direction that they should take to best improve her language skills.
Completely individualized, Marleny met my daughter right where she was and worked with her to teach her even more. As a mom, it has been fun hearing my child converse in a foreign language and laugh with a new friend far away. The complete immersion was the perfect complement to the classes she had been taking through our local homeschool group.
At the end of each lesson, Marleny emails any homework assignments. These come to my email address and I share them with my Senior. Sometimes the homework assigned is simply to "review the lesson" and other times it is to "complete and submit." I am especially fond of the idea that she is required to submit her work in just a day or two -- long before her next Skyped lesson. This helps her by keeping the completed lesson fresh on her mind AND helps eliminate procrastination. Since she must turn the homework assignment in to be graded, she is not tempted to wait until the very last minute to get it done.
Here's what my Senior had to say:
Homeschool Spanish Academy
was a new-to-me, more personal way to learn Spanish than other classes I have taken. My teacher (Marleny) was very real with me. She was quite personable and related to me easily. We developed a familiarity and I welcomed her into my life like an old friend. She asked questions to find out what I liked and found ways to relate to me beyond just being my "teacher." She laughed at my jokes, and if I made a mistake, she just smiled at my antics.
From our very first class, Marleny asked lots of questions to determine at what level of language instruction I should begin. The course itself was very refreshing from the more uptight school-structured language classes I have taken prior to this one. Each hour long lesson was great. It was really easy to understand and comprehend what we were discussing or going over. It was a real privilege to get to use the program and work with the staff of the Homeschool Spanish Academy. The webpage was set up well and I found it easy to use. I scheduled all of my own lessons and submitted my homework when assigned. It was overall a very good experience and I would recommend others take this course. The one-on-one discussions with a native Spanish speaker were very helpful and made the language real to me.


I must admit that my Senior is a creature of habit and she was impressed (and comfortable) with her chosen instructor, Marleny. She wanted to take all of her lessons with Marleny -- and that's exactly what she did. I certainly didn't mind but it's only fair to mention that Homeschool Spanish Academy does encourage students to try more than one instructor so that students can experience the different teaching styles and hear the different accents used by each. Since I am the teacher my child has spent most of her life with, I appreciate their encouragement to experience new teaching styles -- especially as my high schooler prepares for college classes with instructors of all types.

Homeschool Spanish Academy offers classes for students as young as 5-years-old through adults like me. The pricing schedule varies, but the more often you take classes, the less expensive they are. How refreshing to be rewarded for loyalty.

My Princess loved Homeschool Spanish Academy last year and my Senior loved it this year. I am pretty sure your children (or you) will love it, as well. Why don't you take some time to thoroughly check it out and see how you can utilize it in your homeschool today? I know you'll be glad you did.


Pin It Now!