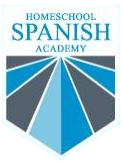 We are half-way through our half semester of Spanish classes from Homeschool Spanish Academy and I must tell you that I am simply amazed. (A half semester consists of 7 lessons.)
Homeschool Spanish Academy
is a GOD thing for us in a major way. If you've been reading my blog for any length of time, you might remember that we have a heart for Guatemala after having visited with Amigos Mission Team on two separate occasions.
I have shared with you a few times how GOD simply spoke to my heart and told me that HIS plans for us include my Princess learning Spanish -- because HE would be using her as my interpreter in Guatemala. That is such exciting stuff for me -- knowing that HE has big plans for us and that HE has even bigger plans for her. And I knew that Homeschool Spanish Academy was perfect for our family when I found out that it was taught by real-live teachers from Antigua, Guatemala
(THE city for language schools)
via Skype online.
I was so very excited to find out that I would be reviewing this most excellent Spanish program. After a simple sign in process online, I was almost ready to begin. The Director of Homeschool Spanish Academy called me at home to discuss my computer capabilities and then via Skype to test my connection and speed. We quickly determined that my computer was good to go and I was able to schedule our very first class.
At just the right time, the Instructor Skyped us and class was soon underway.
Technology is so very cool. It is so neat to be able to see and hear someone so very far away. Olga is the Princess' instructor and we fell in love with her immediately. Olga spent the first few minutes of the first class (classes for middle schoolers last about 50 minutes) questioning the Princess in Spanish and evaluating where they should begin. A little nervous to begin, the Princess was very quickly put at ease. She was laughing and carrying on with Olga like they had known each other forever. I really think all of the siblings were a little jealous that she got the "way cool" Spanish lessons. They kept hovering around the computer to get a glimpse of Olga. Before long, Olga had "met" each of them and even all of our animals had been brought to the computer to say hello.
After the initial introductions, Olga began the first lesson. You can see in the picture below how much my Princess enjoyed the lesson. She was totally enraptured with all that Olga was teaching her. During her first lesson, Olga shared the documents they were studying right on the screen.
In this picture, you can actually see our precious friend Olga. The papers in front of her are her full-color lessons for the day. Olga emailed them to me prior to the class and I printed them out so that they could see each other as they studied. (Right behind the computer screen is Elizbeth, the American Girl doll and favorite companion of my Princess. She now comes to class to learn Spanish, too.) There's a bit of counting going on here -- uno, dos, tres . . There's even homework that must be done between classes. Neat, huh?
In addition to the very personal touch that Olga provides my sweet child, I like that we are able to schedule the classes around OUR schedule. We are not stuck with a certain day or a certain time. We can choose which day of the week works best for us -- and that's a real bonus with a schedule as crazy as ours. We just never know what each week will bring so it is wonderful to be able to schedule from week to week.
Homeschool Spanish Academy has 4 different levels of study.
Each level is then divided into 2 sub-levels (i.e. Level 1A, 1B, 2A, 2B, 3A, 3B, 4A, 4B), for a total of 8 sub-levels. Within each sub-level, there are 14 lessons, at least 5 quizzes, and at least 4 exams (some sub-levels have more)
*High School Curriculum also has a level 5A advanced level.
As you can see, there is plenty of language to really inspire your student to learn Spanish.
Here's the breakdown of prices for the class that my Princess has been taking: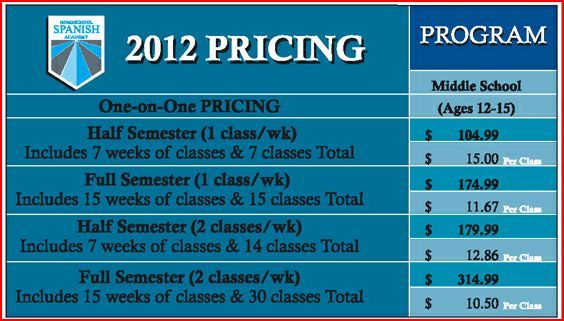 This is for one student taking the class. There is also an option for more than one student to take a class together. You can find prices for that as well as for the Elementary and High School classes
on the website
. There are even classes for adults. In my opinion, this is money well spent. I am excited to be able to share Homeschool Spanish Academy with you. Enjoy!



~Disclaimer: I was given the opportunity to try Homeschool Spanish Academy as a member of the Schoolhouse Review Crew. The opinions stated are mine and mine alone. I was not paid to share my thoughts and feelings with you. I received these lessons in exchange for my honest review. You can check out the Crew Review and see what other members of the Schoolhouse Review Crew thought of Homeschool Spanish Academy
HERE
.~
Pin It Now!