An online Christian bookstore that's anything but typical,
Grace & Truth Books
offers a unique shopping experience built on a totally different approach than most. With a three-fold mission based on
what will glorify GOD,
strengthen HIS people in their walk
and call all peoples to find joy in knowing HIS gospel and following HIM,
Grace & Truth Books
is determined not to resemble secular literature or media. With the current state of affairs of this country and world, I find that quite refreshing.
Their approach is to invest in the Christian walk by investing in the lives of fellow Christians through a selection of traditional books that were read and loved by our parents and grandparents. There was quite a bit of wisdom found in what our parents and grandparents held dear and I for one am anxious to return to a simpler time. In our home, I purposefully emphasize a personal relationship with JESUS, spiritual growth and strong character. Easily navigable,
Grace & Truth Books
is a wonderful resource to fill my home with quality Christian literature that encourages these things through reading and inspires my children to walk a closer walk with JESUS. I am amazed at the wonderful selection of books offered and my wish list is growing. With Christmas fast approaching, I am excited to find something for everyone on my list at
Grace & Truth Books
.
When the cover of a book tells you that the life mission of the author is to
"train future leaders to understand the times in which they live, equipping them with the skills they need to make a difference in the world,"
you know you've got the right book in your hands. I was first introduced to Jeff Myers through a communications curriculum that I use to teach a Speech class for our homeschool co-op and I recently found out that he and his wife, Danielle, had written a book aimed at discovering if true romance is even possible in the 21st Century. Our family has gotten "bigger" in the past few months as my oldest daughters have begun dating so
Of Knights and Fair Maidens
came to us at just the right time. I enjoy having all of my children hanging out at home and we welcome the "boyfriends" as much as possible.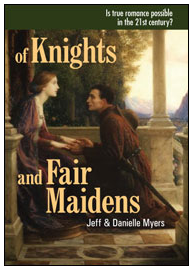 As you know, I'm the mom of three daughters and one son. We don't allow "dating" in our family until the children are
at least
16 and I must admit, I would so prefer courtship over dating for all of them.
Of Knights and Fair Maidens
is a
"radical new approach to a very old way of developing relationships."
What I want for my kids is this: to figure out how Christians can develop relationships with members of the opposite sex in a way that glorifies GOD and reflects the character of JESUS CHRIST and this 122-page book offers concrete ways to do just this.
Divided into three sections,
Of Knights and Fair Maidens
begins by explaining to the reader how you can rethink relationships and includes the courting story of the authors. Jeff and Danielle Myers follow their "story" by sharing the important steps to great relationships including "How to Fall in Love, Courtship Style." The third section of the book is the "How To" section and gets right to the point of how to "DO" courtship. With separate chapters for guys and girls that offer some great advice on character-building activities courting couples can do together,
Of Knights and Fair Maidens
shares a great plan for true romance that lasts through the ages. My favorite piece of advice offered is this: if at any time in a courting [or dating] relationship you find that you're not getting along with the members of your family, step back from the whole thing and work on
that
relationship first. A great reminder for how very important your relationship is WITH your family, the Myers are honest about the hard work that good relationships take.
A little book packed with big wisdom,
Of Knights and Fair Maidens
can be used to help set up parameters in courtship as well as outline topics in pre-marital counseling. A quick read, this gem of a book is one you will cherish as you read and re-read time and time again. I read through it in awe before sharing it with my older daughters. I plan to have the Boy Scout read it as soon as they are finished. He's 13 and still a few years away from the approved dating age in our family, but I know that it is never too early for our children to learn to guard their hearts.
You can purchase the beautiful hardcover edition of
Of Knights and Fair Maidens
for $9.75 or the eBook edition for $6.50. There are 40 selections in the Courtship and Dating category alone and currently
Grace & Truth Books
is offering FREE shipping on orders over $49
(U.S. only)
. I encourage you to share
Of Knights and Fair Maidens
with your children and to enjoy the many other books available from
Grace & Truth Books
.
~Disclaimer: I was given the opportunity to read
Of Knights and Fair Maidens
published by
Grace & Truth Books
as a member of the
Schoolhouse Review Crew
. The opinions stated are mine and mine alone. I was not paid to share my thoughts and feelings with you. I received the book in exchange for my honest review. You can check out the
Crew Review
and
see what other members of the Schoolhouse Review Crew thought
of
Of Knights and Fair Maidens
as well as quite a few other books published by
Grace & Truth Books
.
~
Pin It Now!