From my very first introduction to
Apologia Educational Ministries
years ago, I knew I had found a trustworthy source of curriculum for my family. Beginning with their Science series then their books of encouragement for homeschool moms and now their Faith and Worldview books, Apologia has my heart. I know when I use Apologia my family will be learning and living and defending the faith. That's exactly what I want for us. As always, the newest curriculum not only meets my standards but exceeds my expectations and is more than welcome in my home.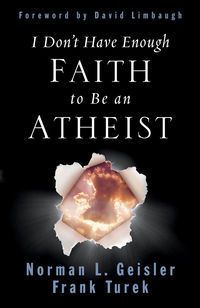 I Don't Have Enough Faith to be an Atheist
is the best-selling book by Norman Geisler and Frank Turek that helps prepare Christians to defend their faith by making sure that they understand what they believe and how to share that belief with others. The soft cover, 447-page book is broken down into 15 Chapters that teach on the three major religious worldviews as pictured below: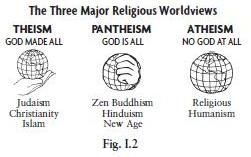 The book begins with twelve points that prove Christianity is true and expounds upon those points in each chapter.
Here is the basis of the study and why it is beneficial to all Christians:
If you are going to "always be ready to give an answer" for the hope that you have (1 Peter 3:15), then it would be smart for you to understand and memorize the arguments and evidence presented in the book so that you can incorporate them into your daily interactions with others.
I desperately want my children to be at the ready to give an answer for the HOPE that IS JESUS. I am even considering teaching this to the core students in my middle school ministry at church over the course of the next year.
I Don't Have Enough Faith to be an Atheist Workbook
is a 279-page, spiral bound, softcover book based on the book. (You can read through a
Sample of Chapter 1
and see just how much it will benefit your home.) Each chapter in this study is organized to help you understand and remember the information presented in the book and make it real for your life. (You can
view the Table of Contents of the Workbook
and the
Table of Contents of the Book
to see how closely they coincide.)
The Workbook is quite user-friendly and breaks down the content of the book in such a way that it is more easily understood by high school students. Each chapter begins with a notation on which of the Twelve Points it explains and points out the Key Topics that you have read in the corresponding chapter. Key Terms from the reading are presented for the student to define.
After that, students follow the content from each chapter through four sections:
Hook -- reminds you what you read in the chapter from the textbook and warms up your brain with a few questions to answer
Book -- unpacks the topic you read in the textbook and tests your recall and comprehension
Look -- challenges you with research assignments and hands-on activities such as conducting interviews or watching videos online
Took -- summarizes all of the material presented and helps you begin to live it out
Here's how we are using
I Don't Have Enough Faith to be an Atheist
at Long Leaf Academy: First, please understand that this is not a "light" read. It is a very serious book that encourages Christians in their walk with JESUS and offers hope in a troubled world. My Junior and I are currently going through this study
together --
and we are taking it slowly
. There is simply so much information to absorb that we are finding a slower pace to be most beneficial.
As recommended in the Workbook, we are reading through a chapter from the book then spending time discussing what we've read before we begin working through the assignments in the Apologia Workbook. It is challenging us as we dig deeper into the truth behind who we are and why we believe what we do. We are both enjoying the personal faith stories of famous people we've heard about all of our lives. C.S. Lewis, Augustine, Mother Teresa -- all are stalwarts of faith that we can look to and emulate.
We are both fascinated with the
I Don't Have Enough Faith to be an Atheist
study. The Apologia Workbook suggests that you spend 2 - 3 weeks reading and completing the accompanying study for each chapter, which has you completing the course in a 9-month time period. That is our goal. I'll let you know how we do!
The Workbook is $33.00 and can be
purchased HERE
. The book itself is $16.00 and can be
purchased HERE
. You can
read the Introduction and first Chapter
of the book and get a feel for how well it will fit with your family. I encourage you to help prepare your high schoolers to be ready to defend their faith by helping them know exactly what they believe and why.
I Don't Have Enough Faith to be an Atheist
is a marvelous tool to do just that.
~Disclaimer: I was given the opportunity to use the I Don't Have Enough Faith to be an Atheist Curriculum by Apologia as a member of the Schoolhouse Review Crew. The opinions stated are mine and mine alone. I was not paid to share my thoughts and feelings with you. I received this curriculum in exchange for my honest review. You can check out the Crew Review and see what other members of the Schoolhouse Review Crew thought of it
HERE
.~
Pin It Now!