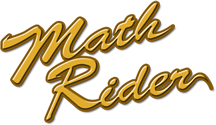 Last year we had the opportunity to review a great
math facts game
called MathRider.  
(You can read all about that experience with it here and see how much my oldest daughter wanted to play as well.)
The Princess thought it was simply THE.BEST.GAME.EVER and really enjoyed telling all of her friends about it.
Created by Thomas Brand over two years ago , MathRider was designed to help children improve their math skills by developing a strong foundation in basic math.  Through repetitive drills
(done in a fun way)
, my Princess has seen her mental math abilities improve by leaps and bounds.  Math is still not her favorite subject but she cannot wait for Math time each day during school -- she
wants
to complete all of the quests.  I am thrilled to see her scores continue to rise and her frustration level diminish.
Version 3 is now available and with it comes even more fun for your math student.  The Princess says that MathRider is better than ever.  She especially enjoyed the quests this time around and says the
"graphics are really, really good.  They are out of this world!"
You can purchase
Math Rider
for your Princess [or Prince] and allow her [or him]  to travel on a noble quest for $49.95.  
BUT if you order now you pay only $37.
And you can even let your child try out the Full-Feature Software before you buy!  I'm pretty sure you're entire family will be ready to gallop off once you give it a try.  Check out the website to see the
System Requirements for this intelligent math game
and build math confidence right from the start.

~~I was given the opportunity to use and review 
MathRider
as a member of the 
TOS Homeschool Crew
.  The opinions stated are mine and mine alone.  I was not paid to share my thoughts and feelings with you. You can check out the 
Crew Review
and see what other members of the TOS Homeschool Crew thought of 
MathRider
HERE
.~~
Pin It Now!