I've shared with you before that it is my heart's desire that my children be completely fascinated with learning and we make every effort to share quality resources with them. I recognize the importance of science and am always happy when we have opportunity to use and review the online
Fascinating Education
courses. We have enjoyed both Fascinating Chemistry and Fascinating Physics and I'm happy to say that
Fascinating Biology
is just as good as the others.
Beginning with the statement that
"religious views and scientific views differ,"
Fascinating Education
founder,
Dr. Sheldon Margulies
, opens the door and invites students to step into an understanding of both viewpoints in order that they may better understand how to reconcile scientific opinions and Biblical pronouncements in the very first lesson
"What is Life?".
I have absolutely no problem with this as it complements the differing views within my home. My husband is an old-earther, I am a new-earther.
Fascinating Biology
helps bridge the gap between the two.
Divided into 18 lessons,
Fascinating Biology
teaches students about living things and their chemical environments through an in-depth study of the seven requirements of life. Each lesson is divided into sub-topics. What I like about this course is that students can watch an interactive slide presentation
(think PowerPoint with flair because there are moving pictures, cool videos, and graphs)
narrated by Dr. Margulies
(the Fascinator)
, read through the script for the slides, and take a test to make sure that they understand the material as presented. Each of the lessons are fairly short
(they take anywhere from 45 minutes to an hour for my daughter to finish)
and are designed to be completed in one week. Students can work at their own pace through the topics and can watch and re-watch topics as often as they like. The Lessons covered are as follows:
What is Life?
Chemistry Review
The Cell Membrane
Take in Nutrients
Take in Energy (Parts 1 - 4)
Grow
Reproduce (Parts 1 - 3)
Homeostasis (Parts 1 -2)
Adapt (Parts 1 - 2)
Prokaryotes, Protists, Animals and Fungi
Plants
At our house, we watch a lesson in its entirety and then read through the script. The script is in pdf format and can be printed to create a textbook of sorts and my daughter can use it to add notes, underline key phrases, and have a resource for additional study later. Each of the pictures from the narrated slides are included in the script so it is easy to follow along and learn. The lessons conclude with a "What You Know So Far" section that acts as a refresher/study guide before students are tested on the material presented.
There is a short test at the end of each lesson taken online. (A printable option is currently provided for the first 16 lessons.) The tests consists of 4 - 27 multiple choice questions that are graded for immediate feedback. Upon completion, students can review the tests and even retake them, if they like. This helps my daughter to completely grasp what she is supposed to be learning. I do want to point out that the
Fascinating Education
website does not keep records of individual grades, but that is no problem for us. After my daughter finishes each test, we print the results and add it to her notebook. When she completes the course, I will have a paper trail of all tests and be able to assign her final grade accordingly.

For more information about
Fascinating Education
(and to see how it will best fit your needs), I suggest reading through the
FAQ page
. You'll find information about which grades each of these courses are best suited for (think middle and high school), the sequencing philosophy of Dr. Margulies
(Chemistry first, then Biology)
, the teaching approach used for evolution and creation, links to the Scope and Sequence for each course, and more. There is an online tutorial available that explains exactly how to use the website
(but rest assured it is easy to maneuver)
and there are samples and outlines for each course. You can even download the
Biology outline
in pdf format and watch an entire lesson on Nutrients and take its test to get a hands-on feel for the curriculum. I urge you to do just that.
My Eagle Scout was enamored with the
Fascinating Education
courses. My Princess is finding them just as wonderful. We recommend them to your family.
I was given the opportunity to review
Fascinating Biology from
Fascinating Education
as a member of the
H

omeschool
Review
Crew
.
You can check out the
Crew Review
and see
what other members of the
Homeschool
Review
Crew
thought
of this fascinating science resource and other curriculum we reviewed (or just click on the banner below.)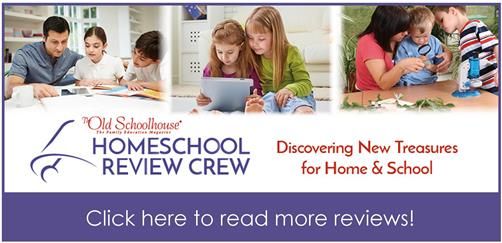 Pin It Now!