I had the absolute BEST teacher for Algebra 1 and Geometry in high school. Mr. Lee was super creative and he made us all fall in love with numbers and theories without even realizing that we were. I have wanted that love for my children but have struggled to find the perfect program to bring them the sheer joy that Mr. Lee shared with us. I wanted my son to review
UnLock
Geometry
in hopes that he might develop an unbridled enthusiasm through this newest program offered by
UnLock Math
. While I cannot claim that he is enthusiastic about geometry [yet], I can say that he is willing to sit and work through more problems now than before as he seeks to improve his ACT math score. That's a start and I'll take it.
The
UnLock Math
programs are complete math programs -- online. This means that your high schoolers can choose one of the math courses offered (
Pre-Algebra
,
Algebra 1
,
Algebra 2
, or
Geometry
) and studiously work through it for the entirety of the school year to satisfactorily complete the course for credit. When working for about 30 minutes a day for three days a week, students can expect to complete any one of the courses in a nine month school year. Each of the
UnLock Math
courses can also be used as a supplementary program to other math curriculums.
The
UnLock
Geometry
course is currently divided into 12 Units with 3 more on the way. The course begins with Prerequisite Skills, moves into Logic and Proofs, Triangles, Polygons, and Circles, and ends with Perimeter, Area, and the Coordinate Plane. Each Unit is divided into Daily Lessons (5 -9 Lessons per Unit) which each include 4 Assignments, a Video, and a Reference Notes section. Quizzes are provided for every 2 - 3 Daily Lessons and there is a Unit Test Review and Unit Test at the end of each Unit.
As each assignment is completed, students "unlock" access to the next step. Here's how it works: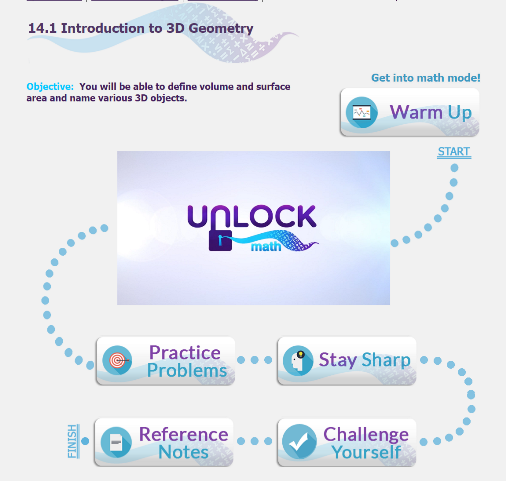 Students "get into math mode" with 5 Warm Up problems. The problems offer a quick review of concepts learned thus far. After a student answers the math problem, they "verify" their answer by answering "yes" to the question "have you read the solution to this equation?". Talk about accountability and follow-through. Immediate feedback is given so that students know if they have given answers that are correct or incorrect. Once an assignment has been started, students are allowed only one answer per problem. If incorrect, they see an explanation as to how the problem should have been worked. Students have unlimited opportunity to work through each section of assignments. They can move on if they are satisfied with their work or try, try again for a perfect score. The only catch is that they must re-do the entire assignment or quiz and not just one problem in it on their quest for a better grade. I LOVE this -- especially since re-doing an assignment does not mean a student re-works the same problems. Nope

!

New problems appear each time a student chooses to try again. It's a great way to make sure that you are truly grasping each concept.
After completing the Warm Up section of math problems, students watch a short Video Lesson (usually 5 - 8 minutes long) that introduces the new math concept. The videos are fast-paced so not at all boring and can be watched and re-watched as much as needed to understand the concepts presented. (Thank goodness that we have the ability to watch and re-watch. The Metric System still kicks tail at my house.)
Following the video, students answer 10 Practice Problems that coincide with the lesson taught in the video. This is not review work. The problems are a direct reflection of the new information and follow the same format as the Warm Up problems. After working the math problem, students submit their answer, see the problem worked in its entirety, and verify that they have read through the solution. Immediate feedback makes sure that students understand what they are learning and students have the option of trying again if they are not satisfied with their grade.
The Stay Sharp assignment combines new and old material as students work 10 comprehensive math problems.
Each lesson ends with one Challenge Yourself problem designed to make students think through several concepts. These serve as brain teasers and are actually quite fun to work through.
Reference Notes are provided for each lesson in the form of a printable PDF. These notes are taken directly from the video lessons and can serve as a textbook for students when printed and placed in a notebook.
As they work, students see a cumulative average and percentage of course completed. In addition, parents have complete access to progress reports and a grade book that shows exactly how much time is spent on each section of learning, how many attempts a student makes to perfect their score, and which days they sign in and how long they work once signed into the program. I don't know about your house, but this kind of accountability is a necessity at mine. I like to know who is doing what when and I like to see progress when my kids head off to their rooms to "do school." I KNOW that math is getting done when I can log in and check it for myself.
It's officially summer vacation at Long Leaf Academy, but that doesn't mean we have completely stopped learning. My kids know that education is a year-round opportunity and they are expected to continue working to improve -- even when mom isn't calling the day to order.
UnLock Math
allows my son the chance to keep math skills fresh while the flexibility offered makes it easy for him to go to work, enjoy summer activities, AND continue prepping for the ACT. I like that it takes the pressure off of me, but gives him excellent instruction. Mr. Lee would be proud.
I recommend all families with high schoolers in need of math credits check out

UnLock Math

. They make it easy for us to better serve our kids.
You can find out even more about
UnLock Math courses
on the following Social Media sites:
And just so you know, Pre-Calculus and Calculus courses are joining the
UnLock Math
family soon. This is a win for homeschoolers.

I was given the opportunity to review
UnLock
Geometry
from
UnLock Math as a member of the
H

omeschool
Review
Crew
.
You can check out the
Crew Review
and see
what other members of the
Homeschool
Review
Crew
thought
of this curriculum and other resources we reviewed (or just click on the banner below.)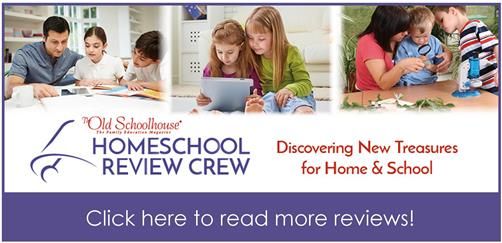 Pin It Now!