Memoria Press
offers remarkable curriculum choices for those pursuing a classical Christian education and I am always blessed when the opportunity to review for them comes my way. We were invited to use
Nature's Beautiful Order: An Introduction to the Study of Animals Taught by the Classic Naturalists
and I hoped that my daughter would be excited.

Nature's Beautiful Order
is a lovely set that reflects the wonder of GOD's creation through a deep study of the Animal Kingdom as taught from the works of classical naturalists such as John James Audubon, Jean-Henri Fabre, and St-George J. Mivart. What this means for our students is that they begin to develop a love for animals and the world around them as they delve into nature looking through the eyes of Christian men and women who recognize that GOD knew just what HE was doing
"in the beginning"
. An introductory study,
Nature's Beautiful Order
can easily be used by middle school students (grades 6 - 8) as a stand alone science curriculum AND/OR as a biology supplement for high school age students. My 10th grader has always loved all things animal and is most at peace when she is outside exploring. As I hoped, she is delighted to be studying through the pages of this science resource.
Nature's Beautiful Order
is divided into 18 Chapters. Students study a variety of animals including cats, lobsters, bees, turtles, birds, farm friends, and more -- one chapter per animal -- and end with a study of the anatomy of man and a reminder that man was created to act as a steward of all animals.
The
Nature's Beautiful Order
set (pictured above) includes a Textbook, a Student Guide, and a Teacher Key. Each student will need their own student guide book -- and once they have completed it, they will want to keep it for reference for years and years to come.
All three books are softcover and printed in black and white copy. The 187-page Textbook is written directly to the student in a straightforward manner that shares fascinating facts about the animals being studied and offers in-depth insight for the reader. It is minimally illustrated with black and white line drawings that share the beauty of GOD's creation. My personal favorite chapters are the ones that discuss birds, migration, and the miracle of flight. Growing up, my mother was a watcher of birds and she would share tidbits of information with me -- tidbits that I never really cared to hear. Now, I find myself becoming my mother
(please don't tell her I have admitted to this)
and I enjoy feeding the birds that visit at my feeders and watching the flight patterns of a pair of buzzards that are nesting in my woods. I cannot even begin to explain how beautiful their flight is and how much I enjoy watching them careen through the air. There is even a red-tailed hawk that has made my yard its home -- we caught video of it capturing dinner Sunday afternoon -- and
Nature's Beautiful Order
helps us to appreciate this "lord of the air" even more than we already did. A perfect study tool, the Textbook also makes a great "outside" resource manual just for fun.
The 51-page Student Guide helps students develop skills of observation as they read and follow along in their Textbooks. Students answer 17 questions from each chapter read (with the exception of Chapter 17 which only has 14 questions). Although blanks are provided for answers, this is not a super easy fill-it-in workbook. Students are required to read, think, observe, and understand. After answering the questions in her Student Guide, my daughter checks her work against the Teacher Key (51-pages that correspond directly to the Student Guide). She is able to make corrections as needed and add information that she may have left out of her answers. Once completed, she will have a handy resource manual for outdoors.
As always,
Memoria Press
has given us a beautiful resource to encourage students to fall in love with GOD's gifts to us. I love that the writings come from men with a heart to further the Kingdom and our appreciation of all that is in it.
You can find out even more about
Memoria Press
on the following Social Media sites: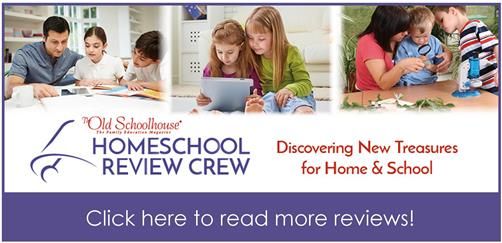 Pin It Now!