You know we've been in the throes of graduation, college admission, and ACT prep here at Long Leaf Academy so you can imagine my excitement when High School Essay Intensive from Institute for Excellence in Writing (IEW) arrived for my high schoolers. IEW has proven itself to be of the highest quality and is easily one of our very favorite homeschool resources. We've had the opportunity to use quite a few of the IEW curriculum/programs and we've loved each and every one.
My children fell in love with Mr. Andrew Pudewa's wit and teaching style years ago, so they are quick to ask for and use whatever is coming next. His laid back approach to hands-on learning makes us all happy. He's genuinely funny and he encourages students to be their best. Seriously, I enjoy watching the DVDs along with my children and I'm reminded of so many concepts that I was taught in high school and college -- things I knew, but have forgotten. I like that I can learn with my kids. I like that my kids WANT to learn even more. I like that we can chuckle as we learn.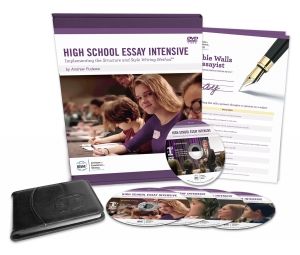 High School Essay Intensive
is a four-part course that teaches students how to write effective essays. It is filmed on location during a real live seminar, so students watching from home via video stream or DVDs are right in the middle of the class. They are invited to attend the all-day writing class as participants, not just observers, and will need to be prepared with paper and pen. Be aware of that, mom, as some students
(who shall remain nameless at my house)
may try to simply watch without writing and they will miss the benefits of the seminar. There is a 28-page seminar handout included and Mr. Pudewa encourages the students to become avid note takers -- in the course, in church, in life.
Isn't it great when respected adults speak the same truths to your children that you speak?
The handout is the same one that is being used by the students in the live seminar and shares all of the writing prompts, strategies, templates, and applications referenced so it makes it easy for your students to actively participate. You will want to purchase one handout for each student using this series.
The seminar is broken down into four parts on five DVDs in which Mr. Pudewa teaches students how to actually implement the Structure and Style Writing Method. (You might remember that we first fell in love with
IEW
while using the Deluxe Combo
that taught this method.) The first session (DVDs labeled 1a and 1b) cover the general principles of composing an essay. Students learn how to choose what they will write about, how to arrange and organize their ideas, and how to present those ideas with style. My girl was quick to point out that she
"knows how to write an essay"
when I first handed the DVDs over. That said, it was a great place for her to begin and hear refresher information before she starts preparing to take college entrance exams next year.
The next three sessions cover specific tasks for high schoolers as they prepare for college with insight into both the ACT and SAT writing tests
(updated to current test content)
, AP exams, and personal statements for college and scholarship applications. In the second session (DVD labeled 2), students are taught strategies for writing the optional ACT essay. They learn who grades the essay (two educators), how the grading is broken down and points are scored, and are given sample prompts and offered hints on writing and proofing in order to best showcase their skills. Mr. Pudewa explains to the students that the ACT essay test wants students to have an opinion about a condition or situation that is going on in the world. The ACT essay is an argumentative essay and students start with a thesis that they set out to prove with reasoning and examples.
In the third session (DVD labeled 3), students are taught techniques and planning methods to help write an effective SAT essay. Mr. Pudewa explains the audience that will be grading the test (mostly high school and college English teachers) and how the grading is broken down into three parts: reading, analysis/content, and general writing. The SAT essay is purely an analytical essay in which students read a previously published composition and offer a critical evaluation of it using evidence, reasoning, and style persuasion. Although we don't take the SAT, the information provided in this session has offered invaluable insight to my son on taking the comprehension portions of the ACT.
The final session (DVD labeled 4) focuses on strategies needed for the "personal essay." This includes great tips and techniques for submitting examples of your writing with your college application. Mr. Pudewa explains to students that over the years, the writing skills of high school and college students has been in decline. As a result, colleges are now requiring submitted essays to gauge the strengths of the student. He further states that good writing is a great indicator of those who will be successful in higher education and he explains the many variables of the required essays. He offers great tips for making the essay a truly personal way to "sell" yourself and showcase your best self to the college admissions counselors reading it. We held the graduation ceremony for my boy on Saturday, so this is the world we currently find ourselves in and it was the perfect place for him to begin.
Although your students could certainly take this intensive seminar in one day (as recorded), I would suggest that you break the sessions up into daily lessons. The shortest run time is right at 50 minutes and the longest is almost two hours. At my house, that would make for a very long day and my kids are easily distracted, so . . . what we've done is split the seminar up into smaller chunks of learning. My 10th and 12th graders don't need their momma's help so much anymore, but I'm here for accountability. Instead of just handing over a new curriculum, I make sure that we discuss expectations on how long it should take, the benefits that will be reaped from diligent study, AND completed work must be verified by me. That means you can't just watch the seminar. You have to write the essays, too.
As always,
IEW
has thought of everything and included extra resources to help my students succeed. The
Portable Walls for the Essayist
is a neat double-sided tri-fold that serves as a reminder/cheat sheet while in the midst of writing. It's the perfect size to fit right in the front of my daughter's writing binder and can be easily referenced as she writes.
As expected, I'm super impressed with this latest help from
Institute for Excellence in Writing
and I look forward to the growth and improvement in my children's writing with its continued use. I appreciate that Mr. Pudewa engages my students and encourages them to Listen, Speak, Read, Write, and THINK
!
He comes alongside them right where they are and makes them want better for themselves. I like that.
For more information about
IEW
's
High School Essay Intensive
and any of their other packages designed to meet the educational needs of ALL styles of learners, make sure you check out the following Social Media pages:
Once again,
IEW
is a winner for our family. Check it out for yours.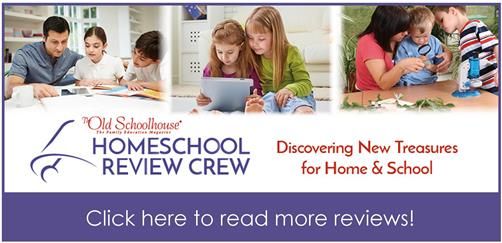 Pin It Now!