It was seriously time to up the ante in sciences for my Princess this year, so as soon as she completed her
Health
and
Life Science
courses, we were ready to jump into
Biology
. Specifically, she has been using
Science Shepherd Biology
from the
Science Shepherd
family of sciences and I just have to tell you that we LOVE it. For starters, this is REAL science
(directly from the mouth of the Princess)
. I asked exactly what she meant by that and this is what she said:
It's REAL, mom. It's not easy -- but not so hard that I can't do it. It's different from anything else I've done before. I know it's real HIGH SCHOOL work. There's just a different feel to it from other stuff we've looked at and used-- and I think I'm learning more than I ever have before and what I'm learning is a good foundation for what's coming in college and Med School over the next several years.
Now, I don't know about you, but I think that's pretty high praise for a high school Freshman who wants to be a doctor. She takes her science classes seriously and I'm super proud of her for that. When our box of curriculum resources arrived from
Science Shepherd
, I was a little afraid that it would intimidate my girl. After all, it intimidated me just a wee bit. It really is totally different than anything we've used before -- and that has turned into a huge positive. We needed to "shake things up a bit" and
Science Shepherd Biology
has blessed our socks off.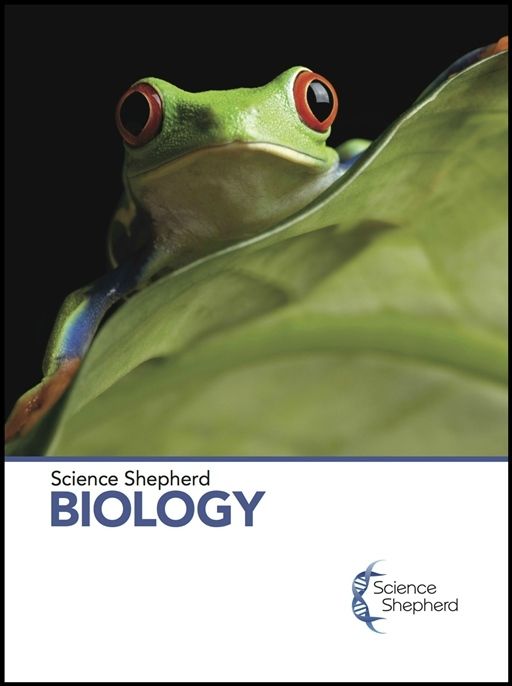 First of all, this is a complete Biology course -- text, tests, and labs included. We haven't reached the dissection portion of the coursework, but it's coming and so is our dissection kit. My girl can't wait for that portion
!
It's a fairly rigorous program designed to take a full year (36 weeks) and there's no fluff. The student text alone is 754-pages that begins with Chemistry and moves through Cells, Genetics, LIFE, the Kingdoms, Human Anatomy & Physiology, and Ecology. The textbook is similar in nature to the college textbooks my Occupational Therapy grad student is using in class so it really is REAL. Obviously, we haven't completed the entire course yet, but my daughter is well on her way because she'd like to finish it before the end of the summer. It's do-able, but it requires self-discipline on her part in a major way.
Written from an unashamedly Christian worldview/perspective, this
Biology
text begins with scripture and references the majesty of our CREATOR throughout. It is definitely directed to older high school students (10th grade - 12th grade) but has not been too difficult for my daughter in the final months of her 9th grade year. I would NOT recommend it for younger students as it is extensive and requires much dedication to study. Chapters are lengthy and involved. Students are expected to read and study and learn and retain. This is a good thing.
For purposes of review, we received each of the following:
Biology Text -- hardcover, 754-pages, full-color, divided into 34 Chapters. Each Chapter is subdivided and ends with sections on the People of Science that correlate to what has been taught, Key Chapter Points (bulleted guide to the most important ideas from the Chapter), Definitions/Vocabulary, and Study Questions from the Chapter. This text is written to students and tells them when to take each test.
Biology Lab Manual --softcover, comb-bound, 90-pages, black and white copy. There are 19 labs to be completed throughout the course. Each lab is explained in detail and there are pages on which to draw and answer questions. Answers are provided in the back of the Manual.
Biology Lab DVD -- hints and helps provided for each of the 19 labs. This is a HUGE help and although the labs could be done without it, we recommend that you utilize this resource. Being able to see and hear what is to be done has proved to be invaluable to my daughter. It also helps to keep her on-task and she is not tempted to just "skip the lab" has she has been in the past. The DVDs help to keep her fully engaged.
Biology Test Booklet -- softcover, 48-pages. There are 15 tests that students are directed to take as they read and study through the text. The tests vary in length depending upon the Chapters studied. Tests contain True/False statements and Short and Long answer questions. There are Why, How, Describe and Explain questions that truly do take forethought. Students are required to think about what they have studied and are not just repeating facts memorized to pass a test.
Biology Answer Key & Parent Companion -- softcover, 241-pages. This book contains all of the answers for the Study Questions from the text and all of the test answers from the Test Booklet. It has a detailed schedule for students to follow and offers parents a "quick look" at what students are learning throughout the text. There are questions that parents can ask to make sure their students are grasping the material as they study and notes that help refresh my mind on the basics of Biology. Whew

!

It's been a while since I've taken a Biology course so this is much appreciated.
What I like about this course is that my daughter can do it on her own by following the schedule provided. She is happy to go to her room and work on Biology and she is learning as she does so. It is "plug and play" for the most part -- aside from me making sure that we had the lab materials needed on hand -- she was able to begin the moment the materials arrived. There are "catch up" days built into the weekly schedule which makes it easy to not fall behind when life gets hectic and outside things pull on our days. As a homeschool momma, I appreciate knowing that stepping away from "school" will not throw us into despair.

School has taken on an entirely different flair now that we've added Science Shepherd to the mix. The Princess said it best when she called it real. The material covered is the same as in most traditional Biology courses, but there is a maturity to it that has called her to step up and is allowing her to fall in love with learning once again. Unfortunately, she had begun to slip into the "this is boring" routine, but now is being challenged once again. As the traditional school year winds down, my girl is excited to continue on course. Science Shepherd Biology is working for us. The text draws her in and keeps her occupied and she devours the written word as she moves through the hands-on labs. This is a winner for Long Leaf Academy.

You can find out even more about Science Shepherd by visiting the following Social Media sites:


Pin It Now!