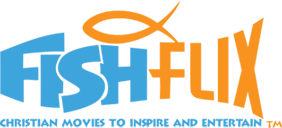 I like a good movie. My genre of choice is family-friendly. (Yes, I know that's not a real genre, but it describes perfectly what I want to see when I sit down to watch a film.) I like a feel good movie. It doesn't have to be a chick flick. Put together something with a a feel good vibe but prick my conscience, touch my heart, and warm my soul and you've got a winner. That's actually the perfect combination. I want to watch movies that uplift me and those around me. I want to make sure that I am watching movies that won't embarrass me if JESUS walks into the room. I want movies that make me better because I've watched them. Time is precious and I don't want to waste mine on junk that rots my brain and darkens my soul. You know what I mean?
Fish
Flix
.com
has become my go-to place to find the movies that fit this bill. I'm really not hard to please and my standards aren't too high. I know there are movies out there that do all of these things and I've found yet another one with
The Ultimate Gift
. A warm fuzzy, dash of love, missions-minded film with mystery and intrigue that contains no foul language, no illicit relationships, and no wild partying with half-dressed women is a winner all the way around.
Two very special friends recommended
The Ultimate Gift
to me on two different occasions. They promised that it was an excellent film that would meet my desired qualifications AND make me glad I had watched it. They were correct.
The Ultimate Gift
begins with the death of very wealthy Red Stevens -- grandfather of pretty boy Jason who was born with a silver spoon in each hand AND in his mouth. Jason makes a flashy appearance (arriving late) to his grandfather's funeral and disdainfully hangs around for the reading of the will. Much to his dismay,Grandfather Stevens doesn't bequeath a huge inheritance to Jason as expected. Instead, Jason finds himself caught up in a game of legacy as he is seeks to unwrap a series of small gifts that lead to the ultimate gift.
Jason is gifted
The gift of work
The gift of money
The gift of friends
The gift of learning
The gift of problems
The gift of family
The gift of laughter
The gift of dreams
The gift of giving
The gift of gratitude and
The gift of a day
each bringing a life lesson hard learned as he searches to find the ultimate gift of LOVE.
These gifts aren't easily opened and each one is accompanied by work. They also bring with them heartache and heart stretch for Jason as he learns the true meaning of forgiveness, friendship, GRACE, and love. There is fast-paced action as drug lords chase him in the deep woods of Ecuador, silly laughter as street bums fight over specific park benches, deep sadness as illness moves in to steal joy, and sweet electricity as love buds and blooms. This is good stuff that appeals to all ages. My 16-year-old son liked it just as much as I did -- and his friends even told me what a great movie it is. How's that for a Seal of Approval?
Fish
Flix
.com
endeavors to bring quality family films into the mainstream. Join me in supporting them by picking out even more great family-friendly movies to share in your home. You can find more information about
Fish
Flix
.com:
Christian Movies to Inspire and Entertain
on the following Social Media sites:


Pin It Now!