"We do not stop playing because we grow old, we grow old because we stop playing

!

"

― Benjamin Franklin

Bring on the Game Night! Ready, Aim, Fire away! I have a family that loves games -- and we enjoy sharing them with our friends.
Simply
Fun
has brought another neat treat our way. I'm reviewing
Archery Dice
, one of four of
Simply
Fun
new releases.
Archery Dice
is perfect for ages 7 and up which means we ALL qualify to play at my house. We are just a wee bit competitive around here, so it wasn't hard to get the married daughter and her sweet husband in on the action when we pulled out the game during their latest visit. A strategy-based game of fast-action, quick-flicking dice,
Archery Dice
is a good way to bring smiles, laughter, and even a good-hearted evil chuckle to the room.
(How's that for an oxymoron? But 'twas all in fun.)
Flicka, Flicka -- you're out of there.

How do you play the game and how does it work in the real world?

Archery Dice

is designed for four people to play at a time, but we found that even more could be included if you set up teams instead of just individual competition. Three flat targets are placed in a triangular pattern in the center of your playing field

(a table or ottoman works great

!

)

and four players

(or teams of players if you so choose)

stack their three colored dice on corresponding flat wooden disks outside of the triangled targets. We enjoyed trying out different spacing for the set up of the home base for our dice, but instructions recommend at least two target widths away. Players take turns "flicking" or thumping their dice in an attempt to have them land in the bulls-eye of the targets. Hand-eye coordination is helpful as you aim to land your die closer to the center than your opponent's land theirs and strategy comes into play as you bank targets for capture and try to knock out your opponents. The winner is determined when one person

or team

has claimed four targets.
Even my married daughter and the son-in-love agreed to play
This quick-paced game (seriously, it takes 15 minutes or less) is sure to please contestants of all ages. Just be careful that there is no
"out of control"
thumping and no cheating or
"moving"
targets. Ask me how I know that those are even possible. And beware of flying dice because all bets are off when the object of the game is to send pieces and parts flying legally. I can't wait to share this game at Kid's Night Out at church with my grade school students, and I'm thinking the middle schoolers will love it as well as be all about a little friendly flicking competition.
Ah, the possibilities
!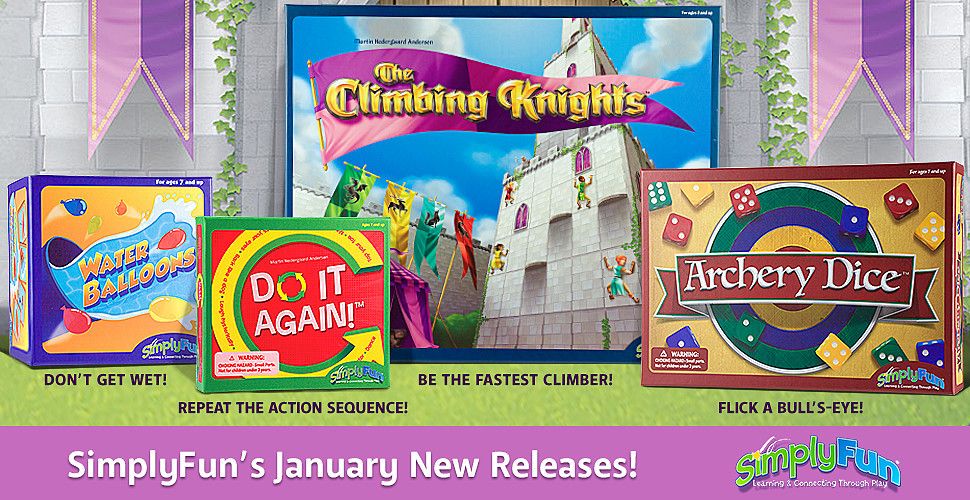 You might recall that we reviewed a
math game called Expanders
earlier this year from
Simply
Fun
. It's still a perfect fit
!
Games that are fun for the entire family and that are worth sharing, too? I love them. How about you? We are looking forward to testing out a few more of the other newly released games as well. Water Balloons? Oh, yes
!
Bring it on
!
For more information about this game and others, check out the following Social Media sites:
Aren't you ready to learn and connect through play? For family fun and adventure, make sure to check out ALL of the cool games from
Simply
Fun
. With four new releases already this year, you're sure to find the perfect combination of laughter and learning for your family.

I was given the opportunity to review
Archery Dice
by
Simply
Fun
as a member of the
Schoolhouse
Review
Crew
.
You can check out the
Crew Review
and see
what other members of the
Schoolhouse
Review
Crew
thought
of this and other products as well (or just click on the banner below.)

Pin It Now!