We LOVE, LOVE, LOVE studying history at my house and find that hands-on learning is the best way to really get it.
Ann McCallum Books
offers a great way to study history with your sleeves rolled up through her "Eat Your Homework" series which includes
Eat Your U.S. History Homework, Eat Your Math Homework,
and
Eat Your Science Homework.
We've been cooking and eating our way through school for as long as I can remember, so I knew we'd enjoy a food-guided tour through U.S. History. The
Eat Your U.S. History Homework
book is the newest book in the series and offers plenty of recipes for revolutionary minds. It's a fun book for families to share together. And, yes, I know that my kids are older than the "K-8" target age, but we are homeschoolers and have been going against the norm [and enjoying it] forever.
How about you?
We used this cute little book as the supplement to beat all supplements -- and you can, too. I was thrilled to be able to have my kiddos read through the book for a quick refresher course in history this semester and I was excited for the opportunity to assign cooking tasks to both the Eagle Scout and the Princess right from the book. What better way to include history AND life skills than in one big swoop? Even better that we could all reap the benefits of this directed-learning through our taste buds. Yum
!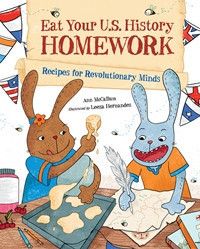 Eat Your U.S. History Homework
is a 48-page hardcover book that walks you through history from the very first Thanksgiving with the Pilgrims at Plymouth in 1620 to the signing of the Declaration of Independence in 1776. These historically inspired recipes make for a delicious story of America. I've always enjoyed reading through the pages of my cookbooks, and this one is no exception. Each of the six recipes is accompanied by a history lesson on its time period and the origins of the tasty treat itself
Along with recipes, this kid-friendly book contains kitchen hints and tips, a history review, and glossary of historical terms/events that were in bold throughout the book. Colorfully illustrated,
Eat Your U.S. History Homework
shares tidbits of information that make kids feel like they are participating in more of a history conversation than a history lesson. That's perfect to keep inquiring minds inquiring.
The recipes themselves are easy-to-understand and easy-to-follow. Younger children will want to make sure that adults are nearby while they cook, but I turned my high schoolers loose to impress us all with their culinary talents. One of our favorite recipes was the tasty
pain perdu
or
Lost Bread
. While the poor British soldiers choked down hardtack during the French and Indian War, French soldiers feasted on a tasty treat made from the stale bread that was "lost" or about to be thrown away. We call this
French Toast
and my Princess has learned to make some of the very best following the recipe in
Eat Your U.S. History Homework
.
Here's her step-by-step pictorial guide for you (right down to the disappearance of food from our plates):

Whipped eggs, spices, and a bit of soaking --
Homeschool Innovation Alert -- butter and our waffle iron instead of cooking in a skillet --
Carefully removed from heat, drizzled with syrup, and dusted with powdered sugar --
Diving in to enjoy --
The Masterpiece completed --
As you can probably tell, we've certainly enjoyed learning new recipes and tweaking some of our old favorites
(like Hoe Cakes, Independence Ice Cream,
and
Honey-Jumble Cookies)
and finding out where the idea for them originated and what their names actually mean. It's been incredibly interesting watching my kids at work in the kitchen and I recommend that you give it a try as well. Eating your way through history (and science and math) can definitely be fun
!
You'll want to make sure and check out all of the neat options from Ann McCallum Books.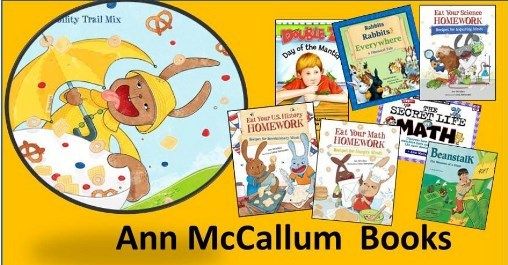 I was given the opportunity to review
Ann McCallum Books
as a member of the
Schoolhouse
Review
Crew
.
You can check out the
Crew Review
and see
what other members of the
Schoolhouse
Review
Crew
thought
of this book and others as well (or just click on the banner below.)

Pin It Now!