I've never been any good at geographical locations and mapping the USA. I remember filling in the blank maps of the United States in school and trying to come up with multiple ways to recall where each state was for tests, but I really never learned where the states belonged. I have a general idea, of course, but I get all mixed up about some of those mid-western states that are similar in shape and size. I'm forty-seven years old and still intimidated by the placement of states in the country I've lived in all of my life. Anybody else out there who is willing to admit that? It's one of the shortcomings I see from my learning experience that I strive to correct for my children in theirs. I want to make sure that they know a lot more than their momma ever did and I'm all for finding great new ways for them to learn. Even better if I can learn alongside them. That's where

Brookdale House

comes in handy.

Brookdale House

is a curriculum publisher that has some really fun ways to help you figure out where places are and to learn how to know them by their shape and size and location. We've been using Drawing Around the World: USA, one of the books in the Brookdale House Geography Drawing Series, so that my kiddos will be giant steps ahead of me. The combination of art and geography makes sense and my kids like it. They really like it. BUT, please understand that this is not a drawing curriculum. Students learn to illustrate the states and become intimately familiar with them, but this is most definitely a geography curriculum. Score

!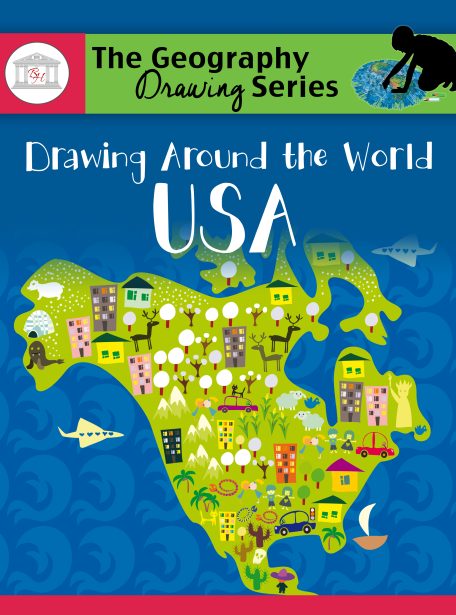 We did an in-depth study of the United States a few years ago
(before High School)
and spent time learning pertinent facts about each state so I knew that both of my children had a good general knowledge of the history of their country. I was ready for us to study it again for High School credit so that we could re-visit the geography side of the United States and develop a more specialized knowledge of each of her states. We have found that
Drawing Around the World: USA
is the perfect refresher for High School study. It is written so that students can learn how to draw the entire United States of America (including Washington, D.C.) from memory.
How cool is that?
My 9th and 11th graders enjoy its ease-of-use and they really like the fact that they can work each day's lesson in just a short time frame.
For purposes of this review, we received the eBook version of the book (282-pages), but there is a printed book available if you prefer that format. The book is chock-full of maps which include individual state drawings, dashed maps of the USA with each state marked for tracing, and framed maps where students draw each state in the "big picture" frame of the USA. All of these maps are printed in black and white so that students can label and color as they learn. There are colorfully completed maps of the United States (including State Capitals) that students are encouraged to use as reference points as they learn to draw the entire United States from memory.
THIS IS WHAT I LOVE ABOUT THIS CURRICULUM. Maps, Maps, Maps
! --
that my children LEARN from memory. No more guessing for them.
How are we using
Drawing Around the World: USA
? The curriculum is designed to be used for just 4 days a week over 27 weeks -- perfect for the school year. This is plenty of time for student-mastery as each day has an element of repetition with students building their knowledge base weekly. It's a simple concept that is working at my house. This is how the week shapes up:
On Day 1, students are introduced to the state (or states) they will study for the week and they fill out basic information/facts about those states. Students need to know the Capital and abbreviation for each state, the area and population for each state, the year the state gained statehood, the bird and flower for each state, the leading industry in each state, and things that make each state interesting to them. This provides for individually-tailored learning as students research and study. Naturally, my son and daughter can find cool things about each studied state that helps make it personal to them. Once the informational chart has been completed, students trace and label the state(s) on the dashed map and draw it onto the blank framed map.
On Day 2, students trace, label, and draw again.
On Day 3, students trace, label, and draw again.
On Day 4, students write all States and Capitals they have learned and draw and label all states on a blank map. What that means is that in the early weeks, they are only writing a few names of States and Capitals and their drawings have only a few states labeled. This doesn't take long at all. BUT . . . by the end of the course, students are drawing all 50 of the States (+ D.C.) and labeling their capitals and drawing them on the blank map FROM MEMORY. Did I mention that I love, love, love this?
This curriculum is easy-peasy to use and implement. I simply printed the eBook out for each of my children
(double-sided works well)
and made assignments right on their Table of Contents. We 3-hole punched the book and placed it in a binder. It was super-easy to mark the date that each week should begin and have them be responsible for completing their work each week. The ultimate assignment is that they will have a completed geography notebook of the States by the end of the school year. They are using colored pencils to add a bit of pizzazz to their notebooks
(hers MUCH more so than his, as you can imagine)
and are being graded on completion of work, creativity, and neatness. I am insisting on neat handwriting, clean pages, and have requested illustrations to go along with each state's industry and their chosen fun facts. This is just another way to customize their education and help reiterate important things they should know about each state.
The bottom line is that they like what they are doing, they do not complain, and they are learning. I like that
!
The Geography Drawing Series includes a
Drawing Around the World: Europe
book that I plan for us to work on next.
Brookdale House
offers additional resources for students of all ages in writing, Bible memorization, Spanish, grammar, and the Charlotte Mason Method. There truly is something here for everyone.
For even more information about all that Brookdale House has to offer to help you homeschool the easy way and the see videos that explain and demonstrate the company, please visit the following Social Media sites:


Pin It Now!