After Hurricane Katrina and 13 days with no electricity, I vowed to build up our family's game closet to expand our repertoire of fun. You can only play so many rounds of Solitaire and move around the same old game boards trying to stay out of jail and make it safely home, you know? Nowadays, anytime I am offered a chance to review a new game, I jump at it. We enjoy games and weekly family fun nights and are always excited to share our newest finds with our friends.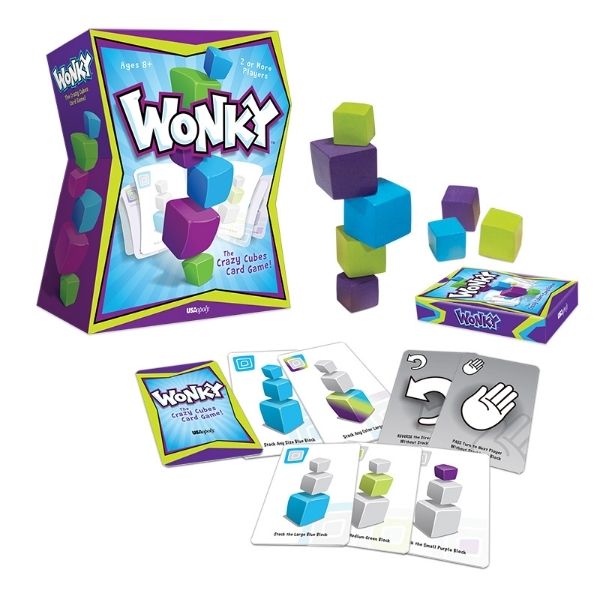 A few weeks ago, the coolest package arrived from
USAopoly
and the games it contained have turned our world upside-down. The first game we tried out was
Tapple: Fast Word Fun for Everyone
-- and I was even able to adapt it for use as a Bible Study kickstarter game one Wednesday night with 25 middle schoolers. It is super fun and the fast pace has us hooting and hollering and jumping around trying to "think quick" before the time runs out. It is definitely a "winner-winner-chicken-dinner" BUT the second game,
Wonky: The Crazy Cubes Card Game
, may make us laugh even harder as we test our mad stacking skills and try to steady our shaky hands. There's a bit of engineering madness in trying to make the "wonky" cubes stack up without toppling right over that makes every player just a little bit smarter as they strategize together to build, build, build.
These games are more than fun. They are entertaining excitement that work wonders to bring a room together. As a matter of fact, the highest compliment came from our Middle School Game Night when one of the kids said,
"Mrs. Lynn, you always have the most fun games that we've never heard of."
I'll take that as HIGH PRAISE coming from a middle schooler. I like being able to introduce students to tons of good, clean fun that they can share with their friends and families. There truly is nothing quite like hanging out and playing games together.
So, how exactly do you play these great games and who will most enjoy them? Both
Tapple
and
Wonky
are easy to set up and easy to play. They can be enjoyed by fun-seekers of ALL ages. Children and adults will enjoy playing together from the very young to the very old.
To begin game play with
Tapple
, you simply need 2 AA batteries, fast fingers, and creative thinking. The
Tapple
game "board" consists of 20 lettered keys, a big red timer button, and 36 category cards containing 144 topics for play -- but you can make up as many more as you need to keep playing for hours and hours on end. The category cards store easily on the bottom of the game and the box says they are appropriate for ages 8 and older. (Moment of Truth here: In my opinion, younger children can play as well. They may need a little assistance from sweet helpers, but they can definitely play.) The game is perfect to play with 2 - 8 players, but like I mentioned earlier, we made it work with 25 players at a time. So, go for
it and have fun
!
Players choose a category and push the timer to begin. Each player has 10 seconds to name something that fits within the category BUT starts with a letter on the
Tapple
keys. Once they name it, they push the timer to start it over for the next person, and end their turn. If you can't think of a word for a remaining letter, you're out. For example, in the game pictured below, the category was Outer Space. Players had already used the words
lunar
,
black hole
,
sun
, and
planets
when I snapped the picture.
Let's GO

!
The race is on. Who can push the letters down first?
It's getting tense in here. They can't stay in their seats in anticipation of their next turn.
Who's next?
Talk about fun
!
We so enjoy this game. Every family should own it.
And then there is
Wonky
.
From the crazy topsy-turvy box to the lop-sided colorful cubes,
Wonky
is ready for players to begin as soon as you open up the box. Perfect for 2 or more players ages 8 and older
(or younger children with steady hands)
,
Wonky
is a stacking game where players take turns stacking one of 9 cubes depending on the cards in their hands. There are three different colors of cubes and each color set contains three different sizes. Once players have taken their turn and placed a cube on the top of the tower being built, they must count to 3 to make sure it holds. Part of our fun comes when counting 1 - 2 - 3 to see if the tower stands firm -- and jumping in surprise when the tower comes tumbling down.
Getting ready
Stacking cubes takes immense concentration -- and a little bit of luck to boot. The winner of the game is the player that gets rid of all of the cards in their hand before any other player gets rid of theirs. Although this might seem easy, the stacking can get quite precarious. Small, medium, and large cubes with curvy sides make this an extremely exciting game for all involved. The taller the tower gets, the steadier your hands need to be. Placing the cubes on the very tip top without sending them all scattering can be a crazy task -- especially if small cubes in the middle are making the tower wobble. We were having so much fun at our Game Night that several family members decided to join in when they came to pick up their middle school students. Yep
!
It
IS
that much fun. Y'all are absolutely going to LOVE it.
I promise these games are just as wonderful as this review says they are. That said, RUN --
don't walk
-- right on over to check out the Social Media sites and find out about ALL of the games that
USAopoly
has to offer your family. (Okay, you got me. I know you can't really RUN over to these sites, but surely you can click on over rapidly. Believe me, you NEED some of these games for YOUR FAMILY's gaming closet -- and don't forget Christmas is coming!) Check out
Wonky
and
Tapple
and MORE over on:
I think you might even be surprised at how many
USAopoly
games you've already fallen in love with. As for my house, our gaming closet is looking better and better -- no more boring hurricanes for us. From now on, we've got some of the very best games made to keep us laughing and playing together. How about you?

I was given the opportunity to review
USAopoly
as a member of the
Schoolhouse
Review
Crew
.
You can check out the
Crew Review
and see
what other members of the
Schoolhouse
Review
Crew
thought
of this and other products as well (or just click on the banner below.)

Pin It Now!