1. I love VBS. We had a great week trekking to Thailand and learning that
GOD is . . .
GOD is REAL.
GOD is LOVE.
GOD is FORGIVING and
GOD is FOREVER.
Watching 3-year-olds to 14-year-olds worship together was beautiful and hearing from kids (and parents alike) that GOD spoke to them through Bible study was priceless. My prayer is that we all truly do
BELIEVE IT
.
Cross Culture VBS: Thailand Trek
Opening Worship
Festive Decorations make me smile.
2. I'm getting excited about our
July Blogging Challenge
. Are you making plans to join us?
3. Chaucer is fast becoming one of us. He is my daughter's "baby" but wasn't allowed to move into her apartment so we got to keep him by default. He discovered the "man in the mirror" this week and howls at him frequently.
My buddy
Finding himself
4. The Eagle Scout is enjoying his first job. The MainMost and I went last night to eat and it was fun to watch him in action. He made sure to keep his dad's tea glass full and the table clean. Definitely earned that tip.
Mom stalking
5. Our Children's Librarian is the BEST. What an honor to be invited to share the Blue Crew robotics season with her. Mrs. Mattie loves kids -- even when they grow up.
Giving them a Hand -- clacker-style
Life is good. Find the fun.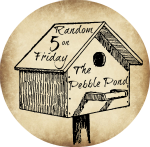 I'm linking up with my friend Miranda over at
The Pebble Pond
. Be sure to visit and be inspired by some other random thoughts today.
Pin It Now!