It's no secret that I like history. It was my favorite subject in school and it's definitely my favorite subject to teach at Long Leaf Academy. Our recent trip to Chicago made it even more clear that I've passed the history buff gene on to my children. We visited all of the big museums and were in complete agreement that while we enjoyed both the Aquarium and the Planetarium, you could give us more of the history museums any day. They were where we spent the most time -- walking through the halls, reading the information provided, soaking it all in. Fish and stars were interesting for a short visit, but history grabbed our attention for hours on end.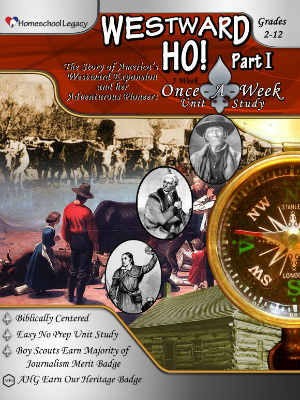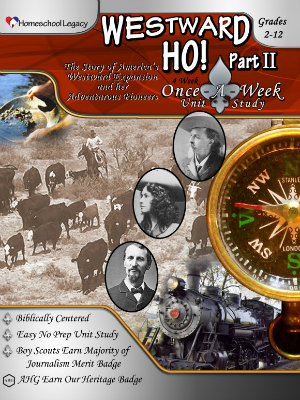 I have always enjoyed adding living history lessons to our school days. It's fun to share readings together, but it's even better to be able to include hands-on activities, movies, and projects to the learning environment. Unit Studies make it possible to bridge textbook learning and active engagement. I was a late arrival to the unit study, but I have embraced it wholeheartedly with my youngest two children. We've recently had the opportunity to utilize

Westward Ho

!

Part I

(a five week study) and

Westward Ho

!

Part II

(a four week study) by

Homeschool Legacy

. Each can be used as a stand-alone study, but you'll want to study them together for a phenomenal adventure. Trust me on this one. Both are written for students in 2nd - 12th grades, so my 8th and 10th graders were perfect candidates for these all-inclusive learning tools.

Now, over the years we've read

Little House

and

Tom Sawyer

books, watched videos about America's expansion out West, and tasted our share of homemade hardtack; but studying through the pages of

Westward Ho

!

Parts I and II

pulls together all of these resources and more -- offering an in-depth study of American pioneers through a multi-subject approach that includes reading, utilizing maps, creative writing, science projects, oral presentations, music and art appreciation, life skills, ideas for real-life field trip, and more. These biblically-based unit studies are perfect for the busy homeschool family as they can be done as little as once a week with no prep work. There are family-friendly games and movie suggestions with each unit and a wide variety of additional resources to choose from that make for a tailor-made study for each student. Each of the

Homeschool Legacy

titles offer substantial credibility for all students, regardless of grade. Elementary and High School students will each be challenged as they learn.

How It Works at Long Leaf Academy Westward Ho

!

Parts I and II

are available as print or digital versions. For purposes of this review, we received the digital version. We read portions of the unit study together off of my laptop or iPad and I am able to print the pages that I want my children to work on

(with actual pen or pencil)

. The digital version is hyperlinked for easy access to websites that further explain concepts and provide a more in-depth look at historical figures.

Our mutual love of history typically finds us spending quite a bit of time in study together. We prefer to work through the unit study daily -- and often spend hours delving deeper into the material presented. It has been fun to re-examine many of our favorite read-alouds through the years as we fit them into the historical timeline. In the pictures below, you can see my Princess and the Eagle Scout hard at work writing their original tall tales. Even more fun was sharing them with one another.
Creative Writing
Public Speaking -- Sharing their Tall Tales
Westward Ho

!

Part I
is a 69-page ebook that covers Frontiersmen, Pioneer Life, the Lone Star Republic, the Life and Times of James K. Polk, and the Oregon Trail. Of course, our favorite section was studying the Lone Star Republic since we visited San Antonio this year. We were able to stand on the grounds of the Alamo and discuss the events of history that shape our lives today.
Remembering the Alamo
Westward Ho

!

Part II
is a 63-page ebook that covers the Gold Rush, Life on the Prairie, the Great American Railroad Race, and Cowboys and Cattle Drives. The Princess has been reading a series of books that complemented this unit study perfectly. She has been able to share insights about the Gold Rush and her excitement is contagious. I LOVE this kind of learning, don't you? Learning to make a business plan helped reinforce concepts learned this year in robotics and our studies of prairie life had us looking out the window more at large farms as we recently traveled through Illinois, Indiana, and Kentucky. This is why we homeschool. My children are most excited and retain more information when learning becomes a part of who we are -- not just what we do. We completed our study of the "Great Migration" by creating personalized cattle brands. This led to a discussion about how to come up with the best names for a ranch if we ever own one and a reminder that GOD owns the cattle on a thousand hills. (Psalm 50:10)
Art Project -- Creating Personalized Brands
And that may be my very favorite part of
Homeschool Legacy Unit Studies
. We are able to enjoy a quest for knowledge together and explore a variety of topics and ideas as we learn. We have laughed and enjoyed each other's company more through this review and that's a blessing for any family.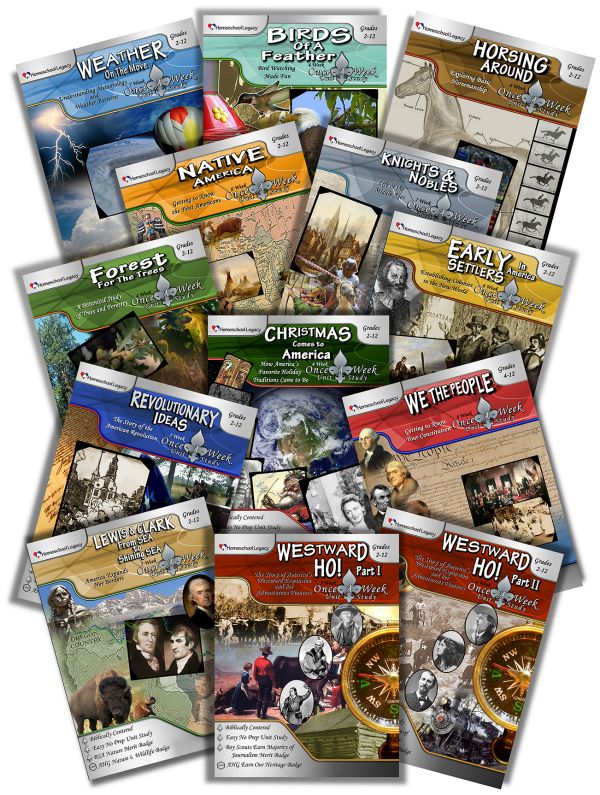 We were first introduced to
Homeschool Legacy
two years ago when the Eagle Scout was working on his
Citizenship in the Nation
badge and
we had the opportunity to review the We the People
: Getting to Know Your Constitution
unit study. I was super-impressed that Sharon Gibson
(veteran home educator and creator of the unit studies)
had included so many of the specific Boy Scout badge requirements in each study. There were only about 10 studies available then, but lucky for us that number has grown over the years. We've had the privilege to add
Horsing Around
and
Christmas Comes to America
to our list of completed unit studies and we've enjoyed them both. It's exciting that there are even more for us to choose from over the next few years.
You can learn more about
Homeschool Legacy
, choose a great study to share with your children, and find some really cool information about all sorts of things that helps
make serious learning fun
on the following Social Media sites:
Pin It Now!