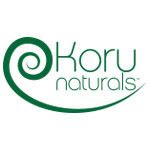 Okay, so let's talk. Lots of my friends are into oils and natural health remedies, and I will admit I've been a little skeptical of some of the claims they make. But I was willing to give it a try -- actually, I was very eager to try some out when this review came up. Every once in a while a review product comes along that is just for me. Okay, so maybe it isn't really just for me, but I pretend that it is. I don't HAVE to share it with anyone else. Unless, of course, I want to -- then I can let everyone know how wonderful it is and I can let my children try it out, too.

Koru Naturals

is such a review. A "mommy" review of products that are so wonderful, I even decided to share them with my family. We (because I shared) were able to try both the AMAZING Koolpurrie Restoring Balm and the Emu Oil. Talk about spa treatment at home.
I was excited to try the Emu Oil on my knees and ankles for a theureputic fix. I must be getting old because they ACHE. Continually. And the cold weather is making my bones hurt. Who knew that Emu Oil could make life better? We have weird weather in Southwest Mississippi and even in winter the humidity does strange things to your skin. I was also able to use the Emu Oil for an all-over body treatment in my bath. My skin is parched and its texture is embarrassing, but the high quality Emu Oil is definitely making a difference. Just a few drops give me a resilient glow and calm the dry patchiness that overtakes in winter. I can't wait to see what it does for my summer tan.
And our sweet Finleigh has enjoyed the Emu Oil treatment as well. Yes, she's a dog, but she's family and her constant scratching from winter dermatitis was about to drive us all nuts. A few simple drops of Emu Oil rubbed into her back has made us all happier as it relieves her itch and makes her much more pleasant to be around.
As nice as the Emu Oil is, the
Koolpurrie Restoring Balm
(made with superior quality Emu Oil and Lanolin) is even more wonderful. It is the bomb.com. The humidity is killing me this year. My skin is as dry and parched as the desert. Winter winds outside and crackly fires inside are making my skin scream for moisture and healing. None of my typical lotions were even touching the crazy dry skin on my hands and feet this year and I was hoping that the restoring balm would be my miracle worker. I've got to tell you, it has done WONDERS for me. The backs of my hands no longer look like a patchwork quilt of spider webs. And the balm has been especially helpful for my heels. I am not near brave enough to show you a picture of my feet
(especially my heels)
, but you can trust me that they were definitely sad. I mean, cracked up and embarrasing sad. Last year for my birthday (in JULY), my mom gave me a gift certificate for a pedicure. Now, there was NO WAY I was actually going to USE it. I wouldn't dare put my friend through the torture of having to deal with my ugly feet. BUT . . . I've been working the Koolpurrie Restoring Balm into my feet -- and paying special attention to the dry, cracked areas --and I think I'll be using that gift certificate soon. It will be flip flop weather around here again before too long (hurry up, sun) and my feet are looking TONS better.
Even more, although it doesn't specifically say to use it one your face, the restoring balm has helped heal up the dry patches caused by my cold uriticuria and has given a good deal of TLC to my lips and the corners of my mouth.
In a dark and dreary winter of gray skies, gray trees, and gray grass, Koru Naturals has offered quite a bit of sunshine to my life. I am no longer skeptical and whole-heartedly recommend you give these products a try. There's even more to choose from than these two that I've been using and I'm looking forward to my next purchase. I can't wait for more spa treatment at home. You can find some more ideas about how to use the
Koru Naturals
products in your home by checking out the following Social Media sites:


Pin It Now!