1. I'm going to be the
Mother of the Bride
.
Is she old enough to get married? Wasn't she just 3?
2. Puppies make me smile. Aren't they just the cutest?
3. Caramel Popcorn Rice Cakes aren't near as good as real caramel popcorn. (But I'm going to be the Mother of the Bride, so I have to eat them anyway.)
4. You're never too old for Arts & Crafts. Especially done with Girl Scout friends.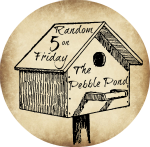 I'm linking up with my friend Miranda over at
The Pebble Pond
. Be sure to visit and be inspired by some other random thoughts today.
Pin It Now!