Randomly thinking:
1.
I love field trips.
The Eagle Scout, the Princess, and a slew of our homeschool friends went to the Louisiana Art & Science Museum and Planetarium yesterday. Field trips offer a welcome respite from daily lessons.
Fun Field Trips so far this year include hiking Clark Creek in September and attending a play and lunch at a cultural icon in October. There are a few more planned this year, and I will enjoy them all.
3. Cold weather is not my friend. Warm fires are. The MainMost and the Eagle Scout know how to build a great fire.


This speaks my love language.
4. Two songs that
I can't get out of my head
:
All About That Bass
and
Shake It Off
. I must be the mother of teens.
5. I've spent 16 years waiting in this line for my Girl Scouts. Seems like only yesterday my oldest was walking in the doors as a Daisy and now my youngest is a Senior Girl Scout. She brought home the dark blue shirt last week. Only four more years until she's completed her 13 years as a J.J. White Girl Scout.
It's crazy how time passes by
.
waiting on my girl
Because this day has
GREAT POTENTIAL
,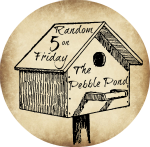 I'm linking up with my friend Miranda over at
The Pebble Pond
. Be sure to visit and be inspired by some other random thoughts today.
Pin It Now!