I used to be the super-organized woman with the perfectly laid out plan that helped me keep it all together. My check book was perfectly balanced with blue and black ink to designate deposits and withdrawals. Everything in my home and office had a specific place and was kept in its particular spot. There were meals ready to share with friends. I was not only caught up on my Bible reading plan, but was ahead of my goal. There were no stacks of papers haphazardly placed on my kitchen counter or dining room table. The kitchen was clean and the dishwasher running as I turned out the lights and headed to bed each night.

And then there were six of us in the family and life happened. There were sick children, piles of laundry, and afternoon activities. As a result, organization often gets the best of me and I struggle with personal goals. I have a beautiful color-coded calendar in Outlook -- but no real goals, dreams, or plans. I have become THAT woman. I'm not even sure what my personality type is anymore because I can talk myself into just about all of the answers. I know what I think I want -- until I don't -- and I have struggled to find myself in the busyness and chaos of my life.
I've been thinking that it's time to make sure that I'm mentally taking care of me. I need to make sure that I don't get lost because sometimes moms tend to forget themselves. You know?
(Please read my heart here. I don't mean that in a negative way because I LOVE my children and my husband with all that I am. I want to serve them and help them accomplish all that they want to in life. To do that, I have to offer them the best me that I can.)
Knowing that it was time to take control of the life GOD has blessed me with, I was excited to have the opportunity to review
The 7 Minute Life™ Daily Planner
($24.95) by
The 7 Minute Life
.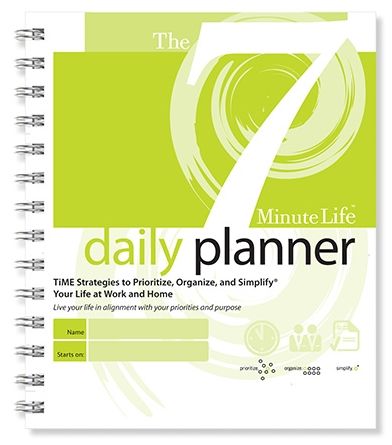 This is a book for busy moms who want to calm the chaos. Even more, it is a book for THIS mom. And I think KNOW that it is a book that will help you remember your purpose, rekindle your passion, and refresh your priorities whether you are mom, dad, aunt, grandmother, teacher, or friend.
The 7 Minute Life™ Daily Planner
will help you find your way if you allow it to do so.
I began my journey to transformation by watching quite a few
of the
videos
on the
The 7 Minute Life
website and then I downloaded and printed the sample pages so that I could really wrap my head around the 7 Minute plan while I waited for my personal Planner to arrive. I wanted to see if it really was possible to change my life and help me to manage my time more efficiently -- but more than that, I wanted to see if I could change my life without sacrificing my heart and the things that make me tick.
CHAOS
The 7 Minute Life™ Daily Planner
is designed to help you
"live your life in alignment with your priorities and purpose"
and it does so utilizing worksheets that walk with you step-by-step and teach you how to define who you are
(and who you want to be)
through your priorities and purpose. The plan shows you how to Prioritize, Organize, and Simplify your life. Now, I don't know about you, but I need help in this arena.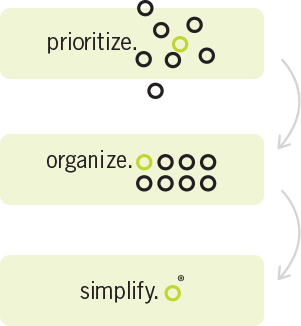 Allyson Lewis, the author of the 7 Minute Plan, has a wonderfully encouraging testimony in which she shares how to reconnect with life and get a grip as you work to discover your life's mission. She was able to make a change and define her mission in 7 minutes
(thus the name of the plan)
, but not everyone will be able to complete such a monumental task in such a short amount of time. I defintely was not. I was not able to narrow down my top priorities and outline my life's mission in 70 minutes or even 7 days.
[Remember I told you I can't even complete those personality tests because I tend to overthink everything? True story.]
I really spent time pouring over the first 20 pages of my Planner
(the nitty gritty)
, making sure not to miss anything important because I knew that I needed to truly grasp who GOD is calling me to be as I move forward in life. I spent a good deal of time pouring over the reasons that I have been placed here on this earth and how GOD would use me to serve those around me.
Once you have successfully determined your purpose, you begin laying the foundation of your goals and dreams. There are pages for personal goals, work goals, financial goals, and life goals, The neat thing about
The 7 Minute Life™ Daily Planner
is that it is action-based efficiency for 90 days at a time. Simply put, you focus on a 3-month period at a time and therefore there is no need to feel overwhelmed. Even I can handle 90 days at a time. There are also pages dedicated to unfinished tasks, mental clutters, and home repairs -- things that stress me out because they are "there," but I can't deal with on my own. What I like about these pages is that I can write down the issues of life and begin to formulate a plan to eradicate them through baby action steps. Writing them down in my planner allows me to acknowledge them and frees me to work on them as I can. They no longer control or defeat me because I
am
dealing with them . . . one small step at a time.
Calendars and Meeting Planners give me ample room to be productive, but my favorite part of the Planner is the Daily Progress Report. A two-page spread, the Daily Progress Report helps me to remember what is important and holds me accountable to doing just that. I am reminded to make connections with others, to prioritize the top five things I need to accomplish before 11:00 a.m. each day
(I have read my Bible, Pray for my family, and be intentional about showing LOVE to my family on my list), to
invest in myself and my health
(drink water, sleep, exercise),
to
keep appointments, to return phone calls and answer emails, and to write thank you notes. All of these things are so important to my calling as wife, mother, minister, and friend, yet if left up to me, I will often forget what needs to be done and fail to finish what I start. That's where the final box becomes so pivotal to my life. It reads simply:
Did I do what I said I would do today?
I like a good list and I get much satisfaction from checking off what I have accomplished.
The 7 Minute Life™ Daily Planner
makes it easy to organize my thoughts and clearly see what has been done, what needs to be done, and what improvements can be made to take me closer to fulfilling the mission that I have been given. I'm still not the super-organized woman I used to be, but I am 90 days closer to being the wife, mother, and friend I desire to be. And that's a great start.
CALM
The

7 Minute Life

on Social Media:
Facebook
Twitter
Pinterest
Google+
YouTube


Pin It Now!