Shark Week . . . just shoot me. Why, oh why, do these shows enthrall the Princess?
Some days are just tough. Really tough.
Long Leaf Academy opens its doors Tuesday and I've got quite a bit to do. I intend for there to be more reading of books I deem important this year. I need to start a list and print a Reading Log.
We'll soon be starting the Family Meal Rotation again and I'm making some changes this year. I've decided that we'll have Souper Sunday from now until the Super Bowl. I have quite a few soup recipes that we truly love, but I'm always looking for more. So, won't you share your tried-and-tested family favorites with us?
I think Mondays will be Crockpot Meals. That will make the Monday afternoon rush of Girl Scouts and Soccer a little easier.
I love my kids. All four of them. Some don't realize the depth of my love and that makes me sad.
#6 makes me feel like I have failed. I pray they will one day understand how very much they are loved.
My oven hates me.
I choose to err on the side of HOPE.
This day has great potential. Always.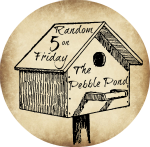 I'm linking up with my friend Miranda over at
The Pebble Pond
. Be sure to visit and be inspired by some other random thoughts today.
Pin It Now!