We finished our regular school year in May right before the graduations began. That said, I thought we'd take a few weeks off and then begin a slow-paced summer school of sorts. My plan was to keep a few things going so that my 8th and 10th graders didn't get out of the routine of studying during the long, lazy days of summer. I was excited for the opportunity to review a self-paced history of
Veritas Press
, but I had no idea how much my children were going to enjoy it. Nor did I grasp how much they would learn as they read alongside one another. Watching his sister read through classical literature inspired my Boy Scout to read as well. This was a win/win situation, don't you agree?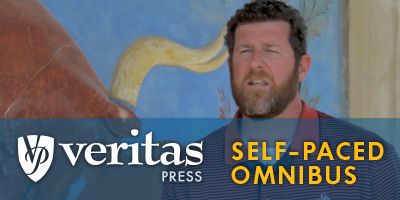 I think the best word to describe it is enthralled. A fan of high tech video resources, I have no problem with my children learning as they watch and listen. The fast-paced video format of
Veritas Press: Self-Paced Omnibus I
has been perfect for Long Leaf Academy. An all-encompassing curriculum for students ages 12 and up and written especially with students in the 7th - 9th grades mind,
Omnibus I
is being used by my 13-year-old daughter, but her 15-year-old brother keeps sneaking in to watch the videos with her. Did I mention they were enthralled? And I am thrilled. History, literature, and theology taught with GOD's Word as the base shapes the exact worldview that I desire my children to learn and understand.
Sister hard at work with Brother watching closely
Taught by Bruce Etter of the Veritas Press Scholars Academy,
Omnibus I
takes students on the ultimate quest for knowledge. Through virtual field trips, scholar panels, games, and quizzes, students study ancient history through the pages of literary works that correspond to the given time period. The course is self-paced meaning your child can spend as much time as needed on each lesson. Access to the internet-based videos is granted for one year for $295. The corresponding textbook
(Omnibus I: Biblical and Classical Civilizations, 2nd Edition)
can be purchased as a hard copy ($50) or as an e book ($37.50). For purposes of this review, we have used the e-textbook and it has been perfect. The pages of the textbook are simply gorgeous. The beautiful illustrations throughout offer an additional study of art appreciation and art history. I downloaded this text directly to my iPad bookshelf for easy reading and it can also be read directly from within the lessons online.
Aside from the textbook reading, students closely study their Bibles and a variety of literary classics. These additional resources are easy to acquire. We have quite a few Bibles in several translations and most of the literary books were already in my collection. For those that I did not already have in my personal collection, I could easily download
(mostly for free)
to my Kindle or make a quick trip to the Library to borrow.
So how has it worked for us? WONDERFULLY. Since we had just completed a four-year study of history from ancient to modern, we were delighted to start at the very beginning of
Omnibus I
with the very beginning of the world at Creation. Oh, how I love seeing my girl dive deep into Scripture and read the books of the Pentateuch with fresh eyes and a new appreciation of GOD's magnificent plan. Through her parallel reading of the Bible and the Omnibus textbook, she is gaining a new understanding as she analyzes text and cultural beliefs and applies the Scripture to real life. So far, she has studied Genesis, Exodus, the Epic of Gilgamesh, and the Code of Hammurabi. We are about to begin a study of the Odyssey and are looking forward to Julius Caesar in the Fall. I appreciate the solid teaching centered on the foundation of these great works.
Each daily lesson begins with a required reading (from the Bible, textbook, and/or excerpts of literary works) and includes video lessons that explain major points discussed in the reading and break down biblical and historical concepts for easier understanding. The video lessons follow a slideshow format and take my daughter between 30 and 45 minutes to watch. Included in the lessons are interactive games and quizzes to make sure the material is being comprehended completely. These are self-scoring and a cumulative grade is easily accessible to me.
The video lessons are super engaging. Bruce Etter is fascinating to watch and listen to and the fast pace easily holds the attention of my Princess.
She
likes that each lesson is presented a bit differently from the one before. She is absolutely not "bored" as she watches the lessons.
Veritas Press
has made sure to keep students actively involved and actively thinking. They have provided a quality resource in the
Self-Paced Omnibus I
.
I
like that everything is taught within the context of the Christian worldview -- and that she smiles while she learns. That is truly why we homeschool.
For more information, please visit with
Veritas Press
through the following media:
Facebook –
https://www.facebook.com/veritaspress
Twitter --
https://twitter.com/veritaspress
Pinterest –
http://www.pinterest.com/source/veritaspress.com/
Google+ --
https://plus.google.com/100404634762414542020/about


Pin It Now!