Music gives a soul to the universe, wings to the mind, flight to the imagination and life to everything.
~Plato

I have piano players at my house. Each of my children took some form of lessons at some point in their lives. Some loved it. Some hated it. But all had at least a year of basic fundamental music. My college graduate quit after middle school but asked to return to lessons in her junior year of high school. She regretted that I ever allowed her to stop and continued taking lessons throughout college. My 13-year-old Princess is the only current piano student I have and when the opportunity to review
HomeSchoolPiano
was made available, I requested it for her. Here's why:
She has taken piano for several years and begrudgingly gone to lessons weekly -- until 3 months ago when she decided that she LOVED piano and began practicing all of the time. Following the Spring Recital, we have always taken the summer months of June and July (and sometimes August) off from lessons due to my crazy schedule with church and she's always been ecstatic. Piano was not her idea of fun -- she deemed it torture. And then all of the sudden she asked me if there was any way she could continue lessons through the summer or did we have to take off. We did. Until HomeSchoolPiano came along and saved the day.
The
HomeSchoolPiano -- Complete Set of Books
subscription can be used with students of all ages. We were blessed with a Lifetime Subscription for up to five students which includes the books needed to succeed. Five students means that even
I
can learn to play piano.
Now, I don't know what private piano lesson rates are in your neck of the wood, but HomeSchoolPiano is an incredible deal for me. I currently pay $50 a month for piano lessons for one child or $600 for just one year. Whew . . .
Through
HomeSchoolPiano
, there are two payment packages available -- the Success Package and the Payment Plan.
The Success Package is ONE payment of $299 which offers you an unli
mited lifetime access for up to 5 students. (Do you realize I just said this was an UNLIMITED LIFETIME ACCESS? How cool is that?)
The Payment Plan consists of 3 monthly payments of $99.97 and offers you the same unlimited lifetime access for up to 5 students. Both packages include access to all bonus downloads, jam tracks, and sheet music.
This subscription program gives you online access to piano lessons that include three different levels (or books). The three books are easily printed for use by your students. Those that have never taken any piano lessons before will start with the
CorePiano
lessons. Other students may begin with
Book 1
for Beginners, Book 2 for Beginner to Intermediate students, or Book 3 for Intermediate to Advanced students. My Princess has taken piano for several years, but has not truly dedicated herself to musical education so we began in Book 1. The notes were easy for her but practicing the rhythms improvisations have been amazing help for her technique improvement.
She is working on her own composition and has determined that she'll earn the piano position in Girl Scouts (she wants to be the one to play the "march in" and "march out" music for major ceremonies) because the girl who has done it for years Farewelled out in May. When the Princess realized that position was possibly up for grabs, she started practicing double time. She has a goal and HomeSchoolPiano has been the perfect tool to help her reach her goal this summer.
If you have concerns about how your child will adapt to piano lessons provided in an online format, you can do exactly what I did to test it out. I was not sure if my girl would truly follow through with practicing throughout the summer so I had her sit and
watch the free lessons
on
HomeSchoolPiano
before our review period began. She enjoyed them -- a lot. She smiled and laughed along with Willie Myette as she focused on the lessons being taught.
I was excited that not only did the 3 - 10 minute lessons grab her attention, but they held it enough that she requested to continue the review. She has enjoyed working (and reworking) through each of the lessons and I am impressed with the improvement she has shown this summer. We printed Book 1 and comb-bound it for ease of use. Each 50+ page book contains six teaching units. When she completes a lesson, she can repeat for additional practice or move ahead as she sees fit. Her place is always saved and awaiting her return. This makes it easy to step away but always know you are welcomed back.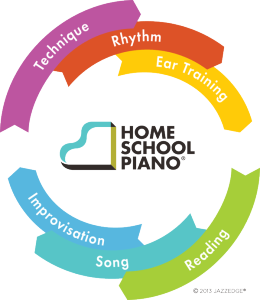 HomeSchoolPiano
takes students through
six steps of learning
: technique, rhythm, ear training, reading music, playing songs that incorporate what has been learned so far, and improvisation. It provides ample practice time and encourages excellence through fun. The Princess has struggled most with rhythm and tends to rush right through notes and rests alike, but she is learning to take her time and count as she claps and vocalizes in Book 1.
The "portability" of these lessons has been one of my favorite things. We are constantly in motion. With
HomeSchoolPiano
, my Princess has found it simple to take her lessons on-the-go. With the use of her iPhone or iPad, she can easily move from the piano in our family room to the keyboard in her bedroom or pack up and move to the grand piano at church if it's time for me to head in to work.
HomeSchoolPiano
is perfectly designed for the busy homeschool environment. A computer or iPad plus a piano or keyboard (with at least 49 full-size keys) is all that you need to make this work for you. Your students can master the piano at a time that is convenient for them -- day or night depending on your family schedule. The flexibility may be the most important part of
HomeSchoolPiano
. Artist Willie Myette truly understands how homeschooling works and is welcome in our home. He doesn't intend to teach you how to "play the piano" but desires to teach students to "play like an artist." How refreshing to know that individuality is still encouraged and passion is shared.


Pin It Now!