It's no secret that we enjoy Amy Puetz's
Golden Prairie Press
. The Princess and I enjoyed her
Heroines of the Past Bible Study
a few years ago, so I was excited to have a chance to use the new
Digital Heroes & Heroines of the Past: American History Curriculum
this year as we studied from World War I to modern times. Ideal for students in 1st - 6th grade,
Heroes and Heroines American History
also offers a remarkable hands-on, multi-sensory learning environment for older students as well. We've been using it to dive just a little deeper with my 7th grader and she thinks it is just grand.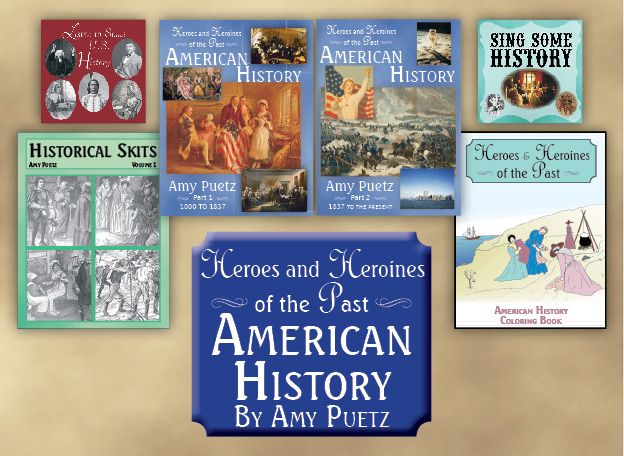 An mp3 download of both zip files and pdf files,
Heroes and Heroines of the Past
consists of three ebooks and three audio downloads. Together, the components provide ample information to fully cover the history of America through reading, sounds, crafts, recipes, and games. This full curriculum is all you need for a year's worth (30 weeks) of study in American History, but additional resources are provided at the end of each unit if you wish to delve deeper into any facet of history you've covered.
The complete curriculum package
($98.99)
consists of:
Heroes and Heroines of the Past: American History Part 1 (
388 pages, full-color ebook)
Part 1 includes lessons for the first half of the school year. There are 15 Sections with 5 Daily Lessons each. Students begin with explorers in the
Period of Discovery
and end with the presidency of Andrew Jackson (1837).
You can
see the
contents page, introduction
, and view a
sample
for yourself to see the comprehensive nature of the curriculum.
Heroes and Heroines of the Past: American History Part 2 (408 pages, full-color ebook)
Part 2 begins with the presidency of Martin Van Buren and ends with the current President. It covers America from 1837 - present.
Historical Skits (50 page ebook)
includes 19 skits from the days of Columbus through World War II. You can experience this first-hand and help history come to life for your children.
Sing Some History (MP3 CD)
includes 20 songs from days of old that enhance the history lessons. We love listening to musical pieces that tie into the historical time period we are studying so this this was a very special part of the curriculum for us. The song Lavender's Blue (you can find a sample on the website) is priceless. My children were interested to find out it's historical significance as they reminisced. Seems that very song was on a lullaby tape we listened to when they were mere babes. I find it simply amazing that they remembered. Music definitely teaches -- and sticks with you.
Listen to Some U.S. History (
MP3 CD)
includes 20 audio recordings of speeches, poems, documents, and sermons that coincide to lessons studied throughout Parts 1 and 2. Our favorite so far is the recording of Sergeant York from the official history of 82nd Division. We read the inspirational Sergeant York and the Great War together in February
so it has been quite entertaining listening to the dialect we tried so hard to replicate.
There is also an
Additional Materials Download
that includes timelines to print, coloring sheets, more art projects to undertake, game replicas from long ago, and even videos to watch.
For further fun, you can purchase the
Heroes and Heroines of the Past: American History Coloring Book
($9.95) which includes
coloring pages and notebooking options
for each lesson. This would be perfect for keeping little hands occupied during lessons or aiding in reading comprehension when lessons are complete.
A curriculum outline chart is provided
in spreadsheet format that helps you plan supplies needed for upcoming activities, easily find
song files for each lesson, and coordinate skits, literature, and coloring sheets to be used each day. This offers a
daily lesson plan
that is user-friendly and makes it even easier for your family to enjoy and experience history together. I printed this chart and placed it in my "teacher binder" for easy reference.
For purposes of this review, I chose to begin in Part 2. This allowed us to continue the current pace of our walk through history while integrating the hands-on activities of
Heroes and Heroines of the Past
. Broken down for easy comprehension, the lessons are written directly to students in a specific grade range. The first page of each lesson is written in a brief outline format for 1st and 2nd graders. It highlights dates and basic information for the time period -- giving a nibble of historical facts to whet the appetite of students. The following pages go into greater detail and are written specifically to 3rd through 6th graders. Illustrated throughout (in color and black and white), each lesson is followed by a series of comprehension questions, memory verses, writing topics to expand the lessons, literature suggestions, maps, games or activities that include recipes to try, puzzles to work, and period songs to sing along to.
Apple Pan Dowdy -- a 1940's Treat
I assigned the reading to my Princess daily -- she used the 3rd-6th grade pages although she is a 7th grader -- and we completed the activities together with my 9th grade Boy Scout. I love, LOVE the idea of making history come to life through food, crafts, art, and maps and the Princess LOVES filling in maps and trying (new) old recipes as we "cook up some history." The Liberty Cake (no sugar or wheat based on wartime rationing and saving the best America had to offer for the soldiers) was not our favorite, but the Apple Pan Dowdy was YUMMY. We didn't mind saving our "rations" of sugar for this special family treat.
We have enjoyed looking through the historical art -- and even pulled out my Norman Rockwell books to see further examples of the American Dream. (That's when I know we are using the right curriculum -- when daily lessons have us digging deeper and seeking out further resources and information.) War Bonds posters and pictures of the homefront brought World Wars I and II off the pages of the books and into the forefront of our minds. It has been a neat way to grasp the stories we've heard from grandparents and great-grandparents and to begin to understand just a little of the sacrifices of our forefathers.
There was big discussion surrounding this Rockwell picture of the times we still endure.
The "Heroes of the Past" chosen from each section of lessons offers opportunity to delve a bit deeper into American heroes -- and allows us to learn even more about their day-to-day lives. I love that Amy Puetz focuses all students on one major faith-based hero with the conclusion of each week's work. The Appendix provides a full copy of the Constitution of the United States to read and study, as well as a wonderful chart of the Presidents which includes each of the President's years in office, his First Lady, his political party, and his Vice-President. We printed copies of this chart to add to the first pages of the President Notebook completed this week. This is a treasured resource of information that includes a paragraph detailing each President's time in office and his picture.
Inspired to learn, the Boy Scout kept looking after lessons were completed.
I am quite pleased with our
Digital Heroes & Heroines of the Past: American History Curriculum
thus far and look forward to continued study together. The Princess and I are making plans to re-visit the
Heroines of the Past Bible Study
again as well.
Golden Prairie Press
exemplifies quality in my book.
Make sure to find Amy Puetz's
Golden Prairie Press
on
FaceBook
and get to know her heart for history.
You'll be thankful that you did.


Pin It Now!