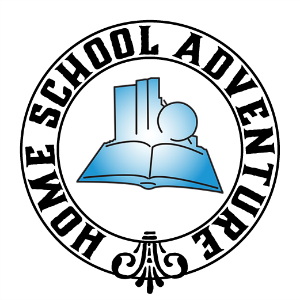 You know those times when the perfect curriculum just lands in your lap? It's exciting when it all comes together at just the right time. GOD truly does know EXACTLY what we need and EXACTLY when we need it. We've been reviewing
Philosophy Adventure
--Pre-Socratics
by
Home School Adventure Co.
and it couldn't have come at a better time for us.
A comprehensive study of philosophy designed to help students cultivate a Biblical worldview,
Philosophy Adventure
is written
for 6th - 12th graders and has been perfect for my 7th and 9th graders.
We recently encountered one of those "oh, you're a homeschooler" moments when my 12-year-old acted, well, 12. Have you ever had one of those moments? You know, one of those times when words aren't spelled correctly or sentences aren't punctuated just so -- and it becomes a big homeschool deal. I am well aware of the areas in which my children need to improve -- and we are working on those areas diligently. Most importantly though, I am concerned for their hearts.
Philosophy Adventure
offers the opportunity to work on writing skillfully, thinking critically, and speaking articulately all wrapped up in my favorite subject -- history -- while exploring the heart and delving into the philosophies we embrace and how they shape our world.
Believe me, I want my children to have great writing and speaking skills.
Even more, though, I want them to discern the TRUTH that is GOD and I want them to KNOW when lies are being spoken.
Philosophy Adventure
helps us focus on truth and understand lies.
We have recently studied through World War I and World War II and we've spent time reading together the lies that Mussolini and Hitler spread and the chaos that resulted.
Unfortunately, much of what we are reading with dismay is making us shake our heads at the troubles of THIS day. I've always heard that history repeats itself. I want my children to be able to stand strong in a time of trouble.
Philosophy Adventure
is helping them to see clearly as we read and study together.
Although high schoolers can easily do this on their own, it has been beneficial for us to work through the lessons together as we explore historical figures contextually.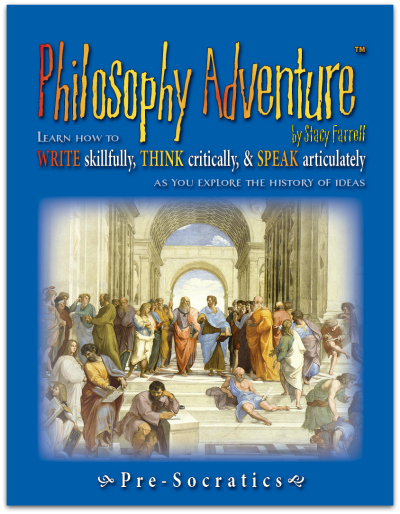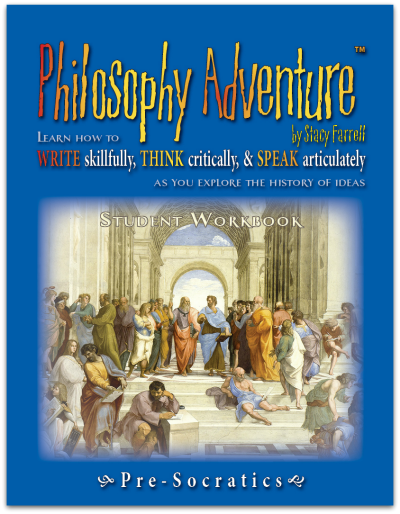 The
Philosophy Adventure
curriculum consists of an Adventure Reader (131 pages), Student Workbook (143 pages), and Teacher's Resources (110 pages) which include quizzes, maps, timelines, memory cards and easy-to follow and understand instructions. You can purchase physical hold-in-your-hand products OR digital downloads. There are eight lessons that each introduce a pre-Socratic philosopher. Included in each of these lessons are writing prompts and exercises, discussions to cultivate thinking skills, historical lessons on the time period in which each philosopher lived and studied, and truth revealed through Scripture. We have been using the digital downloads (

$39.95 for EVERYTHING

) and this is what that looks like for us:
I downloaded all of the files to my iPad. We use it to read the lessons aloud in daily increments. Included in each lesson are Vocabulary words, Memory Cards and Philosopher Pages, timeline pieces, maps, and quizzes. There is SO much to do and so much to learn. We enjoy hands-on activities and there are plenty packed within
Philosophy Adventure
. For example,
I chose to print out the Memory Cards for daily game time. We have completed the first two lessons and have studied Thales,
The Father of Western Philosophy,
and Pythagoras,
The First Philosopher
.
After reading through the lesson portions from the Adventure Reader, we play games with the Memory Cards and work on completing the Philosopher Pages found in the Teacher's Resources. (
My kids make up games to see who knows most about our philosophers.)
The Student Workbook offers further study as students label maps, record facts, and get to really know the philosopher. Digging deeper, students explore and unleash their creativity through writing assignments that encourage them to incorporate their five senses as they answer the questions
What do you see?
,
What do you smell?
,
What do you hear?
,
What temperature do you encounter?
, and
How does it taste?
.
Remember I said that Philosophy Adventure has been PERFECT for us? It is always wonderful when history and philosophy merge into the real world for us. Just this last week as we prepared for our Easter celebration, we were delighted to learn that Pythagoras lived during the time that JESUS was leading the followers of The Way and he heard the reports of those who had first-hand knowledge that JESUS rose from the dead. Now THAT's the kind of thing I want firmly planted in the hearts of my children. How about you?
I hold degrees in Political Science and the philosophers studied in
Philosophy Adventure
are not new to me. They are the backbone of courses taught in colleges today. I like being able to give my children "the whole story" so that they CAN answer anyone who asks for a reason for the hope that is in them with gentleness and respect.
I know that those "homeschool" moments will come again. I also know that the world will push you around if you let it. One of my goals for our homeschool environment is that my children will graduate high school and know what they believe, why they believe it, and be able to speak eloquently in defense of those beliefs.
Philosophy Adventure
is a wonderful place to start.
And from now until May 15, you can order and SAVE MONEY. Use the special promo Code
(CREW-10)
for 10% off of any downloadable order: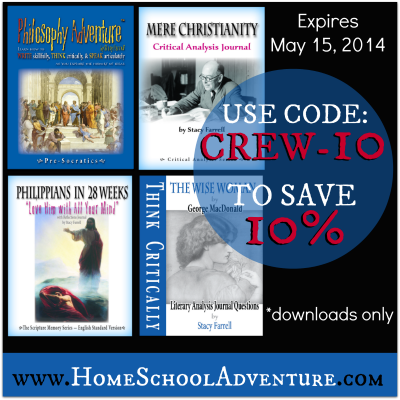 Home School Adventure Co.
makes it easy to stay connected through Social Media platforms. You can find out more about them in the following places:
Pinterest
Instagram
This one is definitely a keeper. I look forward to studying through it for quite some time.


Pin It Now!