We took a field trip last week to visit a college campus and were treated to a behind-the-classroom tour which included sitting and talking with several professors. The first smile that crossed the face of my Senior came when the history professor brought up Linguistics History as a major. Combining two of the things she loves most, this was a welcome discussion. A lover of language, she has taken several throughout her high school career -- Spanish, French, Japanese -- and is currently continuing her studies in French through Mango Languages online. What a wonderful way to connect to the world and bring it home.

When our second year of Spanish education unexpectantly fell through, I was just as excited as she was to be able to introduce Mango Homeschool Edition to not only my Senior, but my Boy Scout and Princess as well. Instruction is available for students from age 6 through adults, so there is something here for everyone. With over 60 languages (including multiple dialects for some languages) to choose from that range from your typical high school courses of Spanish, French, Italian, and German to languages like Swahili, Icelandic, and Tamil -- and even include English as a Second Language -- there is much value to be found with Mango.
Not only does each language include native speakers that offer audio and pronunciation guides, but cultural insights are shared and students can find out the popularity of a given language based on the number of speakers worldwide. We found this to be of particular interest as we studied missionaries to Persia in our morning devotional. Learning that only 65 million people speak the native Farsi (less than one percent of the world's population) brought a new element to our prayer life.
Experiencing hospitality as the Honored Guest in her own home
Studying the 165-page PDF course guide for the Farsi Passport brought the Iranian people off of the pages of our books and into our hearts. We were able to practice the customary greeting
(a handshake or kiss on the cheek between people of the same sex)
, share the gift of hospitality
(Iranian people are famous for their hospitable treatment of guests)
, and dress authentically
(women were a scarf covering for modesty)
as we sipped tea and tasted yogurt before our evening meal of rice, beef, and fresh bread hot from the oven. An added element of our fun was trying to remember to add the verb LAST in a sentence -- and then trying to figure out what we were each meaning to say to one another. We are acutely aware of the difficulties faced on the mission field and have a new appreciation for those that "go ye therefore" and learn new languages in order to share GOD's love with "all the world." We're still working on rolling our Rs and clicking our tongues just right, but we're having fun as we study hands-on.
It was thrilling to actually HEAR and emulate real life conversations. By clicking through an interactive slide show, we were able to quickly learn to say common phrases. It has been fun practicing our Farsi with one another and I am especially impressed with the pleasant teaching voices used to walk us through each new word or phrase. Students hear the lesson in its entirety and then have a step-by-step breakdown of the new words. You HEAR the words, REPEAT the words aloud, and SEE the words which helps make retention easier. The continual review keeps the words and phrases fresh in your mind as you graduate to new words and phrases and students can replay each slide as much as needed to attain correct pronunciation. Useful conversation skills are acquired -- instead of learning a list of things you never really need to say when you visit a foreign country. I appreciate that way to learn.
(Before my first visit to Guatemala, the MainMost and I took a Spanish class intensive at the local community college. We were supposed to be learning conversational Spanish to help us as we interacted with locals. Instead, we spent weeks going over numbers and colors -- none of which I ever needed to use in-country.)

Designed in a way that grabs the attention (and keeps it) of the student, Mango Languages is portable for on-the-go learning and students can choose to study as many languages as they want to study. Mango Homeschool Edition offers unlimited access to all of the languages on site and can be utilized on your home computer AND iPod, iPhone, and Android apps.
Currently Offered on the

Mango Languages

Website:
Over 60 different languages

Progress Assessments


Built-in journals, discussions and wikis

Collaborative learning spaces

eNote messaging
/chat rooms


Access to embedded/downloadable content

Support from other community members

Calendars to schedule meetings or study groups
What's Coming Soon (over the next several months) to make

Mango Languages

even more fun:
Enhanced Tracking and Progress Monitoring - including seat time

(for students and parents)

Goals and Personal Lesson Plans

(both stand-alone and tied into Mango courses)


Resume and Portfolio Builder
The coming enhancements are super exciting and will make assigning high school credit easy for transcript planning.
Easy to set up and begin use, getting started was as simple as logging in and choosing a language to begin studying. Through just a few clicks, I synchronized my Teacher Account with each of my children's accounts. This allows me to log in at any time to see the progress they are making on their individual courses of study OR to watch in real time as they do lessons. In this way, I can monitor what is going on as my children learn in an online environment.
The current pricing for Mango Homeschool Edition is very reasonable. I was paying $25 per child per month for language classes locally. That was a one hour per week class. With Mango, my children can log in as much as they want to and study as many languages as they can keep straight in their heads. This keeps them actively practicing and learning -- and that makes the subscription fee even MORE affordable.
1 subscription is $18/month or $125/year total
2 subscriptions is $28/month or $175 /year total
3 subscriptions is $38/month or $225/year total
4 subscriptions is $48/month or $275/year total
5 subscriptions is $58/month or $325/year total
If there are more than 5 children in your homeschool environment, a special group rate is available to you. You can contact Mango for friendly help getting your family started on language learning they'll love.
So, what are you waiting for? Go ahead and start a conversation with Mango Languages.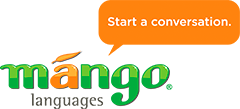 To connect with Mango Languages for even more information, visit these social media links:
Twitter:
https://twitter.com/MangoLanguages
Facebook:
https://www.facebook.com/MangoLanguages
Pinterest:
http://www.pinterest.com/mangolanguages/


Pin It Now!