When life hits hard (as it often does), where do you turn for answers, for reassurance, for peace for your troubled heart? I hope and pray that you turn FIRST to GOD's Word and find your JOY in HIM. It is my heart's desire to always run to GOD first and to train my children to do the very same thing. Last year, we had the privilege of reviewing
Classical Academic Press
's
New Testament
and it was a blessing to us to do an in-depth study of the Gospels. Appropriate for children of ALL ages
(and adults, too),
God's Great Covenant Old and New Testament studies provide a lot of "meat" for students to dig into in furthering their understanding and appreciation for GOD's Love Letter to us -- the Bible.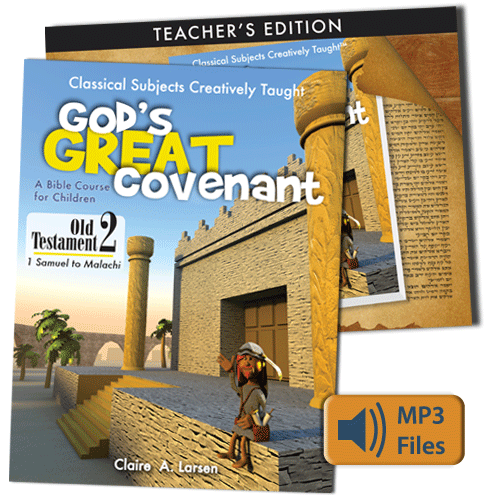 This year, we have had the awesome opportunity to study
God's Great Covenant Old Testament 2
which covers from 1 Samuel to Malachi -- exactly where we most needed to study. We've studied the first portion of the Old Testament in great detail in the past few years, but really needed to spend some time digging into the second portion. I wanted to make sure that my children understand the call to be HOLY and felt the need to touch on several character issues this year. This 32-chapter curriculum is perfect as a discussion of character traits and character flaws within the context of Biblical characters and heroes. We especially needed to touch on the fact that
"The LORD GOD looks at a man's heart, not his outside appearance"
(Chapter 4) and
"The LORD GOD is faithful to those who trust in HIM"
(Chapter 5) in light of some situations we've been made aware of lately. It's always good to be able to point the way through the words we find in Scripture.
Each chapter of
God's Great Covenant Old Testament 2
begins with the Lesson Scope that directs you straight to GOD's Word for background and history -- the perfect place to begin all of our studies. The chapter shares a Theme and Memory Verse, as well as key facts, special things to remember, and a special message from KING JESUS. After telling us what we should learn from the chapter, a narrative of the Bible character is presented for Story Time. Each of these stories from Story Time can be found on an Audio download in MP3 file format. I really like using the MP3 files as a way for my children to hear the WORD and hide it in their hearts.
My Boy Scout is a worrier and the current state of the world we live in makes him afraid.
God's Great Covenant Old Testament 2
gives us a low-key (but fun) way to talk about the fact that GOD's plan is perfect and HE is not caught off-guard by what goes on around us. Chapter 6 teaches that
"The LORD GOD's plan for HIS kingdom is right, just, and good"
and Chapter 10 points out that
"The LORD GOD is present with HIS people even when they suffer the consequences of their sin."
Both chapters have been calming salves for his soul. The workbook pages and puzzles have been a creative way to address fears and answer questions. 296-pages chock-full, the Student Textbook offers a historical, chronological study of GOD's redemptive promises for kids and adults alike. Chapter Quizzes are included to make sure that children really GET what they are learning.
The 296-page Teacher's Edition offers the full text of the Student Textbook and includes answer keys, additional teaching notes, and lined blank spaces for writing notes or implementation ideas. There are review worksheets for each chapter and resources to draw your children into the Bible. This is exactly what I needed "for such a time as this" to make sure that the hearts of my children are focused on the very goodness of GOD.
You can peruse the pages of the
Student Book in this sample
and see for yourself how good it really is. A sample of the
suggested Weekly Schedule
is provided so that you can see just how easy it is to incorporate into your school day. I wholeheartedly recommend
GOD's Great Covenant, Old Testament 2
for your family. You can
purchase the Student Text
for $22.95,
purchase the Teacher's Edition
for $24.95, and
purchase the Audio Files
for $9.95. OR you can purchase the
Old Testament 2 Bundle
which includes all three resources for only $49.95 -- that's a savings of $7.90 (almost 15%). We've used all three resources and they have been invaluable in our studies.
~Disclaimer: I was given the opportunity to use and review God's Great Covenant, Old Testament 2 published by Classical Academic Press as a member of the Schoolhouse Review Crew. The opinions stated are mine and mine alone. I was not paid to share my thoughts and feelings with you. I received the curriculum in exchange for my honest review. You can check out the Crew Review and see what other members of the Schoolhouse Review Crew thought of this and other great curriculum from Classical Academic Press
. I am disclosing this in accordance with the FTC Regulations.
~
Pin It Now!