My favorite spot -- my quiet place -- is in the far corner of my yard. Underneath a canopy of red oak trees sits our hammock and two special chairs. I gave one to the MainMost for his birthday last year; he gave one to me for Mother's Day this year. It is in this beautiful sanctuary that I most like to be. It's a great place to start the day and marvel at GOD's amazing creation. It's also a great place to end the day -- and marvel at GOD's amazing creation. I enjoy hearing the wind rustle through the leaves of the trees. I like watching the squirrels chase each other around and around the tree trunks. I love to hear the different songs of the birds as they sit nearby and sing praises to our Creator. And I like to swing in the hammock and sing praises of my own.
My view from the hammock . . . simply breathtaking.




I do enjoy the moments that I can sit and bask in GOD's glory. I desire to spend more and more of my time with HIM. I especially enjoy the quiet moments I can read and study and get to know HIM better and lately I've been reading the beautiful pages of Creation Illustrated magazine as I rest in the hammock under the trees. Creation Illustrated is a most marvelous magazine and I've had the privilege of perusing the pages of the last 4 editions published.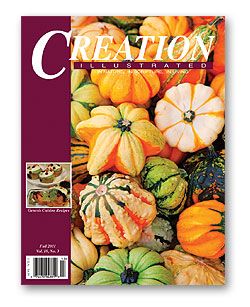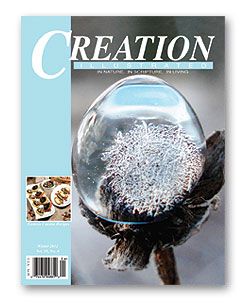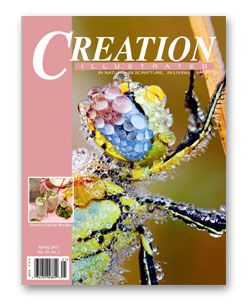 Loaded with full-color photographs of GOD's beauty, Creation Illustrated magazines span 64-pages and include articles for the entire family. Dedicated to sharing the wonders of GOD's Creation in nature, in Scripture, and in living, its pages are simply breathtaking. Inspired and inspiring, this is a magazine that you will want to keep on hand forever. Each and every page points to the glory of our awe-inspiring GOD -- and that's exactly the kind of thing that I want in my home for all to read.

Published quarterly by a homeschooling family, Creation Illustrated truly does offer something for everyone and each and every page is presented from a Creationist standpoint. My oldest daughters took a photography class last semester and they have been working together to improve their outdoor shots. They were intrigued by the superb photos and have practiced to recreate the quality. My youngest daughter has enjoyed reading the Children's Story included in each edition. She is my animal enthusiast and has a heart for the unlovely. The sweet story "God Loves Strays" about a rescued cat grabbed her heart.
I've been challenged by the My Walk With GOD devotion articles each season and the yummy recipes in the Genesis Cuisine section. The articles on our feathered friends have been especially fun to read as I sit under the trees in my special spot and listen the the conversations around me. I am thankful to have a creation-centered magazine to reinforce what I'm teaching my children. The Instructional Guide included in each magazine makes for an easy way to provide them with deeper study and understanding. The activities included in it are fun for us all and the Word Search Puzzle has been the favorite activity for my son.
You can purchase your own subscription to Creation Illustrated for only $19.95 a year. Your family will thank you and you'll be excited to receive your copy in the mail each quarter. You can even sign up today to receive a FREE ISSUE -- why not try it out?



~Disclaimer: I was given the opportunity to read and fall in love with Creation Illustrated as a member of the Schoolhouse Review Crew. The opinions stated are mine and mine alone. I was not paid to share my thoughts and feelings with you. I received these magazines in exchange for my honest review. You can check out the Crew Review and see what other members of the Schoolhouse Review Crew thought of Creation Illustrated
HERE
.~
Pin It Now!