The MainMost still thinks that each day of school should begin with a written drill of math facts. I know that is the way that we did it in school, but times have changed and the technology available today offers students many more options -- fun options at that! I DO agree that learning all of your math facts is IMPORTANT and
CapJaxMathFax
gives you a neat option to do so. CapJaxMathFax says that "learners need just two things to master their basic math facts: practice and positive reinforcement."
So what IS CapJaxMathFax? It is "skill-building sofware" that "supercharges" your memorization of math facts. In 5-minute sessions 3 to 5 times a week, your child can begin to master all of the basic math facts and be well on their way to math success. What kid doesn't like playing games on the computer? And what mom doesn't like to know they are learning while they play? And if I'm totally honest here, what MOM doesn't like playing those fun games herself?
An easily downloadable program, CapJaxMathFax can be used with folks of all ages. After downloading the
Free Evaluation
and playing with it for a few days, we were excited to use the full program made available to us for review. The Princess and I sat down together and set her up to begin reviewing math facts. Students can choose addition, subtraction, multiplication or division facts to review individually OR can choose to review a combination of all four. A customizable review, you choose what level to begin on and if you'd like to include twelves and negatives, as well. You can even pre-determine how many facts to include in a set and how many seconds to give for answers.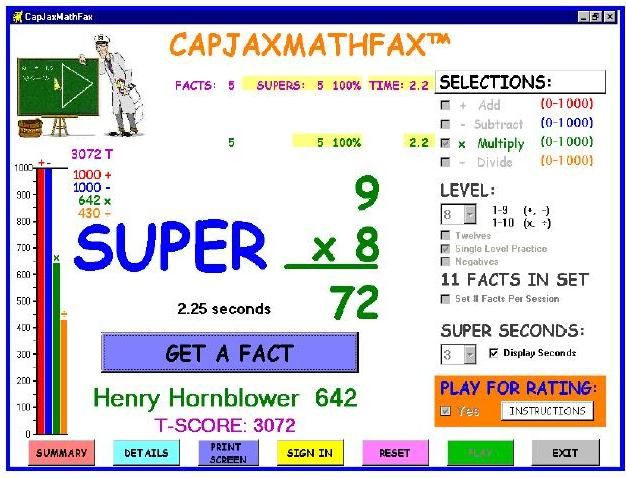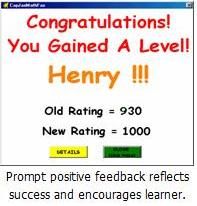 Because she's no stranger to the computer keyboard, the Princess did not need to do the Keyboard Practice offered -- but for younger children it would be a great place to start. Once she signed in (by typing her first and last name), it was game on. CapJaxMathFax begins by popping math facts onto the screen. The student types in the answer and hits enter. A positive message (Good job, Princess!) pops up and tells you how long it took for you to answer. Talk about motivation! I enjoyed trying to beat my own best time. Learners are given three attempts to think of the correct answer on their own.
Visually appealing but not too cluttered, CapJaxMathFax is a fun way to do a not-so-fun task. To be successful in math, every child must learn the basic facts and speed makes harder math concepts easier. The Princess didn't mind spending just 5 minutes a day "drilling" with this program.
CapJaxMath Fax is available as a download for $29.95 or you can add $5.95 and have the CD and download license shipped to your home. Either way, you'll be able to put some HAPPY in your math. Your children (and you!) can enjoy success as math becomes easy through practice and positive reinforcement.

~~Disclaimer: I was given the opportunity to use CapJaxMathFax as a member of the TOS Homeschool Crew. The opinions stated are mine and mine alone. I was not paid to share my thoughts and feelings with you. I received a this product in exchange for my honest review. You can check out the Crew Review and see what other members of the TOS Homeschool Crew thought of CapJaxMathFax
HERE
.~~
Pin It Now!