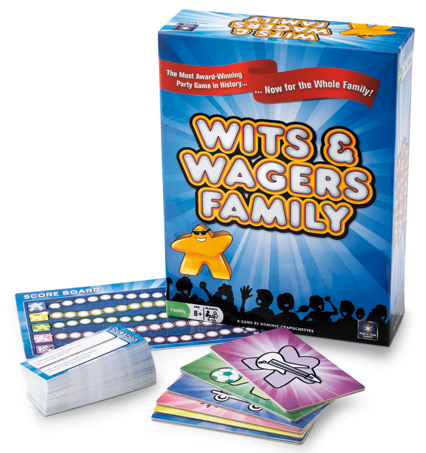 Bring on the games and bring on the fun!  I love things that bring my family together with smiles and laughter and
Wits & Wagers Family
did just that!  When I opened the box to start reading the instructions and begin passing out the mini dry erase boards and markers to everyone, the kids started claiming colors and gathering their Meeples.  {Okay, so we had never seen Meeples before either, but we sure did love them!}
Meeples are the playing pieces that determine the points you earn for each round of play  
(think fat little silhouettes of people or a "hardy star")
-- but before we ever got there, my kids were stacking theirs and singing with them.  My 15-year-old daughter says they were simply "awesome" and to be honest,
she's the one who started the singing
.
Once we opened the box and took the wrappers off of the parts of
Wits & Wagers Family
, we were set up and ready to play our first game in less than 5 minutes.  It took longer to get the MainMost in his chair than it did to set up the game board and read the instructions.  AND we liked it!  We really, really liked it!
Starting with the youngest McBlessing, each person took a turn reading a question  to the rest of the family.  Once the question was read, each player wrote down their answer/guess on the mini dry erase board provided.  (All guesses in
Wits & Wagers Family
are numbers.)  Then we showed the rest of the family what our answer/guess was.  After placing the dry erase boards in numerical order, each player had to decide who really knew the most about the question -- and that's where the Meeples came in to play!
Each player has two Meeples whose colors match their dry erase answer board.  The larger Meeple is worth 2 points, the smaller worth 1 point.  You can place your Meeple on YOUR board or ANY OTHER board in play and even split them up if you are undecided. When the answer is read, points are added up.  The Princess and I won tonight with the final question of
"How many Disney Princesses are there?"
We KNEW there were 9 and that knowledge took us to the winning count of 15.
What did I learn playing
Wits & Wagers Family
?  I learned that I live in a house of confident people.  For the most part, NO ONE would put their Meeples on any other board except for their own.   They always
KNEW
they were correct.What's up with that?    HA!  
They should have stuck with the Princess and me on that last Disney Princess question!
With over 300 family-friendly questions, I'm sure 
Wits & Wagers Family
will be on our play list for a while.  As much as we've enjoyed it, I know this would make a fun Christmas present for any game-loving family!  
Northstar
Games
has another fun family game called Say Anything Family that I'll be reviewing soon.  You can't go wrong with either one!

Designed for 3 - 10 players (or more if you play in teams) ages 8 and up,
Wits & Wagers Family
is usually sold for $19.99 but can be purchased
ONLINE HERE
for only $15.23.  Order yours today so you can use your WITS and WAGER your guesses -- the fun is about to begin!

~~I was given the opportunity to play and review 
Wits & Wagers Family
by
Northstar
Games
as a member of the 
TOS Homeschool Crew
.  The opinions stated are mine and mine alone.  I was not paid to share my thoughts and feelings with you.  I encourage you to check out the
Crew Review
and see what other members of the TOS Homeschool Crew thought of 
Wits & Wagers Family
HERE
.~~
Pin It Now!